---
Grade Schoolers: I-Gami Offers Folds of Fun
Contemporary Origami Prompts Artistic Construction
"Ethan (9) discovered a thing or two about counter pressure." — Robbin Dawson, mother of two

A twist on the ancient craft of origami, I-Gami from PlaSmart Inc. awakened creativity in

TD

monthly Magazine's Grade-School Roundtable as the moms and kids who participated, despite some difficulties in disassembly, enjoyed constructing bright and educational creations.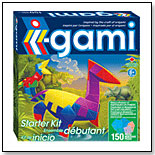 I-Gami Starter Kit by PLASMART INC.
Age: 8 and Up
Gender: Boys and Girls
Category: Construction
MSRP: $19.99



TD

monthly rating:




What It Is: Inspired by the traditional paper-folding craft of origami, I-Gami consists of several plastic shapes that connect via a locking system and folds. The brightly colored pieces can be used for two-dimensional flat building, or folded and connected to create three-dimensional shapes. The starter kit contains 150 pieces and an instruction book with steps for simple projects as well as the contemporary dinosaur featured on the box.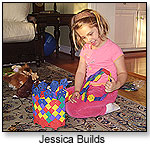 What the Moms Thought: "This is great twist on the same concept," said Kirby of I-Gami and its inspiration, origami. She appreciated the creativity it encourages. Dawson "liked the demonstration of differing shapes joined together to create something else." Ledford pointed out the connection between spatial thinking development and higher math skills. "The different ways to fold the connected pieces make I-Gami all the more challenging," she said.

"The toy is reusable and children are not locked into making one specific project," Wilson commented. Richardson liked the instruction book, and that the pieces were simple to use. Tong appreciated that her children could build "free form."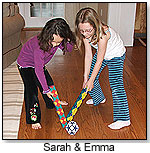 What the Kids Thought: "The kids were eager to open the box and begin to build," reported Flamenco, whose son Jonathan (9) liked "build[ing] different figures." Richardson's children "liked the challenge of following the guidebook, and were very proud of what they created," she said. Elise (9) "loved the variety of possibilities," Wilson reported.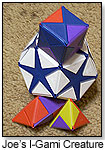 Sarah (6) and Emma (5) appreciated the distinctive way the pieces connected and the "complexity" of the finished creations. Alyssa (9) and Ethan (8) enjoyed the creativity that I-Gami sparked. Several children found the pieces difficult to disassemble, and Dawson noted that Sara (6) quickly lost interest because of this.

Ethan (9) and Joe (8) found the dinosaur too challenging, but both built many items in the instruction book and enjoyed building independently. "It's unique," said Victoria (12), who completed the dinosaur on the box but did encounter difficulty in attaching the dinosaur's legs to the body.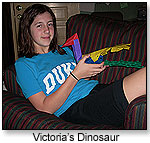 What the Kids Learned from this Toy: "Ethan (9) discovered a thing or two about counter pressure," Dawson reported. Flamenco noted that it would be a good way for upper-elementary students to learn by making their own geometric shapes; her 5-year-old learned shape recognition and her older boys (7, 9 and 11) worked on cognitive skills by duplicating the models in the instruction book.

Kirby's daughters (5 and 6) learned "they needed more sets to create the larger systems." Richardson reported that her children learned more about building patterns. Ledford's children learned "spatial concepts, specifically engineering," and the Wilson children strengthened problem-solving skills. Tong's children enjoyed "overall self-discovery in making things."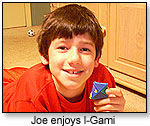 How to Improve It: Flamenco would like to see pieces of other shapes, such as hexagon and trapezoid. Kirby wondered if the pieces could withstand repeated assembly and disassembly. Several participants reported difficulty assembling and disassembling the pieces, although Richardson pointed out that the pieces do need to fit together securely. "It would be more frustrating to have the pieces not fit snugly, and fall apart when put together," she said.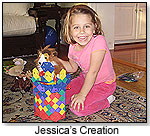 "A sturdy storage container with separate compartments for the differing pieces would prevent lost pieces between play, and would also make it easier to find a specific piece," Ledford suggested. Victoria (12) thought clear pieces would give an interesting look.

Dawson would like the guidebook to list all parts necessary for each project; she also said the black disassembly tool broke within an hour of beginning play. She suggested including several more simple projects in the guidebook, and felt that the recommended age of 8 and up should be raised. Andrew (12) thought text to accompany the instructions would make them clearer.

Although Wilson found the website helpful, she encountered difficulty viewing instructions without downloading, which the site promised.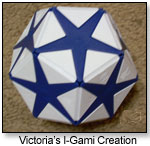 Would You Want Another Toy Like This? "I will certainly look for it on the shelves as I can think of several of their friends — both boys and girls — who would like to play with this fun building and creating set," Richardson noted.

Roundtable participants are former corporate accountant Robbin Dawson with Ethan (9) and Sara (6); substitute teacher Veronica Flamenco with Matthew (11), Jonathan (8), Emilio (7) and Brandon (5); sales executive Stephanie Kirby with Sarah (6) and Emma (5); Susan Ledford, editor of the "Homeschool Resources Directory for SC," with Victoria (12), Joe (8) and Griffin (2); World Bank policy advisor Gail Richardson with Alexander (7) and Jessica (5); stay-at-home mother Mildred Tong with Alyssa (9), Ethan (7), Lexi (4), and Erik (18 months); and Teresa Wilson, editor of "HOMES Newsletter," with Timothy (14), Andrew (11), Elise (8) and Steven (6).

Writer's Bio:
Susan Ledford is the writer, editor and publisher of the "Homeschool Resources Directory for S.C." She has been evaluating toys and games for
TDmonthly
's Roundtable reviews since 2005. She also is a homeschool veteran of seven years.
Read more articles by this author
THIS BANNER IS AN AD:
---
---