---
Investing in Time
Company Makes a "Mark" on Children's Reading
"We focus on the education market in the spring, retailers in the summer … and consumers in November and December." — Maureen Farinella, Mark-My-Time
With additional reporting by Sivhour Sim
In 2004 stay-at-home mom Maureen Farinella, a former district manager for Barnes & Noble's software division, realized timing her elementary school-aged children's required reading was difficult, as one child was a voracious reader, and the other reluctant. So she and her husband, Joe, invented a digital bookmark that tracks time and attaches to books so it can be taken anywhere. Now owner and CEO of Mark-My-Time, Maureen told
TD
monthly Magazine about their journey:

FROM PATENT TO PRODUCTION

After my husband made a prototype with cardboard, he made an appointment with a patent attorney. We started the paperwork in November 2004 and finished it in January 2005, financing the process ourselves.

We found a manufacturer and had to commit to a minimum of 10,000 bookmarks. We couldn't find anyone to manufacture in the States and still keep the price point under $10, so we manufactured in China. Of the one million bookmarks we've sold, less than one percent have been defective.

We took the bookmarks to Book Expo America in April 2004, while the bookmarks were in the pre-patent stage, and started shipping in August. We sent the product to Chairman Len Riggio at Barnes & Noble, and by December we were displaying in Barnes & Noble and Walgreens.

EXPLORING MARKETS

"Publishers Weekly" wrote an article about us, which got independent booksellers interested. In 2006 we attended the National Convention of the Parent-Teacher Association. We wanted to make teachers aware of our bookmarks so they would put them on their supply lists.

Costco ordered our bookmarks for sale in all 350 of their stores for Christmas 2006, at which time we took out a big ad in "O" magazine. We didn't get a loan until the Costco order.

We focus on the education market in the spring, retailers in the summer when they're buying, and consumers in November and December because the bookmarks make good stocking stuffers. During these months, we advertise in family-oriented magazines.

We're targeting the toy market this year. We attended ASTRA Marketplace & Academy in summer 2007 and got a good response, and we went last fall to Toy Fair, where we signed over 60 new accounts.

INSPIRING KIDS

We're involved in local library reading programs and were a sponsor for the National Geographic for Kids reading program.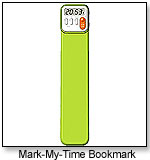 Children have written, sharing how [the bookmarks] increased their reading levels and earned them awards. One class even did a rap song about reading and how much they love their bookmarks.

I researched colors [and what would] appeal to students and buyers. A lot of schools have purple as one of their mascot colors, so it became one of our bookmark's colors. We test-marketed a pink color in Australia and it did really well.

SMALL OPS = VALUABLE TIME

Our company has three people. My husband is in charge of manufacturing, international orders and big-box stores. I cover education, school, libraries, fundraising, and advertising and marketing. My best friend, who also worked at Barnes & Noble, handles channel retail sales and rep accounts.

A challenge was learning that we needed to buy our allotment of microchips and store them because if a big company places an order, that shipment will take precedence over others. We also have to time our shipments carefully. A dockworkers' strike, for example, could cause delays.

My advice to people getting started is to:

• Know your customer and industry. We've seen people who didn't know how to market, sell, or pitch their products.

• Set up your infrastructure — warehouse, shipping and getting the product to the retailer and consumer.

• Protect yourself. Patents and trademarks are your only protection against large vendors.

• Get a good PR agency and the best free press you can from the very beginning.

• Make sure you're doing what you love.

• Make sure you get along with your spouse if you're going to work together all day long!

• Take leaps! Don't be afraid to go after it. The worst that could happen is … you give [your idea] to someone else to develop.

See Mark-My-Time's products below:
mark-my-time™ Digital Bookmark
by
MARK-MY-TIME LLC
Other products from MARK-MY-TIME LLC
TDmonthly rating:







This award-winning digital bookmark allows children to monitor and record their reading times. It features a countdown timer with an alarm, a cumulative timer for multi-session reading, a clock, a replaceable battery and a durable polyethylene body. It may also be used for music practice sessions, math fact practice, cooking and more. It comes in neon green, neon blue and neon purple.

— "The bookmark is compatible with small, paperback books, yet [the] screen is large enough to read clearly and [the] buttons are easy to operate," reported Teresa Wilson, a mother of four who reviewed this product for a

TDmonthly Roundtable

.

ToyDirectory Product ID#: 13994

(added 7/9/2007)

.

AD
---






This all-in-one bookmark can fit neatly into a child's stocking and includes a metronome, A440 tuner and practice timer. The metronome allows one to guide a music student with the countdown timer, setting it for 15, 20, 30 minutes or more with the touch of a button. When the practice session is over, an alarm will sound. The cumulative timer can be used to accumulate total practice time over multiple practice sessions. All of these features can be used simultaneously. This product has received awards from the National Association of Music Merchants, iParenting and Children's Technology Review.

ToyDirectory Product ID#: 13997

(added 7/9/2007)

.

AD
---







Mark-My-Time™ Digital Bookmark Classroom Packs contain 20 digital bookmarks in assorted colors, one limited edition black teachers' bookmark and one tote bag.

ToyDirectory Product ID#: 13996

(added 7/9/2007)

.

AD
---

Writer's Bio:
Elizabeth Greenspan edits and writes for trade and technical publications. She has interviewed and collaborated with some of the top practitioners in their fields. She lives in Philadelphia and travels extensively for her work.
Read more articles by this author
THIS BANNER IS AN AD:
---
---