---
Lurking Danger for Video Games
Sales are Up, But Will It Last?
"...debit cards are used to pay for accessories to enhance the playing experience — to the tune of $1.6 million per month for the United States alone."

Video games and the companies associated with them — console makers, game publishers and retailers — are on a roll. While everybody else is suffering and coping with strapped consumers, stagnant retail sales and plummeting confidence levels, the video game industry continues to set record sales and profits. This is how things stack up for the first three months of the year:

The first graphic is expressed in terms of thousands-of-units sold: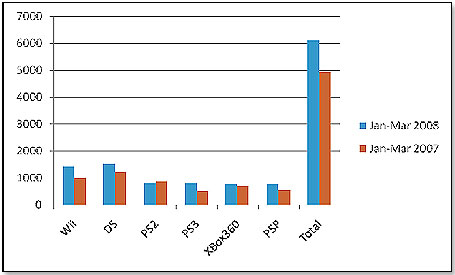 The overall picture, in terms of millions-of-dollars comparisons, is as follows: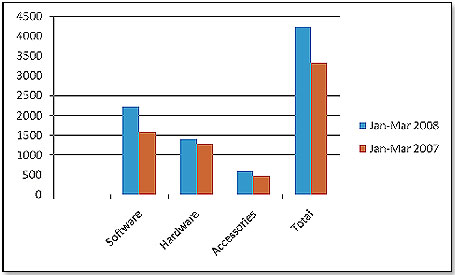 The main retailers — particularly GameStop — are doing extremely well. So, one might think that all is well with no storm clouds on the horizon.

PLAY MOVES ONLINE

However, some time ago I became aware of a totally new gaming universe: downloadable games either paid for by a subscription or offered free, but with fees for extras.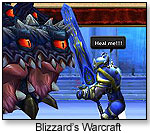 The leading subscriber company in the former is Vivendi, with a growing subscriber base of 10 million. In 2007, it paid $2 billion to play the "World of Warcraft" game, under Blizzard Entertainment.

The leading "free" provider (or so I thought) is Activision, with 5 million people in Korea who buy enough stuff monthly to put $1 million into its coffers. I also predicted that Electronic Arts would not be far behind and that its Web traffic would be a first-class tool to help make this happen.

NEXON BANKS ON FANTASY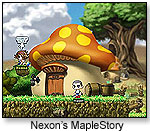 Since then, a new player has emerged. A buyer at Target told me that the No. 1 prepaid debit card in its stores was sold by a Korean company, Nexon, who had a multiplayer, online, role-playing game called "MapleStory," released in the United States on November 28, 2006. It has an audience today of 5.5 million U.S. players and 83 million worldwide.

The game is free but debit cards are used to pay for accessories to enhance the playing experience — to the tune of $1.6 million per month for the United States alone. Incidentally, the Nexon card is also sold by Best Buy, 7-Eleven, CVS, Duane Reade and Rite Aid. The audience is predominantly girls and the game is about living in a fantasy world where one can play alone or with friends, or with co-players met during the game. In addition to battles and hunting, players can also try on "beautiful clothes and gorgeous accessories."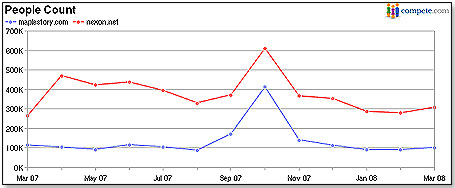 Nexon has some 300,000 visitors monthly and "MapleStory" has another 100,000. Since you can access MapleStory either way, via the dedicated website or the Nexon website, overall traffic is about 400,000 per month.

The Nexon website currently has three games: "MapleStory," "Audition" [released in the United States on April 2, 2007] and "Mabinogi" [released in the United States on March 27, 2008]. A fourth, "KartRider,"is in preparation. It is wildly popular in South Korea and is expected to overtake "MapleStory" for the No. 1 slot within days of its release later this year.

NUMBERS STILL BEHIND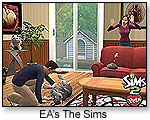 These numbers do not impress in comparison to the sales levels of games sold via brick-and-mortar stores. Nintendo's "Marion" alone has sold 201 million units so far, and its Pokémon games are close behind, at 175 million units. "Grand Theft Auto," by Rockstar North, has sold about 65 million copies and is certain to top the 100-million mark this year, as Electronic Arts' "The Sims" already has.

In 2007, 268 million games were bought in the United States alone. My estimate of worldwide sales for 2007 is 700 million. While downloadable games still have a way to go, they now represent roughly 10 percent of the market worldwide.

NEW GENRE THREATENS

I have little doubt that free online gaming will become a major factor in the video game industry in the months and years to come. Its growth has been too fast and pervasive for it to be otherwise.

We are at the beginning of a structural change in the industry, and it will have significant implications for stores such as GameStop, as well as for publishers and hardware manufacturers who do not transition to this genre. The challenge is particularly tough for Vivendi, with its vast number of paying subscribers who will be at an increasing risk as free games become more prominent.

Writer's Bio:
Lutz Muller is a Swiss who has lived on five continents. In the United States, he was the CEO for four manufacturing companies, including two in the toy industry. Since 2002, he has provided competitive intelligence on the toy and video game market to manufacturers and financial institutions coast-to-coast. He gets his information from his retailer panel, from big-box buyers and his many friends in the industry. If anything happens, he is usually the first to know. Read more on his website at www.klosterstrading.com.
Read more articles by this author
THIS BANNER IS AN AD:
---
---