---
Retailing Tips: Finding New Toys
Research Your Way to the Sale
"Delegate it to another employee, if necessary." — Peggy Duncan, personal productivity expert

Staying up-to-date with current trends, finding innovative manufacturers who've just hit the market, and looking for the toys your customers request are necessary parts of business, but retailers often feel they don't have time. By following these eight tips compiled by

TD

monthly Magazine from experts and toy-store owners, you can streamline your searches for maximum efficiency:


1. Delegate. Even if you don't have time to research, don't put it off, warned Peggy Duncan, a personal productivity expert based in Atlanta, Ga., "Delegate it to another employee, if necessary."

2. Get Online. Billy Thelander, owner and manager of LittleBits Toys in Wellesley, Mass., uses "ToyDirectory (

TD

monthly) … Amazon and the ASTRA website. When I'm looking for a manufacturer's phone number, ToyDirectory is my first choice, and Amazon has feedback from consumers." (Read what retailers say about TDmonthly.com.)

3. Learn From Competitors. "When I'm on vacation, I go into stores and see what's there, and then contact the company," said Barbara Fineblum, owner of Barston's Child's Play in Baltimore, Md.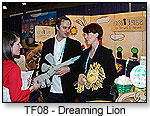 4. Go to Trade Shows. Thirty-three of 45 retailers surveyed told

TD

monthly they attend Toy Fair or other trade shows for product research. "Toy Fair is the best way to research toys because you can touch them and play with them," offered Patricia Masing, owner of Tree Town Toys in Ann Arbor, Mich.

5. Be Prepared for Shows. By researching toys before attending trade shows, you know what you're looking for and are ready to try out the products in person. Kathleen McHugh, president of the American Specialty Toy Retail Association, said ASTRA "members use the ASTRA Listserv — that is a valuable tool to exchange information. We also send information in advance of our convention, so they can go prepared."

TD

monthly also features trade-show preview articles. We even bring back video demos from the shows so you can see the toys you missed or have forgotten.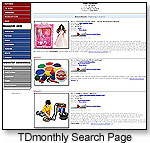 6. Use Your Reps. "I rely on my reps to answer questions and tell me about toys," said Greg Larson, owner of Larson's Toys and Games in Columbus, Ohio. Two-thirds of the retailers surveyed named sales reps as one of their top three ways of discovering new toys.

7. Listen to Your Customers. Terri Bracken, owner of Earth Explorer Toys in Zionsville, Ind., told

TD

monthly her staff researches something when a customer asks for it. A fan of the ASTRA Listserv, she noted that "getting information back from other storeowners is wonderful." You can also use TDmonthly Forums to exchange notes about manufacturers and products.

8. Use the Government. If you're concerned about product safety, Robert J. Sumner, press assistant in the Office of the United States Trade Representative, suggested contacting manufacturers directly or visiting websites for the U.S. Consumer Product Safety Commission and the Interagency Working Group on Product Safety.

Want to know how to find new toys at TDmonthly.com? Watch this short video!

Writer's Bio:
Terri Hughes-Lazzell is a freelance journalist based in Ossian, Ind. After spending nearly a decade as a daily newspaper reporter, she has worked as a freelance journalist for more than ten years, writing about a variety of topics. Her work appears in newspapers, magazines and specialty publications nationwide.
Read more articles by this author
THIS BANNER IS AN AD:
---
---