---
Show Highlights the ABCs of Childcare
Fast-Growing Expo Offers the Best in Baby Gear
"The ABC Kids Expo is the event which allows retailers to make decisions for their stores for the entire year." — Eric Seemann, All Baby & Child

Going green isn't just for fuel, detergents and paper products. Kids' products are greening up, too. Environmentally friendly, natural and organic products will be a special part of this year's ABC Kids Expo, September 7-11, at the Las Vegas Convention Center, Eric Seemann, promotions and production manager for All Baby & Child Inc., told

TD

monthly Magazine.

ALL ABOUT THE BABIES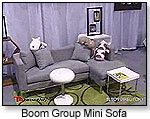 Along with nature-nice products featured at the five-day event, attendees can expect to see a large offering of items exclusively for babies, Seemann said. He added that "furniture and bedding, along with baby gear, remain the cornerstone of our show."

Visitors can also take in an array of toys and feeding and baby-care products while enjoying exhibit hall enhancements such as the new Convention News Network, featuring 30- to 120-second exhibitor commercials, as well as CNN news. It's all designed to help attendees stay abreast of happenings outside the convention.

"Attendees will see the latest introductions in every major product line," Seemann told

TD

monthly. "The ABC Kids Expo is the event which allows retailers to make decisions for their stores for the entire year."

As buyers consider their inventory, they will also be privy to show specials offered by many of the more than 1,000 exhibitors, he added.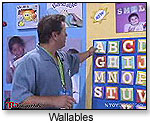 9/11 LEADS TO NEW SHOW

The expo, which began in 2003, developed out of the events of 9/11, which caused the Juvenile Products Manufacturers' Association show in Dallas, the industry's major juvenile products show, to be canceled that year. As a result, four trade groups came together to host a show in Las Vegas and, with supporting manufacturers, formed All Baby & Child, a non-profit, public-benefit and parent corporation of the ABC Kids Expo.

In the five years since its inception, the expo has experienced rapid growth — nearly 35 percent in each major category (number of exhibitors, number of attending retailers, number of media attendees and total square footage), Seemann told

TD

monthly. Likewise, the event has more than doubled its number of exhibitors since 2003, when 489 participated.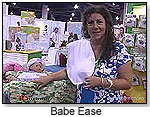 All Baby & Child would like to see continued growth and has teamed with the U.S. Department of Commerce in promoting the ABC Kids Expo internationally. With cutting-edge products, attendance perks and a focus on visitor needs and enjoyment, the ABC Kids Expo is the nation's premier juvenile products trade show.

"This is a great time for retailers to see the latest introductions for the coming year," according to Larry Schur, president of All Baby & Child, Inc. "It is our goal to ultimately benefit juvenile products manufacturers, retailers, distributors and manufacturers' representatives of children's products. This true partnership among all industry segments has fueled the growth of this very powerful industry event."

See TDmonthly's Top-10 and 70+ Toy Videos from last year's ABC Kids Expo.
THIS BANNER IS AN AD:
---
---