---
'08 Films are a Match for Merch
This Lineup Is Playing Around
This year brings an unprecedented lineup of films designed to affect toy sales — seven in the action figure arena and two in other toy categories:


Movie Title
Category
Release Date
Sequel/
Similar to
Toy Licensee
Iron Man
Action Figures
05/02/2008
None/ Transformers
Hasbro
Speed Racer
Vehicles
05/09/2008
None/CARS
Mattel
The Chronicles of Narnia: Prince Caspian
Action Figures
05/16/2008
None
Jakks
Indiana Jones and the Kingdom of the Crystal Skull
Action Figures
05/22/2008
None
Hasbro
Kung Fu Panda
Preschool
06/06/2008
None/ Ratatouille
Mattel
The Incredible Hulk
Action Figures
06/13/2008
The Hulk
Hasbro
The Dark Knight (Batman)
Action Figures
07/08/2008
Batman Begins
Mattel
Star Wars: The Clone Wars
Action Figures
08/15/2008
Star Wars: Episode III -Revenge of the Sith
Hasbro
Harry Potter and the Half-Blood Prince
Action Figures
11/21/2008
Harry Potter and the Order of the Phoenix
Corgi/NECA


There is a clear correlation between the box-office success of a movie and the rub-off effect on toys. The variable is audience demographics: If an action-figure movie appeals mainly to a mature audience (as did "Batman Returns"), its resulting toy sales will be weak.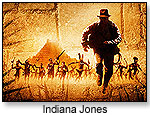 Below, I will show how the movies tracked in U.S. box-office sales in millions of dollars per week cumulatively, and I will update it later, as more films are released. The date underneath each movie title denotes its release, and the graph is limited to the first weeks of the film since there is a distinct fall-off in attendance after this.

Action-figure movies: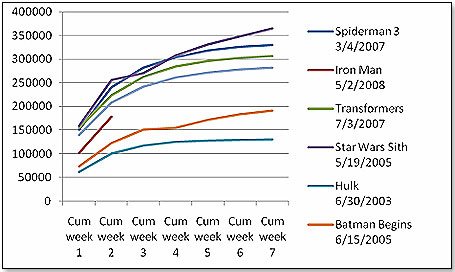 Iron Man, as of May 13, is not doing too well in comparative terms. It is interesting to see how well the box-office results of the top three films — "Star Wars: Episode III – Revenge of the Sith," "Spider-Man 3" and "Transformers" — matched their toy sales. The toys associated with "Star Wars" did phenomenally well, followed by "Spider-Man 3" and then "Transformers."

In the case of "The Chronicles of Narnia: Prince Caspian," I have only one data point so far and hence cannot show this as a line graph: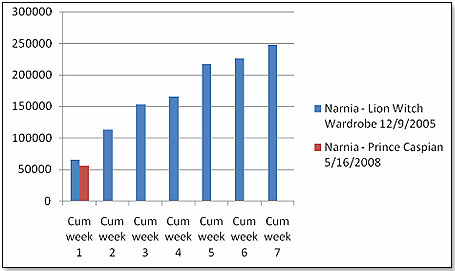 "Narnia" is too early to call. The first week, while weaker than its predecessor, is still very respectable.

In the case of "Speed Racer" versus "CARS," this is how it looks so far: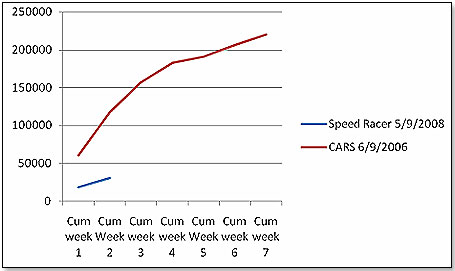 Again here, we see a weak comparative performance from the newer film, "Speed Racer."

"Kung Fu Panda" has not yet launched, but will be compared to "Ratatouille," which performed as such: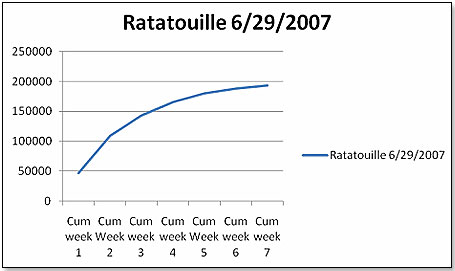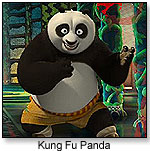 "Ratatouille" was a movie success but a toy failure, partially because Mattel did not have its distribution in place before the movie broke. There could also be the factor that preschool movies are not very potent toy-sale generators. "Kung Fu Panda" will hence be an interesting phenomenon to watch.

I also looked at Blog Metrics for the three movies that have already opened as well as the next three coming out. Blog Metrics denote consumer interest in a given property and are a marker for purchase intentions.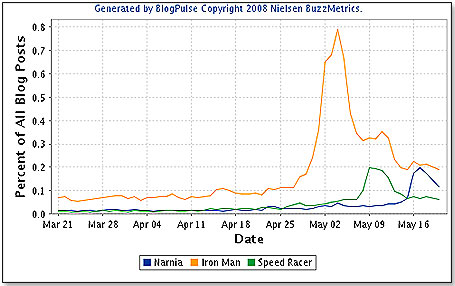 The metrics suggest that "Iron Man" is continuing well, "Speed Racer" is steady on a low level, and "Narnia" is settling in on the same level in the cycle as "Speed Racer."

As for the next three movies coming down the pike, this is what the Blog Metrics suggest: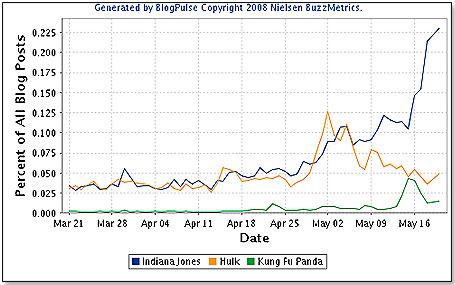 "Indiana Jones" is very strong, whereas "Hulk" seems to be losing interest. "Kung Fu Panda" continues on its very anemic path.

Writer's Bio:
Lutz Muller is a Swiss who has lived on five continents. In the United States, he was the CEO for four manufacturing companies, including two in the toy industry. Since 2002, he has provided competitive intelligence on the toy and video game market to manufacturers and financial institutions coast-to-coast. He gets his information from his retailer panel, from big-box buyers and his many friends in the industry. If anything happens, he is usually the first to know. Read more on his website at www.klosterstrading.com.
Read more articles by this author
THIS BANNER IS AN AD:
---
---