---
Getting Kids to Talk, One Card at a Time
"what's the deal?" by ethikids Sparks Honest Communication
"Kids want to really talk about these kinds of things. But it's tough to create conditions where they feel safe enough — and compelled enough — to actually open up." — Susan Adam, ethikids

Glad you're not a kid in this hooked-in, constant-access, grow-up-now world? If you were, wouldn't you need a little help wading through society's ethical quagmires? And wouldn't you be reluctant to ask for that help?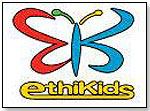 Susan Adam, CEO and president of ethikids (and co-star of

TD

monthly Magazine's upcoming documentary, "Toy Frenzy!") interviewed dozens of experts with Co-founder Laurane Magliari to root out the top issues kids tackle today. The answers led them to develop a non-confrontational card game that entices kids aged 8 to 11 to reveal their true feelings about morally murky situations faced by the game's fictional characters, Luke and Fiona.

A NEW YORK EDUCATION

These educational toymakers took the game, "what's the deal?" to Toy Fair 2008, where they got schooled themselves:

"We learned a million lessons!" Susan exclaimed to

TD

monthly. "One of the biggest is that for those who are already interested in tending character development in kids, there's almost no 'sell' required. We just need to let them know it's available."

Specialty outlets where kids tend to congregate already, such as martial arts schools and hair salons, plus child-related groups, such as mental health centers and faith-based educational groups, readily put in their orders. Less easy was reaching the toy-store owners the pair had initially thought would be their prime customers.

GETTING DOWN TO BUSINESS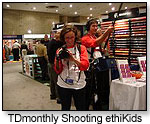 Their experience at Toy Fair taught the women that while "what's the deal?" is a game, it really isn't, strictly speaking, a "toy," which led them to ask, "What game are we in?"

Ultimately, they learned, their game was business, and they weren't prepared to play.

"It's all about the numbers!" Susan lamented. They had a great product and a profound mission, but no sense of how to get "what's the deal?" to their target market of parents and kids.

OPPORTUNITIES DELAYED

When a distributor of educational products offered to promote the game for free at an upcoming trade show, Susan and Laurane had to pass.

"We didn't have all the pricing models and distribution costs worked out," Susan remembered.

So they put the distributor on hold and hired professionals to help them devise essentials such as a marketing plan and order-fulfillment system. They hired two commission-based sales reps, purchased sales-tracking software, and began publishing a newsletter that presented current research relevant to the game's mission.

OUTREACH GROWS COMPANY

To build their audience, they took "what's the deal?" to parent/teacher organizations and other educational groups. Recently, Susan told

TD

monthly, they worked with teen students and their adult mentors.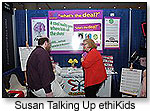 The students initially gave answers they thought would please their mentors. When the game's character, Luke, faced the dilemma of being invited to look at an Internet site his parents had forbidden him to view, one girl confidently insisted that his response should be, "Can't we do something else? That site makes me uncomfortable."

However, a shy girl suddenly piped up, "But what if he likes what he's seeing?"

HONESTY BRINGS THRILLS

It's that kind of honesty that Susan and Laurane hope the game will encourage in all who play — including adults.

"This girl gave her mentor a huge thank-you hug at the end of the program," Susan remembered. "It was all evidence of how kids want to really talk about these kinds of things. But it's tough to create conditions where they feel safe enough — and compelled enough — to actually open up."

"what's the deal?" can be the first step, Susan and Laurane believe. On that strength, they not only survived Toy Fair, but are also learning to carve their niche in the toy industry.

Here are the products ethikids offers to help adults and kids start talking:
ethiKids Poster Set
by
ethiKids, inc.
Other products from ethiKids, inc.
Shop for It!







This simple and concise values and skills tutorial, as a companion to "what's the deal?" or on its own, can provide easy support to character-related discussions in group settings. Asking the group to consider what values are at play, working together or competing, will generate timely and relevant dialogue.

ToyDirectory Product ID#: 16931

(added 1/4/2008)

.

AD
---
"what's the deal?" Game
by
ethiKids, inc.
Other products from ethiKids, inc.
Shop for It!






In "what's the deal?" – a tween and teen prep kit - Fiona and Luke find themselves in lots of sticky situations. Follow these exploits with children and watch Fiona and Luke grow as they think through the best solutions, and begin to apply them in their own lives.

ToyDirectory Product ID#: 16929

(added 1/4/2008)

.

AD
---

Writer's Bio:
ALISON MAREK is an award-winning writer, director and cartoonist whose work has been published by Fairchild Publications and DC Comics (Piranha Press), broadcast on Showtime and other cable networks, and viewed worldwide in film festivals. See her short films and print work on www.alisonmarek.com. Watch her nefarious villains in the web series www.MuggsMovers.com. Get inspired by her cartoons "Daily ARFFirmations to Unleash Your Inner Fido" at www.ARFFirmations.com. Phew! And then ...
Read more articles by this author
THIS BANNER IS AN AD:
---
---