---
When the Going Gets Tough, the Tough Get an Endcap
Product Placement at Retail Shows Manufacturers' Pain
"An endcap has about seven times the sales velocity of an in-shelf position ... "

There is little doubt that things are tough in toy land. By the end of April, my retailer panel reported declining sales by 5 percent over all categories compared to the same period last year. If this continues, it will be the worst year this century.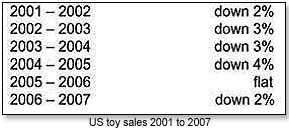 This puts toy manufacturers in a difficult spot.

PLAYING DEFENSE

In a declining market, companies first have to go for market share, defending their position and trying to grab a slice from the other guy. The tough part is doing this without beggaring oneself. After all, most strategies — price cuts, advertising, PR and longer credit terms — cost a lot of money over a fairly long period in time. There is, however, one strategy that has a shorter time horizon and is, therefore, a little cheaper than the others. It involves going for the top locations in stores — endcaps and aisle caps.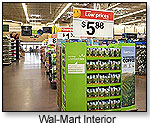 An endcap has about seven times the sales velocity of an in-shelf position, and one side of a four-sided aisle cap is the equivalent of one endcap. [For the purpose of the charts below I have counted aisle caps at a value four times higher than that of an endcap.]

These key merchandising locations are hot property and do cost money, not necessarily in terms of cold cash, but more often in terms of price concessions or other incentives to the retailer.

First, let's examine how Wal-Mart and Target have allocated endcaps and aisle caps to the toy department over the past 12 months: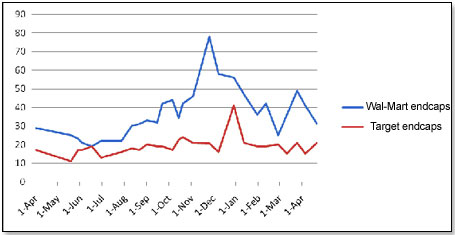 The seasonality of the toy business is reflected in the degree by which these retailers allocate these spots. Target did not allocate as much last year and paid the piper in terms of same-store sales. The good news? Neither Wal-Mart nor Target has, in the last four months, reduced its commitment to the toy space as far as the seasonal allocation of key merchandising areas is concerned.

Here's how the top eight manufacturers did in terms of their end/aisle caps in the three major retailers, Toys "R" Us, Wal-Mart and Target: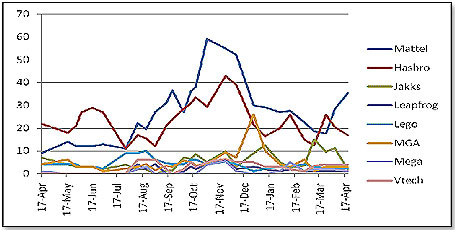 Only two companies — Mattel and Hasbro — really stand out. The others were pushed to the wall by Mattel's ramp-up during the last month or so. There are only so many endcaps to go around, and if Mattel doubles from 17.5 on March 25 to 35.5 by April 21, the smaller guys simply have to do with less.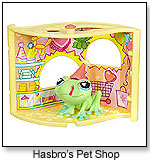 The timing of Mattel's concerted drive for more endcap placement, beginning during the second half of March, coincided with the end of a disappointing quarter. In contrast, Hasbro had a good 2007 and a stellar first quarter. Its need for costly short-term endcap fixes was considerably less. By April 21, Hasbro had about 15-percent fewer end/aisle caps than a year earlier.

But if we look a little closer at where these companies concentrated their in-store clout, we see an interesting development.

Mattel basically gave up on Barbie at the end of November. This news, supported by the readings from my retailer panel and input from buyers, told me in December that its sales for its No. 1 brand were going south. Mattel's quarterly numbers at the end of December and at the end of March confirmed it.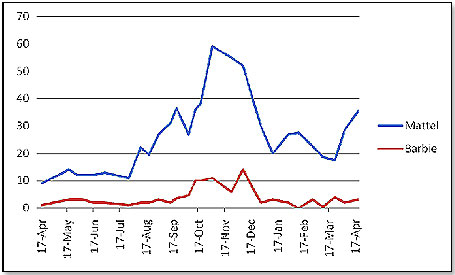 In contrast, Hasbro focused 60 percent of its locations this quarter on the company's winners – Littlest Pet Shop, Star Wars and Iron Man. It did the same thing a year earlier for Spiderman 3 and, later, Transformers.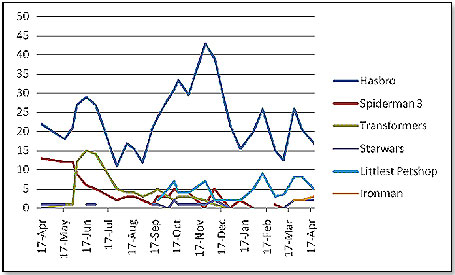 The conclusion? Large toy manufacturers use endcaps as a defensive measure. When things go bad they ramp them up, and when things go very well they draw back. Within that, they put their money on brands with the highest potential. By looking at what a manufacturer does or does not do in the store, you can predict where it sees a problem and where it sees an opportunity.

Writer's Bio:
Lutz Muller is a Swiss who has lived on five continents. In the United States, he was the CEO for four manufacturing companies, including two in the toy industry. Since 2002, he has provided competitive intelligence on the toy and video game market to manufacturers and financial institutions coast-to-coast. He gets his information from his retailer panel, from big-box buyers and his many friends in the industry. If anything happens, he is usually the first to know. Read more on his website at www.klosterstrading.com.
Read more articles by this author
THIS BANNER IS AN AD:
---
---