---
Toddler Roundtable: Horseplay Brings Smiles
Danoco's Knee-Rider is Blue Ribbon for Quality and Fun
"This is one of those toys that is just plain fun!" — Susan Ledford, mother of three

The Knee-Rider by Danoco Corp. gained yeas and neighs from

TD

monthly Magazine's Toddler Roundtable with its innovative, interactive concept and realistic sound effects. Many roundtable participants liked the fact that the toy could be used in several ways.



TD

monthly rating: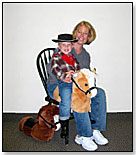 My Knee-Rider by MY KNEE-RIDER DANOCO CORP.
Age: 1 and Up
Gender: Boys and Girls
Category: Plush
MSRP: $32.50


What It Is: My Knee-Rider by Danoco is a plush toy pony that can be secured to a parent's knee with straps, so a child can sit in the horse's saddle and be rocked by the parent's leg movement. When a child touches the back of the toy's head, it makes realistic pony sounds.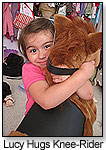 What the Moms Thought: Most of the roundtable participants loved the idea behind the toy. Ledford, for example, found the "quality … excellent, the design very attractive" and appreciated "all the details on the saddle [and] bridle." Tong also appreciated the fact that the toy is "good quality" and "soft to the touch."

Many participants also liked that the toy can be used in several ways. Ledford pointed out that "including the pillow allows the child to continue play when Mom's and Dad's knees need a rest." She also found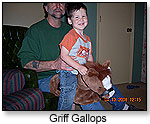 that it "looks very nice on a bed."

Bendorf appreciated the high quality and realistic sound effects. "As a musician, there's nothing more annoying in a toy than bad sound effects," she explained.

For Pauley, the "open-ended play concept" and great design were selling points, while del Pozo was impressed with the fact that the toy allowed for interaction between parent and child. She noted that her daughter uses the Knee-Rider as a pillow on her bed as well.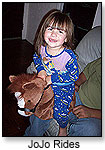 What the Kids Said: Griff (2), who named his horse Max, "loves the design and the horse sounds," Ledford said. He "also enjoys being able to insert or remove the pillow by himself" as he plays cowboy. Ashlyn (2) "kept saying, 'Horsey, horsey!' over and over again" and enjoyed the sounds a great deal. Lucy (3) enjoyed making neighing sounds.

"I'm so happy!" exclaimed JoJo (2) when she played with her Knee-Rider. Tong reported that "the kids were having fun riding on their dad's knee."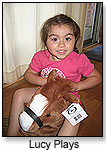 How to Improve It: Ledford thought the toy could be improved by "stiffening the neck because sometimes the Knee-Rider gallops very fast!" Bendorf felt that the toy was a little rickety on the floor and would be improved if made a little more stable on a flat surface. Tong recommended inclusion of information on "riding horses so that the kids appreciate the toy more."

Pauley suggested longer or elastic straps. Del Pozo agreed that this would allow the Knee-Rider to be strapped around the parent's back. She also said it would be useful if the trigger for the horse sounds was easier to find.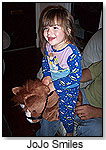 Ledford's bridle detached when a pop rivet came off, leaving her to suggest improved riveting since the bridle is what the child holds onto while riding and, thus, an important safety feature.

Would You Want Another Toy Like This? The packaging was simple and plain, which Ledford liked for environmental reasons. Many parents loved the overall quality. "This is one of those toys that is just plain fun!" summed up Ledford. Diana del Pozo agreed: "It is a great toy."

Roundtable participants were Anna Bendorf with Ashlyn (2); Diana del Pozo with JoJo (2); Susan Ledford with Griff (2); Penelope Pauley with Lucy (3); and Mildred Tong with Erik (2) and Henry (4 months).

Writer's Bio:
A. Antonow is a freelance writer who lives in Canada. She has written for businesses and individual clients alike, developing copy, content, advertising and ghostwritten material.
Read more articles by this author
THIS BANNER IS AN AD:
---
---