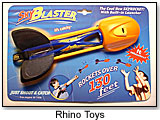 Easy-Catch Toy Innovations Flying High
Newcomer Rhino Toys' (ToyDirectory) latest flying creations—Oball Original, Oball Jellies, SkyO and Sky Blaster—have high-tech designs that deliver interactive play for all ages. Oball Original and Oball Jellies are the all-season, go-anywhere play balls for infants to octogenarians. The matrix of smooth holes form a lightweight, hollow soccer ball design that is fun to grab, kick, bounce and catch, and even squish for stress relief. SkyO, the world's best flexible flying ring, makes it easy for all ages and skill levels to throw long and short distances with incredible accuracy. Sky Blaster, the updated classic flying toy, lets kids experience the excitement of high performance flight with this high-flying, spinning, whistling skyrocket.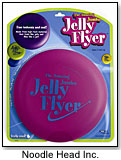 Noodle Head Fun Launches New Flying Disk
The Jelly Flyer by Noodle Head Fun (ToyDirectory, ToyShow) is a floppy flying disk that adds a new dimension of fun to flying toys. Safe to throw indoors and out, Jelly Flyers make catching easy and painless, even for young children. The new high tech material is nearly indestructible with a smooth brushed finish. Jelly Flyers come in fun, vivid colors. The Jelly Flyer was awarded the "Preferred Choice" award in the Outdoor Play category in Creative Child magazine.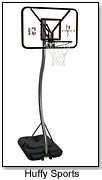 Huffy Sports Changes the Look of Home Basketball
Huffy® Sports Company introduces the Cobra™, the first basketball system of its kind to feature an S-Pole design. The basketball hoop, which resembles a Cobra snake poised to strike, creates added offset, which means there is increased room for play underneath the basket. In addition, the portable basketball system features a 44" steel-framed acrylic backboard with a solid steel Slam Jam™ breakaway rim. The rim comes equipped with the Smart Clip™ safety net release system, which allows the net to pull away from the rim if a player becomes entangled during play.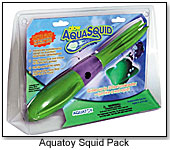 Aquatoy, Inc. Explores Sea-life with the New AquaSquid™
Aquatoy, Inc. (ToyDirectory), a leading manufacturer of innovative water toys, recently launched the AquaSquid™, a water creature toy that can fly through water up to 30 feet. Based on the hydrodynamic design of a real squid, the AquaSquid™ allows swimmers of all ages to explore the structure and movement of a squid. The 12" water toy is made of durable plastic. For nighttime play there's the Glow AquaSquid™ that lights up a pool as it soars underwater.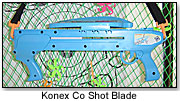 KONEC.Co.Ltd. Invents Propeller/Boomerang Combo Toy
The Shot-Blade is the newest invention by Korean toy manufacturer KONEC Co. Ltd. (ToyDirectory). Cock the handle, place the sleek propeller disk in the launch chamber, aim and shoot. The disk comes out the front so fast that it actually flies through the air. When a shot is made from a high angle, the 3-winged boomerang disc will come back to the shooter. With a little practice, shooters can even shoot from around corners and over walls at targets they can't even see. The three point star disk can also hook onto a net for target practice fun. Comes with a carrying strap, fold up target and 30 disks.

Powerisers Leap Into Toy Market
Powerisers by Superdairyboy Toys is a sports toy that gives users the ability to jump to great heights. The kids´ model allows users from 60 to 130 pounds to jump up to 3 1/2 feet in the air. Powerisers provide exercise for children of all ages, including running races, jumping rope, and just hopping around. The adult model gives users from 130 lbs to 220 lbs the ability to jump up to 6 feet in the air and take running strides of up to 9 feet in length. Basketball slam dunks, flips, and breath-taking jumps are made possible with the Powerisers.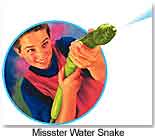 O2-Cool Puts the Water in Water Toys
Ideal for cooling off, the Missster Water Snake™ by O2-Cool (ToyDirectory) is a toy that propels water up to 30 feet and it projects water as far as any super soaker. The Critter Spitters® are squirt toys shaped like animals that are both misting devices and water drinking bottles. Critter Spitters include Squirtzilla™ the Dinosaur, Puddles™ the Duck, Sprinkles™ the Cat, Soggy Doggie™ the Dog, Spittin' Iggy™ the Lizard, and Spouts™ the Whale.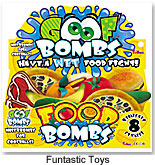 Funtastic Toy's Goof Bombs
Taking the concept of those water bombs made of foam balls and cloth covers, Funtastic Toys (ToyShow) has created Goof Bombs, water toys in the shape of oranges, bananas, hot dogs, hamburgers, and even a t-bone steak, that can be pelted at unsuspecting swimmers and create a virtual (and very wet) food fight.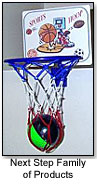 Next Step of Family Products Gets Sporty
Next Step of Family Products´ (ToyDirectory) new line of sport toys include the SportsRing & Hoop, multiple position indoor/outdoor kits that can be used as a miniature basketball hoop, or as a target for football passes, soccer goals and baseball/softball pitches. The mounting system provides versatility for adjusting the Ring/Hoop to a vertical or horizontal surface. Assembly is quick, easy and doesn´t require tools. Other products include the SportsRing Kits, The Sports Hoop Kits, and the SportsRing & Hoop Backboard Creation Series.
HABA Gets Outdoorsy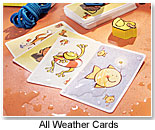 HABA's (ToyDirectory, ToyShow) new line of outdoor/travel toys include Frogs Catching Throw, where kids can toss this beach towel and watch the two cute foam frogs fly high. Whoever's frog lands closest to the red target in the middle wins that round. It's a towel and a game all wrapped up in one! Frogs can also be used for game of catch. Comes with a clear zippered beach storage bag with shoulder strap. The All Weather Cards include Memory, Fish in the Pond and Old Maid with wooden game pieces. The plasticized all-weather playing cards can endure the beach, car and spills, and are all held in a carrying case with snap closure.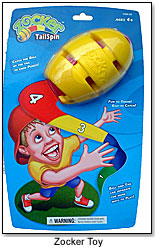 Zocker Toys Has A New Spin
Zocker Toy´s (ToyDirectory, ToyShow) new TailSpin ball is a 3-in-1 sports ball with a colorful numbered tail and a removable Curve Football. Toss the ball by the lightweight fabric tail to launch it long distances with very little effort. Or, throw the TailSpin like a football using the multiple grips in the foam Curve Football. It´s easy for players of different athletic abilities to throw the ball. The soft, durable tail on the ball makes catching the ball easy and fun for the entire family.
Uncle Milton is Flying High
Uncle Milton´s new flying glider line, which features exclusive Pop-Wing technology, includes the Jet Hawk 1, which launches like a rocket from a hand-held, air-powered Strato Launcher. Wings deploy and pop out 40 feet into flight, sending the Jet Hawk 1 about 500 feet in the air!

Not Your Ordinary Sleeping Bag
Each year, Hedstrom likes to step "outside of the bag" and give its slumber bags an innovative twist. From bags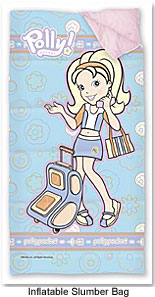 shaped like favorite characters, to those that come with totes for travel, Hedstrom remains on the cutting edge with new designs and formats for every age–starting with infants for busy moms who are always on the go. Brand new formats for 2004 include an Inflatable Slumber Bag—perfect for slumber parties or travel.