Manhattan Toy Kicks off 2004 With a Slew of Innovative Creations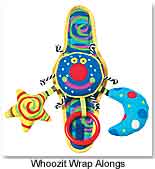 Manhattan Toy Company (ToyDirectory) has introduced a series of new products designed specifically for preschool-aged children, from soft, carry-along playhouses to lace-up animal characters to design-your-own-pizza and cake sets. The Manhattan Baby line has also been expanded: there's a turtle and dragon with twinkling lights; a Dress Up Pup; three interactive Wrap Alongs; and the Busy Bug Sorter that lets kids organize sturdy picture cards.
Under the popular Whoozit brand, there are two new Wrap Alongs that feature the bright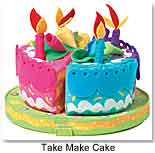 Whoozit colors and graphics, as well as a Whoozit Video/DVD. The company has also updates its imaginative Pupettos line of puppets, including new finger puppet sets, hand puppets, a hand puppet theatre and three fairytale hand puppet sets.
This month marks the "Seussentennial," and Manhattan Toy is offering a commemorative Cat In The Hat Poppeteers puppet featuring the official Dr. Seuss 100th Birthday Celebration logo. Also new are five Clip-ons that can be attached on zippers and backpacks.
Under the popular Groovy Girl line, new Ayana, Angelique, and Ailene come in 13" size and 40" supersize (Angelique doll only). There are also three new Groovy Gear outfits and Groovy Extravaganza outfits, as well as new Groovy Style furniture, including a dinette set, bunk beds, sofa and chair.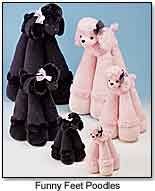 Funny Feet: Hip to the Poodle Trend
Bestever, Inc. (ToyDirectory), one of the highest ranked manufacturers of plush in the specialty gift industry, is the keeper of the "original" Shelly Adventures licensed Funny Feet designs. One of its best selling concepts since 2001, there are currently 39 Funny Feet characters to choose from and the line seems to keep on growing. Most recently, two new poodles have joined the posse: Pink Poodle Funny Feet and Black Poodle Funny Feet ($6-$22). Each perfectly groomed French puppy comes with a little hair bow and matching collar. Silky soft plush designs are available in three sizes: 7.5-inch, 12-inch and 16-inch.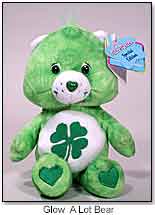 Bears that Love and Glow
This Spring, Play Along introduces Glow A Lot Bears ($14.99), six of the most popular Care Bears that can glow in the dark for hours. Other items will include feature and non-feature plush, articulated and non-articulated plastic figurines and plastic accessories, figural key chains and plush clip-ons, and pre-school electronic and audio toys.
Timeless Toys Plush Goes Retro
In keeping with the latest retro trend hitting toy shelves, Timeless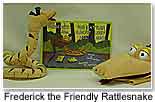 Toys Inc. (ToyShow) is launching its Rin Tin Tin licensed plush line at the Toy Fair. The company is also introducing another licensed character, Frederick the Friendly by Forgettable Rattler, based on the best selling children's book. The book, a full body hand puppet and plush version of Frederick are new products under the license. The company also has plans to introduce the final 10 States in its world-famous Quarter Bear line, as well as expansions to its Old Fashioned Hand Puppet Line, including a magenta Harry Hippo and an alligator puppet based on the new Governor of California.

Planet Rascals Gets Wild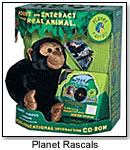 Planet Rascals (ToyDirectory) has come out with a series of soft plush toys based on real animals that live in a zoo or animal sanctuary, including Jean the Chimpanzee, Jill the Leopard, Kobar the Koala, Leo the Lion, Rachel the Kangaroo and Timbo the Elephant.
Packed in a box stamped with "Real-Live Rascal" and "air" holes, each wild animal replica comes with a CD-ROM filled with educational games, trivia questions, pictures and more. With a friendly, knowledgeable zookeeper called "Mr. B," children can learn about their new friends.
A percentage of the purchase price is donated to the zoo or sanctuary where the real animal lives, helping to ensure that it continues to live a long and healthy life. When consumers purchase a Planet Rascals toy, they can send off for an adoption certificate in their name.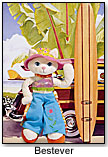 Kitty´tudes™ Are the Cat's Meow
Kitty´tudes™ by Bestever, Inc. (ToyDirectory) are the hot 12-inch cat doll creations designed and licensed by well-known stylist Virginia Hein. Making their debut at the International Toy Fair in New York, Kitty´tudes™ are the most recent innovative product line offered by Bestever Inc. Soft sculptured Kitty´tudes™—including Camille, Cassandra, Cleo, Cassidy, Coco and Courtney—are dressed from head to paw in today´s coolest clothing. They can stand alone and are equipped to strike any pose. Their fashion forward garments are removable and interchangeable. New fashion accessories and even more outstanding outfits are on the design tables now. Watch for additional Kitty´tudes™ to join the group later in the year.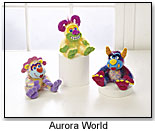 Aurora Toys Proud of new Plush Line
Aurora World, Inc. has a new line of funny and retro toys, including Gumby and Pokey, as well as Rocky and Bullwinkle. Aurora hopes this new collection helps bring back fond memories for parents and presents all new plush characters for their kids. Strumpet the Pig and Hokey the Hippo are additions to Aurora's popular adorable and fun "Rough Bunch line." Dudes and Googles are extensions of Aurora's popular, adorable and fun "Rough Bunch" line for 2003. They have colorful horns, humorous facial expressions, vibrant iridescent colors and high pile plush. Dudes include Giggles, Flatcher and Belcher. One of the most recognizable puppets of all time, Lamp Chop is a huge favorite thanks to Aurora World Inc., which manufacturers the cuddly little lamb. The newest additions include the Lamb Chop Body Puppet and the Lamb Chop Backpack.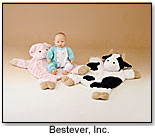 Bestever Inc. Wants You To Get Cuddly
For moms with infants, Bestever Inc. (ToyDirectory) has created Cuddle Buddy, a security blanket that can be used to change babies or place in the car seat. The machine washable blanket comes rolled for easy retail display complete with "j hook" at the top for hanging. Five plush styles include Pink Piggy, Black and White Cow with Horns, and three teddy bears in an assortment of pastel colors.
Preferred Plush Introduces Pudgy Paws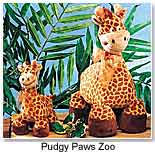 Available in 2004 in twenty styles and two sizes, the Pudgy Paws line consists of Zoo, Farm, Dino, Jungle, and Pet Collections. They will be offered exclusively at select specialty retail gift shops nationwide. Space-efficient Power Wing and Tower display options are also available with minimum purchase. For those attending the Toy Fair, the Pudgy Paws Bulldog will be featured on Toy Fair´s official show bags.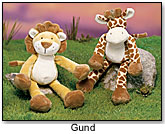 Gund Launches Flopadoodles Line of Plush Characters
Flopadoodles by Gund (ToyDirectory) are a line of floppy soft characters with distinctive European styling and coloring. All 12 characters feature long limbs with oversized hands and feet, including Cagney the Lion, Corey the Giraffe, Corbin the Mouse, Jaden the Zebra, Fiddle the Cow, Emmit the Pig, Griffin the Elephant, Gipper the Frog, Brock the Teddy Bear, Bunky the Bunny, Avery the Dog and Kaden the Kitten.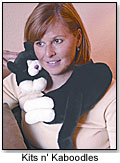 A Cat in the Microwave?
It's not common practice, but a new unique gift idea that is catching on. Warm Whiskers, by Kits 'n Kaboodle, Inc., are microwaveable, buckwheat and lavender-filled plush animals for use as hot packs. After a minute or two in the microwave, the plush animals give aromatic warmth that lasts about an hour. The clever cat and dog neck wraps are shaped to rest on the neck and shoulders.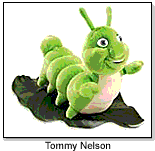 Hermie Plush Toys
Tommy Nelson is releasing mini-plush toys from the Hermie brand, based on the best-selling Christian children's animated series, Hermie: A Common Caterpillar and the soon-to-be-released Flo: The Lyin´ Fly video. They include Hermie, Wormie, Flo the Fly, Lucy the Ladybug and Stringo the Water Beetle.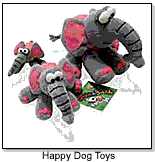 Happy Dog Toys
Happy Dog Toys (ToyShow) introduce their innovative new line of characters fashioned around a custom tennis ball called Tennis Buddys. They come in three sizes of six different animal plush designs: Lion, Monkey, Alligator, Elephant, Dog, and Horse.

BLOCK-IT-POCKET GROUP Gets Soft
BLOCK-IT-POCKET GROUP is introducing LUCKY-Balls, a line of 4-inch plush billiard ball beanies that commemorate a hero from different sports or occupations. There are 16 different beanie toy heroes in all.