What's a hobby? An easier question is: What isn't a hobby? Work and chores. Manufacturers have become very inventive with most hobby equipment and supplies, as is obvious with dog tricks, making music, bird watching and creative sun catchers. Retailers can stimulate cash flow by feeding these obsessions.

Songs in the Key of Light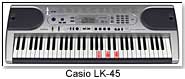 Casio makes keyboards for musicians, amateurs and up. The company has embarked on a new path with three dynamic keyboard/pianos, including the SA-75 Mini-Keyboard (age 6+) with its own hands-free microphone. Lighted keys and a three-step lesson system make Casio LK-45 perfect for children ages six and older and other absolute beginners. The LK-90TV (ages 13+, $199.99) features a lighted keyboard, plus interactivity with the television for lessons and visual feedback. USB connectivity enables easy transfer of karaoke songs to the keyboard from a computer.
A Treat for Trick Dogs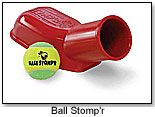 "Fetch" is the oldest dog trick in the world, and over 68 million Americans throw tennis balls instead of sticks. Happy Dog Toys (ToyDirectory) introduces the Ball Stomp'r (ages 5+, $9.99) for dog lovers who want another way to launch their tennis balls into the air. Load the specially weighted tennis ball into its launch pad, stomp on the bladder and send the ball soaring over 100 feet. A conventional tennis ball also fits into the launch chamber. Ball Stomp'r is the long awaited alternative for children and adults who have a hard time tossing the balls.
Here Comes the Sun!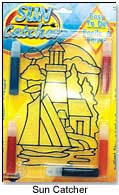 Craft House has just begun shipping a new kind of Sun Catcher (age 8+, $3.99). The Sun Catcher includes Squeezers, which are paint tubes that allow hobbyists to squeeze stains into the decorative Sun Catcher. Not only do the Squeezers reduce messy cleanups, they can be used again by simply twisting the caps back on.
It's a Bird! No, It's a Plane! Yep, It's a Bird.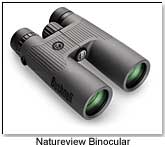 Anyone who's ever looked for a nest in a tree is a birder at heart. Bushnell offers economical NatureView 8x42mm Binoculars (ages 8+, $179) for new as well as serious birders. Special prisms maximize light and close-focus mechanisms put the observer closer to the subject. Since most birders don't have 20/20 vision, NatureView's new lens design decreases fatigue for eyeglass wearers.
Up Close and Personal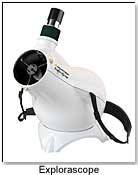 The fun of camping isn´t limited to ground level. Celestron introduces its compact ExploraScope (age 6+, $87.95), a 80mm telescope with visions that are 78 percent brighter than 60mm telescopes. The eyepiece takes the visuals 40 times closer. Alan Hale, Celestron chairman and author of "How to Choose Binoculars" (1991) said, "The ExploraScope is the perfect choice for children and families. This durable model is portable and easy to use, and it is an ideal choice for both astronomical use and terrestrial observing."
Imaginazium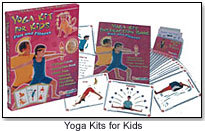 Yoga Kit for Kids combines pretend play and physical challenge, allowing children to imitate the illustrated photographs of yoga poses on the cards and become Dogs, Lions, Heroes and more. Great for beginners,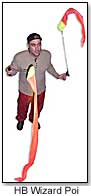 the kit develops strength, flexibility and balance.
Higgins Brothers
Poi is a beautiful way to practice coordination and skill. It can be spun and twirled in multiple amazing patterns. The HB Wizard Poi ($19.95) is a soft rip-stop nylon beanbag with long ribbons and comes in very bright colors. It includes a durable finger strap, cord and grommet and is very popular in Australia, New Zealand and in Asia!