Brothers Eric and Chris Ryan, originally wanted to research subatomic particle formation as a career. However, realizing the pair's playful, yet complimentary style, Eric's wife encouraged her husband and brother-in-law to move toward making toys and kid's activity kits instead. Shortly afterward, Eric and Chris founded Noodle Head Inc. (ToyShow) in February 2003.
As a small company, Noodle Head is able to maintain a creative ideology. Their success is due to a team of creative, intelligent and hardworking people. Eric and his team write down ideas and morph them until they are genuinely excited about a new product.
When deciding what products to manufacture, the people at Noodle Head follow a series of steps. They ask themselves, "Is it different? Is it well done? Is it fun?" Then, to test their products, they gather kids from the neighborhood and say, "Hey, check this out…" Then they wait for the words "cool" and "awesome" to fly around. If the kids don't approve, the product will not get manufactured.
As far as best selling products, Eric says that sales are almost evenly split between all products. In the long term, however, Eric predicts the Jelly Flyer products, with their wide age-range appeal, will outstrip any single activity kit. The Amazing Jelly Flyer (small $1.85), the Amazing Jumbo Jelly Flyer ($9) and the newly released glow in the dark version, the Night Flyer (small $2; jumbo $10) are flying disks made out of soft, high tech silicone material that feels like jelly but flies like a jet!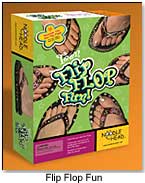 From Noodle Head's craft line, Passion for Fashion is, Flip Flop Fun ($14, sizes 4-6; $15, platform sizes 7-10), a unique craft kit offering kids the chance to decorate their own sandals. The kit is packed with glue, 3 colors of shimmering paints and sparkling gems and sequins. The line emphasizes developing a process that gives children and teens the maximum chance of creating a finished product that they like.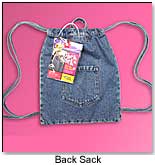 Another craft kit due out soon is the Back Sack ($17), a denim, all purpose bag that kids can decorate with fabric-paint, sequins, jewels and beads.
Noodle Head is also expanding their web presence with a new section of their website, called Creativity Club. Creativity Club allows kids to interact with Noodle Head staff by using Noodle Head products. The kids comment on products, play with them and communicate with other kids. "We want kids to experience the creative process, share ideas, be engaged with the activity, each other and/or their parents. We also want them to identify with other creative, active kids," Eric says.
This desire has transcended to an extended involvement of Noodle Head in schools. Eric adds enthusiastically, "We have been so energized by the work we've done at schools that we have a long-term plan to develop educational kits to better engage kids in the school curriculum and to convey and reinforce classroom concepts."