---
Boys Are Creative, Too!
"Specifically for boys … our experience shows that themes including bugs, transportation and sports have been successful." — Ann Shade, Dimensions/Perler Inc.

No longer are crafts just for girls. People in both established toy and craft companies are brainstorming ideas that will tap into the creative side of boys' minds. To lure them in, crafts glow in the dark and deal with insects, monsters and dinosaurs.

In general, boy-geared crafts focus on the finished product and require little time and effort. This appeals to the shorter attention span of young males.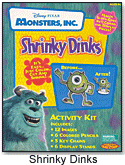 Betty J. Morris, president of K & B Innovations, Inc. (ToyDirectory) — the maker of Shrinky Dinks since 1973 — is a strong advocate of expanding the arts and crafts market to include more items for boys. "Creative thinking is the basis for all innovations and problem solving," Morris told TDmonthly Magazine.

However, Morris knows that finding craft ideas that boys will latch onto isn't easy. She admits that she still sees fewer craft kits directed toward boys compared with those for girls.

"Unfortunately, the industry seems to perceive crafts as a girls' activity," she admitted. Her company, however, started looking toward the boys market by working with Spin Master Inc. to create kits for the Shrinky Dinks product line for both girls and boys. It was simply a matter of finding the right product to match with the boys' market. "We had Spiderman kits that were incredibly popular for a while," said Morris.

Shrinky Dinks and SpinMaster have since parted ways, but Morris stressed that there are still plenty of products that appeal to boys. "Most boys love to trace team logos. We also have kits, including airplanes, dinosaurs, race cars, etc. — anything that they are interested in. Usually, they create key chains or magnets. Lastly, we have a Kooky Comics pattern book, where kids can learn how to draw crazy cartoons."

Finding the hook for boys in the craft market is also a focus for Ann Shade, sales support manager of Dimensions/Perler Inc. The company manufactures and sells bead kits in which the finished product can be heated to create a permanent piece of art.

"We frequently hear the need for 'more products for boys,' or at least product that appeals to both girls and boys. We have boy and gender neutral kits in our current mix and will continue to offer new items in this segment," Shade told TDmonthly. "The sales on girls' kits will almost always be higher than boys' kits. However, we have identified themes such as 'Glow-in-the-Dark' that have a strong appeal for both sexes. Specifically for boys, though, our experience shows that themes including bugs, transportation and sports have been successful."

Some craft manufacturers are trying to remove the gender differences in their products altogether by focusing, instead, on the creative process. Creations by You Inc. (ToyDirectory) is a company that has deployed this strategy.

"Our kits are not gender specific," noted Nan Thomas of the Colorado-based company. "We focus on drawing pictures, writing stories, taking photographs, etc., so we have boys and girls equally completing our kits. Because we add no content whatsoever in our kits, each child is free to let their imagination run in any direction they choose when they create whatever keepsake they are interested in. The free-form aspect of our kits seems to be very appealing to both sexes."

The following are a few examples of gender-neutral or boy-specific craft kits:









.

AD
---






Plate Works includes everything necessary to make plastic plates, bowls or mugs that are break resistant and dishwasher safe. Special drawing pages and washable markers are included in the kit. Also, users can send in a favorite photo in the postage paid envelope provided. Creations by You can even typeset the user's name, date or special message around the rim for no extra charge, or they can have the child's artwork cover the entire plate. Extra plates, bowls and mugs are available.

.

AD
---






My PhotoStory allows you to "publish" your own hard cover book featuring all your favorite print or digital photographs! This kit includes all the materials you need for making your book, including markers, tape for adhering photos, over 100 "Mrs. Grossman´s" stickers, and a postpaid envelope for returning your materials to "the publisher." The standard book includes 15 professionally typeset pages. My PhotoStory now offers an internet production option that includes online drawing tools with assorted backgrounds and stickers, photo downloading capability, allows for more words per page, a choice of font styles and colors and faster production times at no extra cost. This option is perfect for those who now use digital technology for photos. This kit is very popular with the "tween" market.

.

AD
---






Children can make a statement with their own personal creative door hanger. The kit includes markers, stickers and glitter glue. It's great for party favors and party activity.

.

AD
---






Kids can create their own fire fighter, fire truck, fire dog and a fire hydrant by mixing the casting material and pouring it into the molding tray. Once it sets, it's ready to paint. The non-toxic kit includes magnets that can be glued to the figures' backs.

.

AD
---






This kit combines learning the art of cartooning with the fun of making Shrinky Dinks. The book in this kit contains outlines of different heads, eyes, noses, mouths and bodies. Kids pick their favorite head shape, lay the plastic over the image and trace.

.

AD
---






The object of the game is to shrink game pieces in the replica Shrinky Dinks Maker. After they have been shrunk, kids follow the path on the game board and collect the required five Shrinky Dinks from the six Shrinky Dinks Lands.

.

AD
---






.

AD
---






Digi-Draw allows kids to trace any drawing using either the included pictures or their own. The reflection of the picture will show up on the paper and all the artist has to do is draw. It is also available in a Spider-Man theme.

.

AD
---






The Paint-N-Play suit is TrendyKid's remedy for those messy activities that children love to indulge in. Whether it's painting, cooking, water play or just plain old messy eating, the apparel protects clothes from splatters, spills and stains and comes with a storage bag. The Paint-N-Play suits give parents peace of mind while their artistic boys and girls are having fun.

.

AD
---
THIS BANNER IS AN AD:
---
---