Article Synopsis
Perceptions of Wood
High Quality
Artistic/Designer
Environmentally friendly
Niche products
Heirloom or retro look
Educational toys
Customizable
Marketing wooden toys
Make effective use of the Internet
Specialty shops
Overseas markets - Europe and Asia
Though you are not likely to find a handcrafted maple toy car on the shelves at Wal-Mart, the market for wooden toys is a vital one. Some companies are offering heirloom-quality, educational toys that will hold a child's interest, stand the test of time and protect the earth for the next generation.
"Frankly, the toy market is a changing one and wooden toys are continually being pushed to the margin in favor of both cheap plastic and hyped electronic alternatives," explains Michael Rainville of Maple Landmark (ToyDirectory), a woodworking company that offers wooden toys and gifts.

For this Vermont-based operation, product development has been heavily driven by customer requests. In recent months Maple Landmark has introduced a line of checker boards and decorative items for children's rooms.
Their goal is to create a niche, offering well-designed products no longer available elsewhere. "What we still see in families is a desire to equip toy boxes with some durable, tried-and-true toys that have some basic developmental value," says Rainville.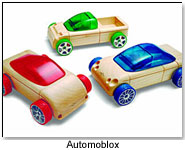 For many wooden toy makers it comes down to providing parents with premium quality toys that spark the imagination. "As a parent I'd rather have three or four really good quality toys than 15 [mediocre] ones," explains Patrick Calello, owner of the New Jersey-based Automoblox Co. (ToyShow) "Wood means upscale; it means quality."
Automoblox is launching a series of "future retro" cars carved from maple. Designed for preschoolers, the play system challenges children to match colors and shapes to build custom cars. "Wood was the driving force behind the concept," Calello explained.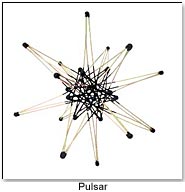 Stuart Quimby, president of Design Science Toys, also appreciates the vital connection between toy design and material selection. The company's new Pulsar toy is made of bamboo. Though the geometric construct could have been more easily developed using plastic, Quimby did not believe it would offer the right look, feel, durability or strength.
"In plastic, [the Pulsar] just looks kind of limp and lifeless," Quimby explains. "I said 'Let's do it in bamboo.' It's got the structural strength and springiness we needed. It was just vastly superior."
Quimby blames America 's cultural bias for the glut of plastic toys on the market. "When you look at the nature of a toy itself there are so many toys that are made in plastic that don't need to be. It's just what we're used to."
But that isn't the case in other countries. In Korea , Japan and Germany , for example, wood is a very popular material; sophisticated design and educational value are prized. "Current cultural trends in America are not shared by the rest of the world," says Quimby.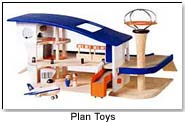 Plan Creations Co. Ltd (ToyDirectory), based in Bangkok , Thailand , produces Plan Toys, the first and only preservative-free rubberwood toys on the market. The company uses wood from plantation-grown trees, naturally processed and free of chemicals.
For many wooden toy makers the distinction between renewable wood materials and environmentally unfriendly plastics is an important one. Plastic toys are not easy to recycle, don't break down in landfills and deplete the world's oil resources. Consumer groups have even argued that carcinogens present in plastics pose a health risk.
"It is more complicated to work with preservative-free rubberwood as we must keep every single process clean," says Plan Toys representative Ek-orn Anukool. However, she notes the hard work ensures there are no chemicals present in the toys, thus protecting children. The processing helps the environment, too, because no chemicals are leaked into the air, ground and water.
When designing and marketing wooden toys, planning is the key. Producers must select the right stores in which to retail products, make effective use of the Internet, respond to customer feedback and establish a foothold in the European markets to ensure growth.
"It takes a special sort of store to carry nice wooden toys. Their clear purpose is to set themselves apart competitively from the price-driven discounters," says Rainville. Maple Landmark is targeting such stores by offering customizable products.
Notes Quimby, "When you swim upstream you don't want to thrash. You don't want to do it in an arbitrary way. You want to be pretty careful about it."