Whether it's trucks, tractors, Big Wheels or cars, ride-on toys are just as popular today as they were when the first pedal car hit the pavement...and then some. Even in today´s video game-saturated world, it´s good to know that youngsters still have fun with a fabulous variety of safe and durable ride-ons.
No License? No Problem!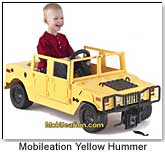 Kids anxious to get behind the wheel can now hit the pavement in style with Mobileation´s mini Yellow Hummer Pedal Car ($179.95; ages 3 to 7). This ultimate Hum-Vee pedal car has it all: headlights, turn signals, brake lights, real engine sound, fully functional doors, adjustable steering wheel, and much more. Licensed by General Motors, this pedal car comes equipped with rubber tread wheels for great traction, chain and sprocket pedal drive with forward and reverse and a removable chain guard. Made of an all-steel chassis, this mini Yellow Hummer Pedal Car requires minimal assembly and is equipped with an integrated hand brake for emergency stopping. Boys will love it in Military Camouflage ($159.95), too.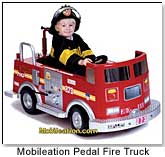 Also from Mobileation, the Pedal Fire Truck with working lights and eight feet of hose ($169.95; ages 3 to 7), will appeal to the fireman in both boys and girls. This authentic pedal car is loaded with features and gadgets, including everything from real flashing lights and siren to a microphone PA system, play ladder and adjustable steering wheel. It is even equipped with an integrated water tank with pressure pump (for summer fun) and removable sprayer. Rubber tread wheels, chain and sprocket pedal drive (with forward and reverse), removable chain guard and hand brake round this out.
Move Over Old MacDonald...There´s a New Farmer in Town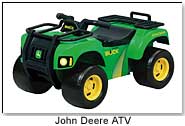 Sure to be a hit with any youngster, a brand new ride-on from RC2 Corporation, the John Deere Sit ´n Scoot Buck Utility ATV ($49.99; ages 18 months and up) with its blinking turn signals and fun sounds, is a must-have for any toddler. Measuring 22.5" x 12', this fun all-terrain vehicle (in John Deere's classic green and gold) also includes a fun-to-sing John Deere ATV tune and front rear racks that swivel up and down.
It's the Wiggles!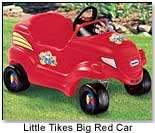 When kids just want to have fun, the Little Tikes Big Red Car (ToyDirectory) ($50; ages 18 months to 5 years) is there to deliver! Inspired by the most popular children´s music group and TV show, Big Red Car has been brought to life…as a ride-on. This 35.50" x 15.25" x 19.25" hot rod, inspired by Australia's The Wiggles, includes custom Wiggles decals, a working horn and durable all-terrain tires.
Have Fun, Fun, Fun 'Til Daddy Takes the Classic Away
Available in aqua/white, red/beige, pink/white and yellow/white, the C&N Reproductions (ToyDirectory) '55 Classic Pedal Car ($239; ages 2 to 6 ), is classic pick. This ride-on is reminiscent of the classic cars of the 50s, which features oversized wheels for easy pedaling and color coordinated upholstery and simulated convertible top. The 41" x 18" x 15" heirloom quality all-steel construction Classic boasts enamel paint, real chrome windshield, steering wheel and hubcaps and solid rubber tires.
Little Pink Corvette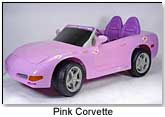 The Dorel juvenile group has obtained a license from Corvette® ($299.99; ages 3+) to make a miniature pink reproduction of the classic sports car. The remarkable vehicle features a two-speed transmission, enabling the driver to switch from 2.5 to 5 miles per hour, and the car also goes 2.5 miles per hour in reverse. Luxuries are abound in this vehicle which also comes with an FM radio, digital clock, and cup holder, traction tires, flip-up working headlights, taillights, turn signals, side mirrors, seatbelts, sound effects, and a flower decal kit. The highly realistic and cute car even comes with a 1yr. limited bumper to bumper warranty. The car runs on a 12 volt rechargeable battery and 3 AA batteries.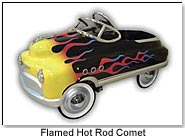 Warehouse 36 (ToyDirectory) releases a new line of stamped steel pedal cars that replicate some of history's hottest vehicles. Each reproduction features a powder coat finish, padded seat, rubber tires, and functioning steering wheel, in addition to each model's unique traits. The Limited Edition Model-T Roadster has a highly crafted body and detailed pin stripping, with an adjustable windshield and headlights, as well as an old-fashioned horn. This old-time vehicle also has gold chrome headlights, hubcaps and an extended front bumper. Blast into the future with the Flamed Hot Rod Comet. The finish on this replica blazes with red, yellow, orange, and blue flames and has silver chrome so shiny the driver can comb their hair in the reflection before zipping off. And what's more classic than the '55 Classic Convertible? These replicas are designed with the spirit of the American automobile and have a two-toned paint pattern and chrome detailing, with adjustable pedal positions.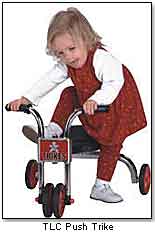 Learning Products, Inc. has a wide range of ride-on entertainment for young children. The TLC Trikes can be a child's first tricycle or their first scooter, preparing them with balancing skills that will take their ride-on ability to the next level. The TLC Small Trike (ages up to 3 yrs.) has a wide wheel base for stability, making it easy for toddlers to adapt. For ages 18 months to 2 years there is the TLC Push Trike, a bike without wheels specially developed for tots who have not yet acquired the motor skills for pedaling. The 14" Big Chief is a low-rider that is suitable for children ages 4-7 to cruise around in.
Big Wheel and Nickelodeon have teamed up in the name of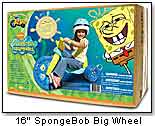 SpongeBob Squarepants to offer the 16" SpongBob Squarepants Big Wheel. This ride-on offers the same riding action as other Big Wheels but includes a bonus sticker sheet so kids can decorate their Big Wheel with characters from SpongBob Squarepants. The vehicle is a cool, underwater blue with yellow accents and has an adjustable seat so the cycle grows with the child.