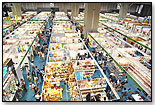 TDmonthly Magazine recently had the opportunity to attend the Summer Sourcing Show for Gifts, Houseware and Toys. The show ran from July 6-9 in Hong Kong. (Photos: summersourcingshow.com/photo_gly/photo07.htm) Our staff was honored to be present for this new and exciting event. Please find a summary of this year's Summer Sourcing Show:

Summary of Results for Summer Sourcing Show for Gifts, Houseware and Toys

(July 6-9, 2004)

Key Information about the Fair:
Because of the dangers of SARS in Hong Konglast year, the Trade Development Council, with support from the Thai Gifts & Premium Association, the Taiwan Gift & Houseware Exporters Association and the Taiwan Toys Manufacturers Association, gave exhibitors at its April 2003 trade fairs in Hong Kong the choice to continue, defer to a consolidated fair in July, do both, or withdraw with a refund. The TDC was surprised to learn that attendance at the subsequent July event was record breaking with more than 60,000 buyers and exhibitors reporting unexpectedly good business. They are also surprised as July is usually thought of as a month that, in their opinion, is mainly a vacationing month and therefore slow in buying.
At this year's show, there were a total of 1,317 exhibitors from 19 countries and regions worldwide.
Group pavilions included the China, Taiwan, Thailand, the Philippines and Vietnam . There was also a Hong Kong Exporters' Association pavilion.
Over 50% of the exhibitors made their first appearance at the TDC fair (They did not join any of TDC's trade fairs in 2004). A platform offered new products from new suppliers to buyers.
There were five themed zones: Dining & Cooking, Fun & Play, Gift Ideas, Home Living and Style & Décor.
A special zone of Treasure Island housed the more elite products.
A new concept at the fair: a reverse exhibition actually inside the fair called "Procurement Centre for Japanese Buyers," in which 16 Japanese companies which are key importers and manufacturers, met and resourced from the existing exhibitors at the fair.
Key Statistics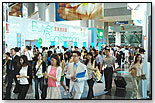 · A total of 33,288 buyers attended the fair, 10,625 were overseas and 22,663 were locals.
· The top 10 visiting countries and regions were the China (2,774), Japan (1,308), Taiwan (906), USA (625), Thailand (566), Philippines (518), Singapore (435), Australia (383), Korea (359) and Canada (262)
| | |
| --- | --- |
| Region | Attendance |
| Hong Kong | 22,663 |
| Africa | 94 |
| Asia | 7,626 |
| Australia & Pacific Islands | 473 |
| Central & South America | 128 |
| Europe | 1,217 |
| Middle East | 200 |
| North America | 887 |
| Total | 32,288 |
Buyers who will attend the Summer Sourcing Show next July will find a great selection if they are looking for new and innovative toys. We were impressed with the educational value the conferences offered. We were also impressed with the organization and professionalism of the show´s management. Over 70% of exhibitors were in the gift and/or related product category.
If product cost is the most important factor for you, we recommend you also visit toy trade shows that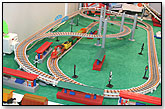 are conducted in China, where you can purchase directly from the factories. If you don't mind purchasing at a marginally higher cost, then Hong Kong firms/agents who have better connections and years of experience in importing and exporting will offer you a higher level of reliability and quality in products and services.
TDmonthly Magazine encourages buyers to visit the upcoming well-established Hong Kong Toys & Games Fair 2005 from January 11-14, 2005 at the Hong Kong Convention and Exhibition Center. (www.hktoyfair.com/index.htm")
Summer Sourcing Show for Gifts, Houseware and Toys 2005: (summersourcingshow.com)
Date: 5-8 July 2005
Venue: HK Convention and Exhibition Center