Article Synopsis
Have a fun store:
Bring displayed products alive
Make products accessible to customers to try out
Hold in-store events
Staff should be friendly and engage customer
Fun stores increase sales
One of my favorite quotes of all time is from Jerry Greenfield of Ben & Jerry's Ice Cream fame. Jerry once said, "If it's not fun, why do it?" Great advice for us all, not only in our personal lives but in our business lives as well. I'm amazed, though, at the number of toy stores I visit that have lost the element of fun. I was in a toy store recently and just inside the door there was an intriguing and inviting toy on display. Unfortunately, right above the toy was a "Do Not Touch" sign. In a toy store, of all places! The local bank's play area is a more inviting place for children than that toy store. This is a shame and a wasted opportunity.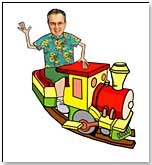 It is a fact that fun is not only a critical strategic advantage for small and mid-size toy retailers, but it's profitable, too. Creating a fun in-store experience not only differentiates a retailer from the large commodity discounters but also from other local competitors. Products such as ride-on toys and trains not only give your customers a chance to experience them before they buy but also turn your store into a must-visit destination.
Here are some tips for turning your store into a fun retail shopping experience. First, bring your products alive. Nothing warms the heart of customers young and old like seeing and hearing a toy train set on its tracks. Too many toy stores today are quiet and lack vibrancy. Having a train circling overhead, out of the reach of little hands, is a great first step to differentiate your store from the commodity retailers.

Second, make products accessible to customers. The benefits are immense. Studies show that the longer customers stay in your store the more likely they are to buy something. The more someone plays with something and has fun with it the more likely they are to buy it for themselves or as a gift. The Sharper Image has perfected this model and is one of the few stores people will stand in line to enter. The downside is product wear and tear. Like all inventory, it has to be managed. Sell floor models quickly, which not only reduces the inventory that has to be written off but also saves your customers money. Consider creating "Floor Model Friday" or "Demo Days" when customers can come in and purchase display pieces at a discount. If the hands-on experience creates more sales then the lower margin sell-off of demonstration products are just another cost of sale. It's amazing how many retailers will run frequent advertising without analyzing its effectiveness, but won't make product available to play with because of the cost. Selling to the customer you know is easier and more cost-effective than selling to the customer you don't know.
Another way to create fun and memorable experiences for your customers is to host in-store events. Create events based on the products you're promoting and the customers you're targeting. To promote train products a retailer can have "Conductor Days" complete with a parade around the store's neighborhood or mall; a great way to draw even more attention to your store. Invite everyone who's purchased ride-on toys to be in your town's holiday parade. Kids love to be in a parade, parents appreciate it, and it's great publicity for your store.
Ultimately, what makes shopping a positive and memorable experience for customers are the owners and employees who interact with them. Good products are certainly important but a staff that welcomes the customers, engages them, and puts toys in their hands to try out will really set your store apart from the competition. Fun starts with the staff.
If you want your staff to deliver a fun and memorable experience with a smile, you need to give them something to smile about. Make work fun. Create contests. Give them unexpected gifts. Do things that show you value and appreciate your staff. Encourage them to play at work. When giving your staff a list of to-do's always put "have fun with the customers" at the top. Without customers and sales there will be no need to do all those other things on the list.
Fun and engaging experiences sell, it's profitable, and creates loyal and dedicated customers. "If it's not fun, why do it"?