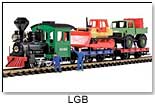 From the introduction of their first train in 1968, Wolfgang and Eberhard Richter were recognized as innovators in the model train industry. At a time when the trend in trains was miniaturizing, the Richters developed a G scale train (1:22.5) that was four times larger than the conventional HO scale (1:87). Their company name, LGB of America (ToyDirectory), says it all. LGB is German for Lehmann Gross Bahn or "Lehmann's Big Train."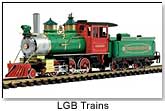 LGB model trains are more than just large in size. They offer consumers the opportunity to enjoy garden railroading with trains and accessories made for both indoor and outdoor use. With tracks made of marine grade brass and car bodies made of a fade-proof plastic, LGB trains withstand blazing summers, pouring rains, and even snow. Over 150 patents awarded to the company since its founding in 1881 have helped make LGB the train that can withstand just about any environment. "We've had customers run their trains into the swimming pool , accidentally of course, then pull it out, put it back on the track and it runs, no problem," says Jonathon Meador, product and technical manager.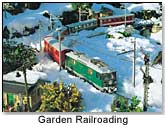 In addition to their LGB model trains, the company also offers TOYTRAIN. The line is compatible with the LGB model train but is more "kid-friendly." The line, made in bright colors, is easy for even the youngest train lover to set up and enjoy. It also offers all types of fun additions such as cars that blow bubbles, explode, and more.

LGB was started 123 years ago by E. Paul Lehmann as the toy company Ernst Paul Lehmann Patentwork in Brandenburg, Germany. A cousin, Johannes Richter, joined the company in 1921 and helped restart the company in Nϋrnberg , Germany after the East Germany government seized the original company. His grandsons, Rolf and Johannes, still lead the company today in both its Germany and San Diego locations. Despite being known for their model trains, LGB still offers many mechanical toys like those that made the company famous a century ago. Their RIGI line features cable cars. Instead of being confined to the ground, these toys are set up to soar through the air. The GNOMY features traditional cars, trucks and other vehicles.

According to Meador, their most popular products are complete sets of track, locomotive, and cars such as the Santa Fe Starter Set. But LGB enthusiasts aren't satisfied with the basics for long. LGB has over 600 products available and will be introducing approximately 120 products throughout 2004. Because of a recent licensing agreement many of their new products will feature a Disney theme. At the 2004 Nurnberg International Toy Fair their new Disney Train Adventure won an "Innovation Award." The game is a cross between a G scale train and a board game.