Don´t assume that the Brakeman Bills at model train conventions never grew up. If those guys were real kids, they´d shuck their complex train configurations and try the wooden and plastic sets that inspire today´s children to give every locomotive and car a unique personality and voice.

Work for the Train, Play for the Kid

Yvonne Lopata, director of marketing at Fisher-Price, isn´t exaggerating when she says, "The Fisher-Price GeoTrax Rail and Road System provides interactive play options for preschoolers." The GeoTrax Tracktown Railway ($39.99; ages 2-1/2+) is a remote-control toy that lets children connect the tracks in a few snaps with help from an adult. Its remote control will work in collaboration with other remote controls as more GeoTrax sets merge into the system. The locomotive toots when it leaves the depot on demand, a cargo loader manually lifts freight into a flatbed car and another loader rolls pipes into a second car, an elevated bridge goes over a tunnel, and the warning arms at the railroad crossing move up and down.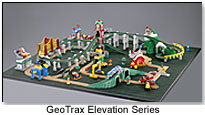 From up where the air is thin comes the GeoTrax Elevation Series, featuring its landmark Mile High Mountain ($19.99). On this system addition, the train begins at the ground level and wends its way up to a cargo drop on level two and a chalet on level three. A drop-through chute sends cargo back to the loading dock for the next trip upward. For kids (ages 1-5) who aren´t ready for tracks, Fisher-Price offers the Little People Musical Zoo Train. Press the conductor and the old Dr. Doolittle score "If I Can Talk to the Animals" will send some parents into a reverie.
Expanding the Engineer´s Wish List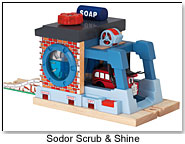 In the ´60s, boys released their vehicular aggressions with demolition derby sets. Today´s children have snubbed that destructive course in favor of more constructive outlets for their energy and imagination. One of the pioneers of the expansive wooden train line is Learning Curve. The Thomas & Friends Railway (ages 2+) keeps growing with the Limited Edition Better View for Gordon train ($24.99). Its Thomas & Friends Wooden Railway Sights and Sounds Destinations include the Sodor Scrub & Shine($49.99) with foam pincers pulling vehicles through a wash of sudsy sounds. Cranky the Crane has gotten a facelift with Deluxe Cranky the Crane ($69.99), featuring moving eyes and a motorized arm. Learning Curve has added another feature-filled figure 8 set with which to initiate the beginning engineer. One of the best values is the 25-piece Water Tower Figure 8 Set ($39.99)with a water tower whose water level drops when the spout lowers.
All Aboard!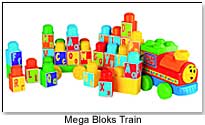 MEGA BLOKS (ToyDirectory) has unveiled its Disney product line starting with Pooh´s Musical Buildable Railway ($29.99; age 1+). Press the train´s smokestack and hear one of four melodies. The Pooh, Tigger, Roo and Piglet cars are interchangeable and the set´s blocks are compatible with other MEGA BLOKS building systems. Kids learning their ABCs get a fun start with MEGA BLOKS´ popular ABC Train ($9.99; ages 1-5). The smiling locomotive pulls two cars with 26 snap-together letter blocks.
Superhero in Training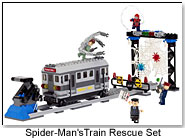 LEGO isn´t synonymous with trains - yet! Based on this summer´s blockbuster, "Spider-Man 2," that rollicking web-slinger battles the highly articulated villain Doc Ock on a LEGO car kids build themselves or with the assistance of a well-motivated adult. The 294-piece No. 4855 Spider-Man´s Train Rescue set ($29.99; ages 7-12) features a "slammer" that launches the car into oblivion if not for Spider-Man´s ingenious web crime stopper.
Tending to the Details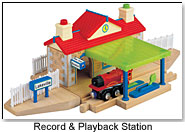 Maxim Enterprise is a name known to the children of serious train hobbyists. The maker of the wooden "The Little Train that Could" has taken the advice of Internet retailers and produced a high-quality Split-Top Activity Table($149.99, ages 4+) with frame, tabletop and drawers that is economical to ship. Aiming to update the classic wooden set, its Record & Playback Station ($29.99, ages 3+) has jumped beyond lights and visuals and given kids the ability to record their own phrases for personal sound effects.
Go West, Young Man!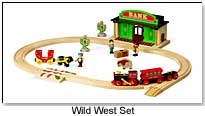 Michael Heun, Brio Wooden Railway (ToyDirectory) product manager, points out the new direction his company has taken the past three years. "Classic play incorporating unique themes has been a major point of differentiation in the wooden train category," he says. There is a growing interest in transporting the standard railway into fun, creative play patterns centered around such themes as pirates, sky trains and, just christened, the Wild West." The Wild West Set ($60; age 3+) features a bustling bank, piston-action train, roaming bison, and desert cacti, all to recreate the unsettled times when cowboys rode off into the sunset. Of course, the set also includes a horse and carriage with pose-able figures for human drama.