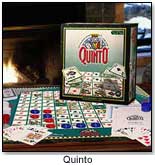 Quinto Game Company (ToyShow) introduces an exciting new board and card game called Quinto® ($39.95; ages 10 to adult). Using playing cards, players or teams compete to capture strategic positions on the Quinto® game board. Every game is full of twists and turns as players try to capture their opponents' pieces and block their moves in an effort to score points. "Wild Kings", "Quick Quintos", and "Double Quintos" are just a few of the many facets that add depth to this truly dynamic game. Because Quinto® is best played in teams (4 or 6 players is ideal), Quinto® is sure to become a favorite at any party. In addition, Quinto® is never predictable and entails both chance and skill.
Quinto® has its roots in an ancient Roman board game called "Calculi" or "Five in a Row." The winner of this ancient board game was the first player to line up five stones or pebbles in a row, either horizontally, vertically, or diagonally. Now, thousands of years later, with the addition of playing cards, a scoring system, clever rules, and chips to replace the old Roman stones, Quinto Game Company has created an entertaining and timeless twist on an ancient pastime.
Quinto® has been designated a 2004 Parents' Choice Approved Award winner and has received many positive reviews from industry professionals. Each Quinto® game includes a Quinto® playing board, playing cards, color chips, scorecards.