Kids are ready for their own wheels long before the law is ready to hand them a license. Tweens try to cram their long legs into a Power Wheels and ask, "Why don't they make these in my size?" Well, tweens, teens and beyond can also be mobilized with ride-on toys. Sometimes, it is not clear when one crosses the line from toy to vehicle. But, nonetheless, they all glitter in the eyes of tweens and teens.
The most obvious, the most popular and the most affordable ride-on toys for the older set is the scooter. Teens and young adults fell in love with in-line scooters in the '90s, and they are aching to try an electric or gas powered one now. The array of price points is wide, and the technology evolving.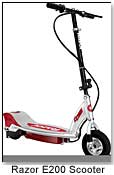 Reliable scooter manufacturers like Razor, USA LLC (ToyDirectory) are a good place to start. The Razor electric scooter models E100, E200 and E300 are for the 8+, 12+, and 16+ age groups, respectively ($100-200). The E100 runs as high as 10 mph and the E300 runs at 15 mph. All three have a rechargeable battery with short charge times and a quiet chain driven motor.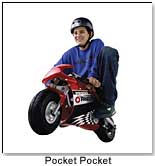 Also new and exciting from Razor is the Rocket Pocket, a scaled down version of a street bike. It is realistic looking, holds riders up to 220 lbs., and drives at maximum speeds of 15 mph. The Rocket Pocket ($229; ages 12+) also has a chain driven motor and rechargeable battery.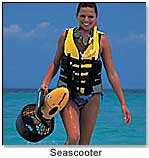 Ride-on toys can include riding on in the water. ZAP, an innovative Santa Rosa , CA company, has a Seascooter ($299) that has great potential for toy, gift and specialty stores near an ocean, lake or river. One can use the Seascooter in a swimming pool too. It pulls riders through the water at up to two miles per hour. It comes with a carrying case, battery and charger.
A Go Kart is a dream of every kid, and that never changes. People find ways to drive their carts at nearby tracks, some official and some not, or open spaces. Parent considerations are price and safety, so it's a great opportunity for add-on sales of quality helmets.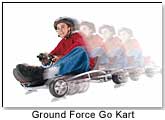 Manco Manufacturers has a line of Fun Karts for beginners running on firm, flat terrain. The entry model for ages 6-11 years old is the Bandit, which runs on a 4 HP motor at a speed of 10 mph. The Bandit has a suggested retail of $599, and Bandit II, the two seater version retails for $699.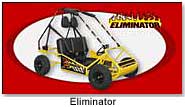 For older kids in the entry level, Manco has several models, the most popular being the Eliminator, which runs on 5 HP at speeds of 22-24 mps. The larger models can entertain a whole family.
Triker is a low-riding, cruising pedal bike that will "rock the streets!" Riders steer with levers on each side of them while leaning back into a sporty bucket seat. Hold on! Triker has a seat belt to keep riders strapped in and they'll need it. With drum brakes on both back wheels and front wheel drive with tread to enhance cornering, Trikers don't always cruise – they zoom! Triker even has a front bumper, just in case. It also includes a number plate to personalize one's Triker and a red safety flag so others can be on the lookout for the Triker as it zips down the road.