There is purity about wooden toys - a minimalism that is eternally attractive. With clean lines, and a naturalistic feel, wood has a tactile, earthiness that is inherent within us all. There are unlimited possibilities for crafting wood. It is streamlined and almost too pretty to play with; wooden crafted toys are a simple marvel of design.

The listed firms are some of the better developed and easily navigated web sites. Each features toy products made from wood, as well as a distinct theme and attribute. With the plethora of electronic and synthetic toys and games, it is reassuring that the verified strength and reputation of wooden toys endures. Wooden craftsmanship is a tradition that can be passed through one generation to the next, garnering life memories that have lasting impacts.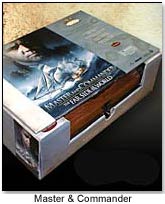 Front Porch Classics located in Seattle, WA offers a contemporary feel to their authentic and well-crafted games. These classic games offer hours of entertainment for the entire family. Front Porch Classic's reputation of craftsmanship is inherent in their games. Their games harken to a time before the advent of electronics and computers. Games such as these can be played anytime, anywhere.
Currently, Front Porch Classics offers Master & Commander: The Far Side of the World ($89.95) sailing game. The game is a limited edition with only 3,000 units developed to support the 20th Century Fox campaign of the film. The game is beautifully crafted with an attractive wooden box, metal game pieces, game board, dice, and hourglass; effectively giving the game a traditional look and feel.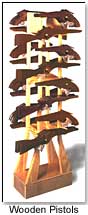 Parris Manufacturing Co. based in Savannah, Tennessee offers the archetypal boy-toy: wooden guns ($5.99-6.99). Each is a bona fide replica of their true counterpart and fire caps. Some of the guns have the mandatory red caps to adhere to California's strict gun laws. The most attractive kind is the frontier gun. With meticulous design to match the original, the frontier and to a lesser degree, the western rifle, gives the recipient a worthy mock-up. Parris also retails unique and noteworthy historic action-figures like Robert E. Lee and Crazy Horse. An alternative approach for the battle-worthy action figure, these prove to be educational as well. The attention to detail is thorough and bright. It is also a brilliant move to involve adults who cannot get enough of the History Channel.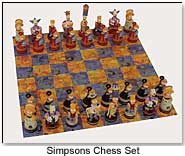 Wood Expressions Inc. features chess sets and has a simply electrifying Simpson's chess set ($45) with Homer and Marge as King and Queen respectively. Even those who are not chess players will marvel at the fine artesian work with the pieces. The set is a must have for Simpson's and chess aficionados.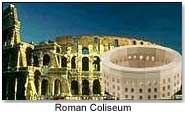 T.C. Timber is recognized as a world-class manufacturer of wooden blocks and toys. They are made from North American hardwoods with top quality workmanship. Their International architecture block sets allow teachers, children, parents and even the saavy traveler to construct wooden replicas of their favorite global destinations. The Roman Coliseum ($47.50); U.S. Capitol ($45.50); Russian Domes ($37.50); Egyptian Pyramid ($39.50); and Mayan Temple ($37.50) are just a few of the world's attractions that can be reconstructed with the help of T.C. Timber.
Timmeren Wood Toys wooden toys are handcrafted and made of quality solid hardwoods. The toys do not contain any metal assembly parts, only wooden dowels, wooden screws, and non-toxic glue, so children can handle it safely. With over 125 wooden toys to choose from, a child's imagination will soar by piloting the Bi-Wing "Kittyhawk" through the air. Imaginative play using Timmeren Wood Toys is an active way for a child to exercise his/her mind and motor skills.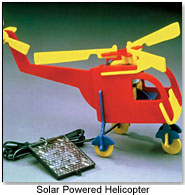 Winner of the Great American Toy Test and the National Parenting Silver Award, the Solar-Powered Helicopter by Sun-Mate Corp is an educational wooden toy approved by parents and children. Using this kit, you connect the pre-cut wooden pieces to form a helicopter with turning chopper blades. The unique thing about this helicopter is that the chopper blades can be powered by solar energy! Place the pre-wired solar module under the sun or under artificial light, and it will power the helicopter's motor, turning the chopper blades. Decorate the helicopter with crayons, markers, or paint (not included) and it will instantly be your favorite toy. Included is an informative booklet about solar power. A cool way to learn about solar power and how to build basic models. ($21.95; ages 7 and up)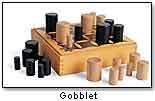 Gobblet is the "fun game of strategy" from Blue Orange. Players only need a few seconds to learn how to gobble up their opponents pieces. This game tests the concepts of strategy and is fast-moving to keep interests high. All 24 of the pieces and the board are crafted from wood, for a well-built and nicely finished game the whole family will enjoy.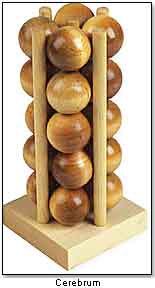 The Orb Factory has wooden brain teasers that are sure to puzzle all minds. But these brain ticklers are also an attractive addition to any desk or table in a home or office. CubeZoo (ages 4 and up; $17.50) is a set of 20 colorful hardwood cubes connected with an elastic shock cord. The string of blocks can be twisted and formed to create a unique and modern sculpture that accents not only the home or office but the children's room too. Each cube has a hole on every side that fits a pencil, pen, or other thin object. Cerebrum ($18) is an attractive wooden puzzle with four sets of five wooden balls that stack on top of one another. As a puzzle, Cerebrum hones 3D visualization and problem-solving skills. When it is solved, Cerebrum is an aesthetically pleasing sculpture fit for any room.