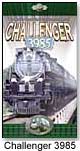 In 1986 television news photographer Les Jarrett started shooting train videos as a creative outlet. When his station downsized in 1990, Jarrett pursued his childhood hobby as a profession. Jarrett caters to railroad enthusiasts, not the model railroad crowd, which is what makes his Internet-based business, A-Trains.com, (ToyDirectory) unique. His stock is composed of unusual items such as wooden trains, videos, DVDs, apparel, clocks, collectibles, books, artwork, posters, software, and even bedding. Originally called Railway Productions, he started as a mail order business, graduated to phone orders by credit card, and established his website in 1997, selling train videos. In 1999 he added other merchandise, even videos from competitors.
Mike Whitworth, owner of Whittle Shortline Railroad, expressed an interest in Jarrett´s famous video "The Alphabet Train," his number one seller, and sparked the wooden toy train idea, another big seller at A-Trains, especially for birthday and Christmas gifts. His engineer hats are popular, and he´s seen a surge of interest in DVDs.
The majority of his customers are American adults. "I´ll get a phone order from a dedicated railroad enthusiast ordering train DVDs one minute, then the next a call from a lady ordering wooden trains who needs me to explain which railroad runs by her house so she can get that wooden train for her little boy."
Jarrett says there´s a lot of crossover buying. A father may buy a wooden train set for his son, but he purchases Challenger 3985: The World´s Largest Operating Steam Locomotive for himself. "He may say it´s for the kid, but you can bet that Daddy will be watching too."
Jarrett attributes the secret of success to work and patience, describing business as a moving target. "What worked last year is not necessarily the formula for today. I try to have many channels."
Jarrett´s marketing approach includes numerous smart sales tactics. He wholesales his videos and DVDs to others, even competing websites. A-Trains has over three thousand SKU numbers, which gives an indication of variety. Jarrett sends out a printed newsletter, and at Christmas he advertises his newest video releases and website with a full-page color spread in Trains Magazine and Railfan & Railroad Magazine.