Model Railroading History, In Brief
Article Synopsis

Model Railroading history
1891-First complete model train set is available
Germany as an industry leader until WWI
1950´s-Models marketed especially for fathers & sons
Current Trends
The model railroad industry is robust
Technological advances contribute to growth
Improved materials; product detail; wide marketing; easy "plug and play" systems
People began making models of railroad cars shortly after creation of the real things in the mid-18th century. The first complete train "system", however, was not available until 1891, when Märklin, a German company, introduced a series of standard track gauges, track sections, locomotives, rolling stock, and matching accessories. By 1900, Märklin was producing four different gauges. In the past 100 years, that
number has mushroomed.

Today, the most popular scales include #1 (1:29), O (1:48), S (1:64), HO (1:87), and N (1:160). In 1972, Märklin introduced what is still the smallest model railroad scale, Z (1:220). For example: the 2004 Märklin Snow Plow Train has four cars and measures 8 11/16 inches long.

Initially, model trains operated by clockwork mechanisms or steam power. By 1914, electricity was the more common means of propulsion.
With Märklin leading the way, Germany dominated the model railway industry until the onset of World War I, when war closed off Germany's export access to its main markets. As a result, model train industries expanded worldwide, with Lionel, Ives, and American Flyer dominating in America. Between the wars, the HO and S scales emerged as a response to the desire for smaller gauges than the venerable O scale.
After 1945, plastic began to replace tinplate as the primary construction material. In addition, model trains captured the hearts of fathers and sons alike, and manufacturers continued developing smaller scales. The 1950s were the banner decade for model railroading, as manufacturers targeted those fathers and sons. The boom was short-lived, however, as the development of slot cars in the 1960s reduced overall toy market share for model train manufacturers.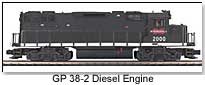 Model train manufacturers rebounded in the 1970s while developing the N and Z scales. Today, the model railroad industry remains strong, with a wider range of scales than ever, and with a commitment to technological advances.
Current Trends
Technological advances drive the model railroad industry. Fred Gates, President of Märklin, Inc. (Märklin's U.S. Subsidiary), says, "There have been real improvements in the overall quality of model trains in the past 10 to 20 years, as far as materials, control, and level of detail."
Materials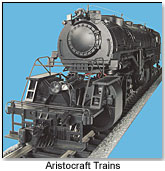 David Newell, Product Manager for Aristocraft Trains, agrees. "Plastic has come a long way. [Today's space age plastics] travel better, they're not as brittle, they don't deteriorate, and the detail in them can be exquisite." Newell adds, "The old [alloys], you could literally watch crumble before your very eyes over the years. The new zinc alloys don't deteriorate like that. The new alloys also allow for beautiful workmanship."
Command and Control
Command and control hardware, developed over the past 10-15 years, allows hobbyists to "run multiple trains on the same track," says Gates. According to Cara Orchard, PR & Promotions Manager, Lionel's control system delivers total control of dozens of locomotives, accessories, switches – in fact, all operating aspects of the train environment – all from a single handheld remote control unit."
Detail
Detailing advances made in conjunction with molded, die-cast alloys in the past decade give manufacturers the ability "to paint O scale safety information, bar coding and other authentic detailing in sizes too small to see clearly without a magnifying glass," says Orchard. This ability revived sales of O scale, according to Newell.
Plug & Play Systems
As Orchard says, "The evolution of consumer tastes continues to refine itself as well, with the demand for more and more 'plug & play' technology." Gates echoes this shift from kits to systems that allow the user to "take it out of the box and run."
These improvements helped achieve a strong desire of many hobbyists – building the best system in increasingly smaller spaces. "Because of space considerations, a hobbyist can build a real empire in a relatively small space," says Newell. As Gates says, space considerations of retired hobbyists downsizing their living spaces had a "big influence" on development of the smaller scales.
Marketing to all age groups
Today, according to Newell, "There's a train for everybody." In short, all age and income groups can take advantage of the remarkable diversity in modern systems and accessories. As Orchard says, "The multi-generational appeal of the Lionel train has been an aspect of this toy product ever since its inception over 100 years ago...[W]e don't anticipate the timeless appeal of an electric train ever changing."
Today's model railroad segment is again robust, with a more varied range of products than ever. The annual Train Fest trade show in Milwaukee this November will attract 18-25,000 hobbyists, as usual, says Newell. And model train manufacturers will continue to look to technology to retain the interest and enthusiasm of their customers.