Be prepared for the holiday shopping rush with these timely released products. This is the first in a series of two sections that will feature products to stock-up on in time for the holiday season. Make sure to read our September issue, which will feature the second part of the "Holiday Preview."
Douglas Co. Inc.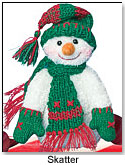 Ring in the holiday season with the 2004 Holiday Collection by the Douglas Company, Inc (ToyDirectory). A family owned company since 1956, Douglas Company prides itself in producing high quality plush items with unique designs. Most notably, their talented artists bring the products to life with subtle facial expressions and gestures, which has become a trademark Douglas tradition. Skatter , part of the holiday line, is an adorable plush snowman made of kohair, soft to touch and loves to be hugged. Adorned with a customized yarn hat, scarf, and mittens, Skatter is ready to tag along during your winter vacation. Skatter will be available in late August.
Electric Tiki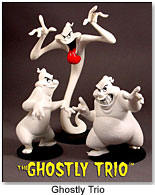 Available in October, just in time for Halloween, Electric Tiki will present The Ghostly Trio , the #1 most requested characters from the popular comic book, " Casper " by Harvey Comics. This special three pack consists of Fatso, Stinkie, and Stretch, all mischievous ghosts who frighten Casper on a daily basis. Tracy M. Lee, the President and Creative Director of Electric Tiki, is a former feature animator for Walt Disney. He has "always wanted to create things that weren´t out there" especially because he was often disappointed with the fantasy products on the market. He states, " I´m very picky about the quality of product I want to produce," exhibiting his motivation to make valuable collectibles that will be worthy in the eyes of every comic book fan. ($110)
NECA

NECA announces a new license to produce collectibles and action figures for Rob Zombie's "House of 1000 Corpses" and its sequel "The Devil's Rejects: House of 1000 Corpses Part II." Randy Falk, Director of Product Development, states, "We are all fans of Rob Zombie and "House of 1000 Corpses" so we are thrilled to be working with Rob." In "The Devil's Rejects," a band of bounty hunters want to avenge the deaths of the Wydell family, who were killed by the Firefly family. Expect nothing less than quality when NECA unveils the new merchandise, as they are a major producer of popular horror licenses, such as Friday the 13th and Halloween.
Happy Hollow Designs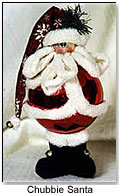 The adorable Christmas Chubbies ornaments from Happy Hollow Designs make a great creative gift! These delightful chubby 8" ornaments are sure to please anyone of any age. One ornament can be completed in about 30 minutes and can be treasured for a lifetime. ($5)

Kid Galaxy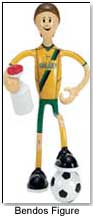 Bendos Sports® presents Bendos Figures for Major League Soccer (MLS). Each collectible figure is designed with each team's logo and colors. They have gripper hands and weighted feet and can stand on their own! These figures make great presents and souvenirs. Collect all 10 MLS teams! (Ages 3 to 99; $6.99)

McFarlane Toys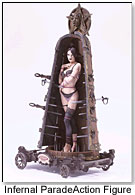 McFarlane Toys , one of the world's largest toy manufacturers, have been at the forefront of producing amazingly realistic action figures for the toy shelves since 1994. In late August, McFarlane unveils its latest product, from a collaboration between McFarlane and horror legend Clive Barker himself. Clive Barker's Infernal Parade features six action figures, such as Tom Requiem (the King of Showmen and Clovio) and Mary Slaughter (the Spike Swallower). The details on these figures are so intricate and lifelike; you will stand in awe of its beautiful artisanship. Included with each six-inch tall figure is a chapter of a new story by Clive Barker about the wicked circus, specifically written for the Infernal Parade. You have to collect all six figures to find out how the story ends. (ages 17 and up)

Cub Cruiser (ToyDirectory)
Cub Cruiser builds authentic 1937 toy wagons called the Cub Cruiser Toy Wagon. With previous exclusive licensing agreements with the Campbell's Soup Company and the Ford Motor Company to produce its own special series of toy wagons, a Cub Cruiser is a definite collector's item. The Cub Cruiser Toy Wagon is a classic all-steel wagon that comes in blue, green, and red, with a Cub Cruiser logo on the side. It is a terrific gift for all ages. Children can sit in it and be pulled along or they can use it to carry around their toys around the house and at the park. Toy collectors and car fanatics will be ecstatic to add the Cub Cruiser Toy Wagon to their collections.
Fly by Night Sports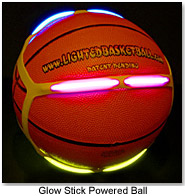 Innovators of creative glow in the dark products, Fly by Night Sports came out with a hot new item mid-summer called Glow Stick Powered Balls. Earl Sullivan, the President and CEO of Fly by Night Sports is proud of this "relatively low ticket item with immense appeal." Attach the harness around any official size basketball, soccer ball, or volleyball, and place up to four glow sticks into the harness to surround the ball. Neither the harness nor glow sticks will interfere with your dribbling or kicking the ball. You can play sports all day long and into the night, since your ball will be brightly illuminated against the dark sky.
NKOK, Inc.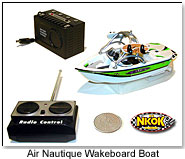 Although fall is just around the corner, it does not mean that the warm days of playing outside have disappeared entirely. A great addition to your trip to the park, beach, or to your backyard is the Air Nautique Wakeboard Boat by NKOK, Inc, released during the summer. Endorsed by Scott Byerly, called the "Godfather" of wakeboarding, the Air Nautique is an R/C boat that is fully loaded with a mini-wakeboard attached to the side guard rail, a display stand, a four hour Quick Charger, and a 9.6V rechargeable battery park. It comes in two models, Super Air 210 (rear engine) and Air 206 (mid-engine). NKOK also makes other cool R/C products for the land and water. ($49.99)
Tootti Inc.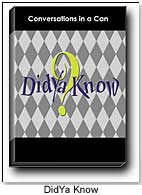 DidYa Know? by Tootti Inc. is a fun card game that brings families and friends together. Creator Rob Mathewson was inspired in the fall of 2001 to make a game families can play in a restaurant to learn more about each other. He decided to expand his vision for a game that can be played in any setting, first as a card game and then as a board game, due to come out later in 2004. You can play DidYa Know? in as little as 10 minutes with at least three players. There are different versions of the game, such as the "Belly Laugh Edition" and the "Grins and Giggles Edition" with more titles being added in 2005. Using the cards, you complete Story Topics and Story Lines using your own personal stories, and then the players vote on the best story. It is a great game to spark conversation and to build relationships with others.
TDC Games, Inc.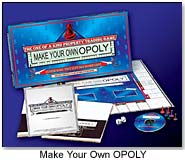 Winner of the Hobby Outlook Educational Item of the Year and featured in Craft Trends Magazine this past summer, Make Your Own Opoly by TDC Games, Inc. allows you to customize your own trading real estate board game by using a PC and a color printer. You decide on the look of the game board, cards, and play money. Print it out or write it out with a pen on the peel and stick labels included, to apply to the box and game board. "A game can be constructed by an amateur designer for almost any purpose." Says Larry Balsamo, President of TDC. "We have found that people not only give the game kit as a gift, but also use the kit to create personalized games to give as gifts to loved ones, friends or clients." This is a unique product one can make on thier own with a simple click of a button. ($29.95)
Out of the Box Publishing, Inc.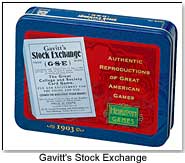 Winner of the Best Classic Toys by Dr. Toy, Out of the Box Publishing, Inc. re-introduced a 100-year old game, Gavitt's Stock Exchange in April 2004. This game sold a million copies in the early 1900's and it is being reprinted in its original form for your enjoyment today. Gavitt's Stock Exchange comes in a collector's tin box and includes background information on the history of game. The object of the game is to trade your cards with the other players and to get all your cards on one railway line first! Mark Osterhaus, President of Out of the Box Publishing Inc., states " We believe that whatever happens, if you don´t have good products, you won´t survive. So we put a lot of effort into our products." This effort has obviously paid off, because since its establishment in 1987, Out of the Box Publishing has won many awards, such as the Mensa Select Award and the National Parenting Center Award. ($12.99; ages 7 and up)
Inkworks, Inc.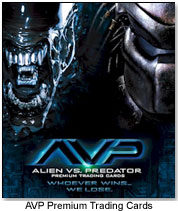 Marking the opening of the highly anticipated movie, "Alien vs. Predator" in August 2004, is the Alien vs. Predator Premium Trading Cards by Inkworks, Inc (ToyShow). This 90-card series will feature amazing images from the movie and from behind-the-scenes. There will also be additional bonus cards with autographs from the movie stars themselves, Piecework cards, a special case loader with hand-drawn sketch cards by the artists, and more! It does not matter if you are rooting for the Alien or the Predator to win the battle. You will love this incredible series if you enjoy trading cards with your friends or if you just want to collect them. ($2.29 per pack)

Preferred Plush
Preferred Plush announces an exclusive gift partnership with the Beverly Hills Teddy Bear Co. to distribute " Shrek 2 " products, starting on May 1, 2004 . Jenny Lee, President of Preferred Plush, is "excited to be working with a company that shares our goal of being the very best within the toy industry." With "Shrek 2" being an instant summer blockbuster, its DVD release this coming November will pave way for a huge rush to the toy stores in preparation for the holiday season. There will be over twenty different "Shrek 2" memorabilia items ranging from lovable plush characters to fun key chains.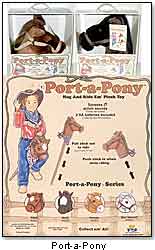 SKM Enterprises, Inc.
SKM Enterprises, Inc. offers the classic stick pony with updated features, such as a retractable stick for easy storage and battery operated sounds like galloping and neighing.
The Port-a-Pony (ages 3 and up; $16.99) is a soft, plush stick horse that kids can ride around on and take with them just about anywhere. With four different types of ponies, kids can pretend to be anyone in history or even fairytales. "Flash" (brown pony); "Buck" (black pony); "Pancho" (tan pony); "Star" (unicorn) – different ponies every child will love.