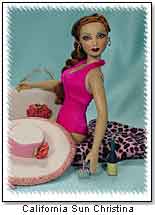 Fashion Boulevard
The limited edition California Sun Christina doll is the epitome of California fashion! She is dressed for Southern California weather in her hot pink bathing suit, pink animal cover up and big picture hat. She carries a cute tote to match her hat which she uses to carry her sun tan lotion, water and sunglasses. She also comes with ankle strap sandals, hanger, story card, stand and fashion booklet. ($35)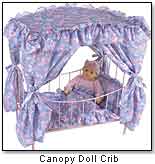 Kids Only Ltd.
Part of the company's Every Little Girl's Dream line, the Canopy Doll Bed comes with a soft padded mattress and coordinating pillow & blanket, and fits dolls up to 24". The Canopy Doll Crib comes complete with a soft mattress, ruffled pillow and blanket.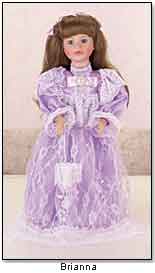 Gigi Gifts Galore
Brianna is beautiful in her white lace over lavender satin gown. She will also charm you with musical renditions of "Twinkle Twinkle Little Star," "Are You Sleeping," "Brahm's lullaby," and "London Bridge is falling down." This gorgeous, high-quality doll is 16" tall and will make a wonderful addition to any doll collection. ($42.95).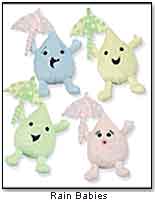 Kookla Kooks Toys
The Rain Babies Bean Bag Collectibles, each holding a soft umbrella, will make anyone want to sing in the rain! There are four different Rain Babies to choose from-Drench (Blue), Sprinkle (Pink), Splash (Yellow) and Dewy (Green). Made from soft textured plush fabric, each has bean-filled bodies and embroidered faces. Rain Babies are each packaged with a hang clip to hang from glass or glass-like surfaces. Each also comes with an official Rain Baby™ adoption certificate to be personalized.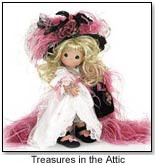 Precious Moments Co.
Bring back memories of dressing up in Mom´s clothes and finding all of those "treasures in the attic" with the Treasures in the Attic collectible doll. She has many details to make her unique, including an ostrich feather boa, a feather accented hat, jewels for bracelets and necklace, a purse and even shoes that are just a tad too big for her. (16" full vinyl doll. ($100)
JC Toys Group Inc.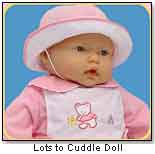 They have the same style of design as the Lots of Love Babies®, but Lots to Cuddle Babies® have a soft body and are a great, huggable addition to any doll family! These cute dolls were introduced in 2002 and feature new and different face sculpts. They will be cherished by any child or doll enthusiast!
Ladie and Friends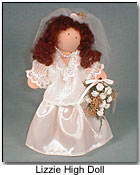 Each doll from Ladie and Friends features the trademarks of "two dots for eyes." These two dots allow the collectors to see themselves or someone they love in the doll, believes Barbara Wisber, co-owner of Ladie and Friends. Also unique to each doll is the "tale" that is included with each doll. The tales allow people into the world of Lizzie High, a place where things are simple and time stands still. Any of the Ladie and Friends dolls are a doll collector's dream and would make a great addition to any collection!
Neva Dolls
All Neva Dolls (ToyDirectory) are handcrafted by master artisans in St. Petersburg, Russia. These artisans use old world doll crafting techniques that have been passed through generations. Neva Dolls are inspired by tales of gallantry, magic and betrayal. The Bella Russe Collection is the exclusive new line of porcelain dolls. These dolls will be produced in limited editions of 100 and up. The first of these dolls, Snegurochka, the Snowmaiden is inspired by the Russian fairy tale about a lonely, childless couple who create a lovely daughter from the snow. Not only are these dolls beautiful, but they also support a wonderful cause. As of November 1, 2003, a percentage of all proceeds from the sales of Neva Dolls have gone to the Tomachevo Children's Orphanage of Luga, which is located in the St. Petersburg region of Russia.