Faber-Castell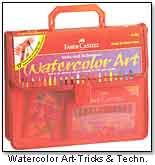 The Watercolor Art-Tricks & Techniques art kit introduces a great way to begin watercolor art. The kit includes 12 watercolor crayons, 8 watercolor pencils, watercolor paper pad, 2 paintbrushes and even sandpaper for special effects. It also comes with an instruction guide with 17 special watercolor techniques and a great portfolio bag with shoulder strap. ($20)
Gecko Collections, Ltd.
Fun for birthday parties, sleepovers, classroom activities or just a great gift, children can color until their heart's content with My Very Own House. Assembly is easy; no supplies or tools are needed to set up the house, or to put it away. Six simple folds and the house is ready for play. The playhouse fits back into the original box for convenient storage under a bed, behind a couch or virtually anywhere. ($34.95)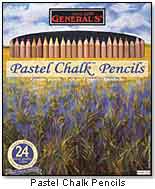 General Pencil Co.
Introduced in the early 1900´s as Multi-Pastel® Chalks, the new General´s® Pastel Chalk™ Pencils can be used to create bold or delicate drawings. Still handcrafted today using the same smooth, pigment rich formula, they can be used to add fine lines and details in artwork. The cedar wood encased chalk helps to avoid the smearing that accompanies traditional chalk drawings, and keeps hands and artwork clean. Easy to carry, these useful drawing tools can go anywhere and make an ideal traveling art kit.
Play Visions
Children and adults can create their own temporary tattoos with the new Tattoo Pen. It's easy: just apply with the provided brush and templates. Tattoos will last for 3-5 days; assorted colors available. ($1.75 each / $21.00 Pack (12 pc.)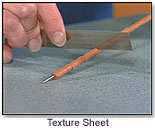 Polyform Products Co Inc.
Kids can quickly create a variety of fascinating patterns and textures on their polymer clay creations with Clay Texture Sheets. They can be used to emboss textures, as well as with inks for both paper and clay. Great for Art dolls, jewelry, and papercraft embellishments.
Handy Art by Rock Paint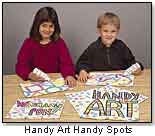 Dot-Ink Fun is just what its name says! These 6 bright and 6 fluorescent washable colors are available both in kits with a handy-carrier or individually. The easy to grasp bottles each hold 3 oz. of safe, non-toxic color. Large sponge tips make dots and lines that are perfect for posters, watercolor effects and coloring.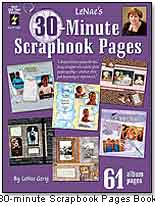 Hot off the Press
LeNae Gerig shares her love of scrapbooking with others in her 60 page 30-minute Scrapbook Pages book. She offers designer secrets and tricks for creating realistic shabby chic styles, color blocking and collage explaining all the "whys" of her design choices and making her book easy to logically follow. ($11.99)
Janlynn Corp.
The Cool Stuff Friendship Bracelet Book offers 48 friendship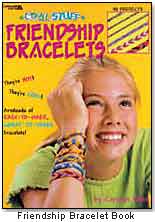 bracelet designs that allow readers to really show their friends how cool they think they are! Trendy friendship bracelets serve a variety of purposes such as showing team spirit, making a fashion statement or just to let your friends know you care. Just grab some scissors, masking tape, ruler and thread and begin following the cool tips and simple illustrated steps to make your own friendship bracelets! ($5.99)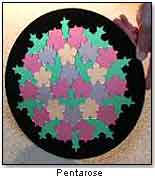 Kadon Enterprises
Pentarose is a beautiful acrylic tiling set! This special edition looks like stained glass as it is lasercut Lucite. Tins of amethyst, sapphire and aqua with highlights make Pentarose both playable art and classic mathematics. There are a multitude of possible solutions! (Ages 12 to adult; $49)