Uniset Inc.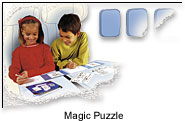 Want more from a puzzle than a pretty picture? With the Uniset Magic Puzzle by Uniset Inc., you use geometric Magic Stickers to form a picture. The fun continues when the puzzle is complete. Find hidden characters and objects in the scene, count up who shows up more than once, and figure out a way to get out of the maze! (Ages 5 and up)
Masterpieces Puzzle Co., Inc.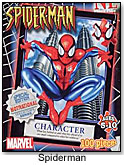 Cannot wait to get your spider web around the new Spiderman products? Masterpieces Puzzle Co., Inc. (ToyDirectory) presents the Spider Man "Character" puzzle, part of the special edition collector's series. With a 100 pieces, this puzzle connects to form an amazing picture of Spiderman with a background of immense skyscrapers. Get it while it is hot! (Ages 5-10)
Use Your Head Unlimited, Inc.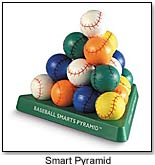 Winner of Creative Child Magazine's 2003 Seal of Excellence, Smarts Pyramid by Use Your Head Unlimited, Inc. (ToyDirectory) consist of unique puzzle balls in all your favorite sports. These balls come in different colors and are connected in pairs. You must assemble the balls into a pyramid, but you cannot let the same colors touch each other. Play alone or with friends and find your fastest time! (Ages 8 and up)
Buffalo Games, Inc.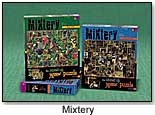 Buffalo Games Inc. revolutionizes jigsaw puzzles with Mixtery, a wacky mix of puzzles where you do not know the picture until you finish! With a scrambled picture on the box, you only see the picture when you correctly connect the pieces! Mixtery comes in various themes, like the "Simpsons" and "Jungle Jumble." Try not to get all mixed up!
Channel Craft & Dist. Inc.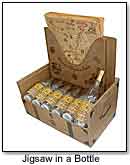 Searching for treasure? This Treasure Map Jigsaw in a Bottle by Channel Craft & Dist. Inc. will entertain your mind and desire for treasure hunts. This 200-piece set combines to be a map of 67 locations along the Eastern seaboard with sunken treasures! Buy the product display and receive 12 bottles and 24 Treasure Maps. Climb aboard and you might get rich!
Ceaco, Inc.
Intrigued by the wizard world? Ceaco, Inc. expands their glow in the dark puzzles with Ready, Set, Glow! This new 100-piece collection is filled with wizards, dragons, unicorns, and most importantly, magic! Put the puzzle together, turn off the lights, and get ready to be put under its spell!
Mudpuppy Press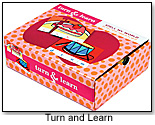 With products that have won the 2004 Oppenheim Best Toy Gold Awards, Mudpuppy Press (ToyDirectory)introduces a new line of puzzles called Turn and Learn. These 4-piece, 2-sided puzzles combine to form a picture with its spelling underneath. Teach your children to spell common items in the house and neighborhood, as well as different animals and colors! (Ages 4 and up)
Puzzle Master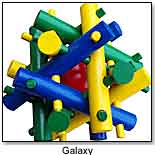 Need a more challenging puzzle? Galaxy by Puzzle Master is a Level 9 – Gruelling, wooden puzzle. Take apart the colorful wooden pieces and try to put it back together! So complicated it may take hours to master this puzzle! And after many frustrating attempts, you will want to do it again! ($11.95)
Great American Puzzle Factory Inc.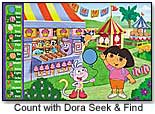 Teach your child how to count numbers in English and Spanish with Count with Dora Seek & Find, a 21-piece puzzle set by the Great American Puzzle Factory Inc (ToyDirectory). Count the hidden objects with the popular cartoon character, Dora the Explorer, and your child will quickly learn their numbers and a new language, all in this fun activity! Preschool. ($8)