Delta Enterprise Corporation has built an imaginative world around its licensed characters.
There´s a magical enthusiasm kids experience when they see Delta Enterprises´ licensed furniture. The pieces allow them to live like their favorite character in a fantasy environment filled with friends from the big screen and TV. In fact, the line is so playful that you might start hearing them say, "please send me to my room!"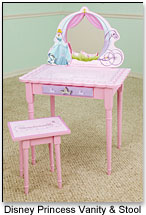 This thirty-year old family run business is a powerhouse player in the licensed furniture game; the children´s furniture equivalent of a brand like Disney or Nickelodeon. Founded by Louis Shamie, Delta first made a reputation for being the complete baby resource, supplying furniture and metals. Since embarking on juvenile licensing just a few years ago, they have revolutionized the way children´s products are designed, scoring key relationships in a very competitive marketplace.
For Delta, changing the children´s furniture business meant innovating within a stagnant marketspace. The New York based manufacturer looked at what was currently being produced and decided to shake things up a bit. Prior to that point, companies had simply put a picture on a piece of established furniture or taken directly from the cartoon.

"To print pictures on functional pieces [of furniture] doesn´t evoke the world of the characters, it simply decorates the "real" world. It´s passive," explains Alix Cohen, creative director of youth furniture. Delta took a different approach and actually built pieces around the characters to produce an atmosphere that closely resembles how they really live. "We are trying to create a story," says Cohen.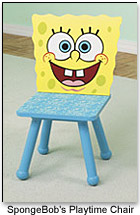 Licenses now include SpongeBob SquarePants, Dora the Explorer, Blue´s Clues, and The Wiggles. However, probably the most prominent, is the recent addition of three high-profile Disney lines. These include Mickey and Friends, Winnie the Pooh and Disney Princesses. Cohen gives each license a unique look, and "each line is dictated by the characters world," she states. Therefore, they are all drastically different from one another.
Delta´s slogan should be "research, research, research," because prior to any development there is an extensive analysis process. During this time, the creative team gets involved in the character and becomes immersed in their story line. Delving beyond the style guide, they explore all forms of media from videos, television, music, promos and written words. After examining the other products on the market for improvements they assess its viability and possible ways to expand their collection. Certain criteria must always be met; it has to be eye appealing, imaginative as well as functional and safe for parents.
The Disney Princess series, which features Sleeping Beauty, Snow White, Cinderella, Belle, Jasmine and Ariel, has been described as "feminine and royal." Vividly, a Cinderella vanity and stool simulates a coach looking into a pumpkin and each collection uses signature colors to evoke a particular feeling from the line. Disney Princess is done in an array of pale pinks and lavenders while SpongeBob SquarePants exploits the TV franchise´s classic bright yellow and blue scheme.
Innovation and functionality make Delta´s products stand out against the competition. The company realized that it´s frustrating to endlessly fish around at the bottom of a traditional toy bin. Therefore, their toy box has three removable cloth baskets that slide in and out of separate compartments and feature a different image on the front and back. Further enhancing usability, Delta added wheels with a shelf on top to rest the extra toys. Delta´s toy chests are not your average square either. For example, SpongeBob´s pirate toy chest looks like a buried treasure container from the bottom of the ocean, and Dora´s toy chest bench has side railings for safety that coordinate with the image.

Cohen wants to give children a chance to stretch their imagination. "I do not believe in designing down to children," she explains.
Clearly Delta does not see themselves as a simplistic one-tier company. They actually design three levels of products that can range from $19.95-$100 plus, including mass market, mid tier and deluxe pieces (whenever possible). Each item can also be custom designed upon request in order to give retailers individuality. Mass chains frequently utilize this option and different designs are sold to competitors like Toys R US and Walmart. Regardless of the outlet, a color pallet always remains the same so consumers can mix and match their purchases.
Hello Jetsons! Interactive room décor is the next platform for this company who already thinks outside the box. Delta is currently researching to develop a line where an item is responsive to the child´s play. It´s described as a borderline toy. Interactive toys have been the buzz this season in everything from educational to action figures and Delta is really expanding upon this trend. Cohen firmly believes that "the more creative an environment you offer a child, the more the child uses his or her imagination and participates." Her hope is that it will be ready for Toy Fair 2005.
The company has upgraded locations from their Brooklyn offices to a larger 120,000 sq. ft space with a showroom in the city. Cohen realizes that children change their minds and therefore, she is not resting on her laurels. Instead, she is constantly on the look out for the next big thing or even a first time character vehicle.

Keep your eyes peeled ... Delta is expected to have a huge presence at the upcoming ABC Kids Expo.