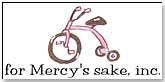 After studying fine art at the University of Texas , Hillary James started For Mercy´s Sake, Inc. in 1996, specializing in hand painted children´s furniture. She considers herself self taught out of trial and error. Her childhood, filled with creative opportunities, established the foundation for her success. Hillary´s mother, Cindy Blewett, is the company vice-president and web designer. Mutual respect has made this relationship possible.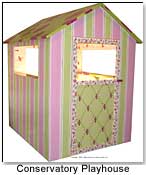 James remarks, "Having my mother as my business partner is a dream. Not only do I want to succeed for myself and my family, but if I do drop the ball, I have to answer not only to my client but to Mom as well."
Their furniture is offered in boutiques across the country in addition to availability by direct order. Ranging in price from $19.95 for a pair of two-inch wooden drawer pulls to $2,950.00 and up for a princess treatment, James´ pieces reach a wide clientele. Every year they have a different bestseller. The dollhouse bookcase and the princess treatment are among the favorites. Her most popular designs are the oasis with earth tone elephants in a Sahara setting and her conservatory with chartreuse, raspberry, and a hint of brown in floral, stripes, and bees. She describes her style as "childlike not childish."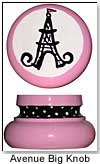 Living with the philosophy, "Do what you love and you never work a day in your life," James admits that there are days when her work is not fun, but those times are rare.
"In the beginning," she says, "I tried to keep an eye out for what was popular. I quickly found this a mistake as it kept my true style under wraps."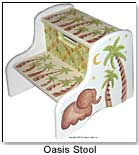 James has designed furniture, but most items come unfinished from various vendors. "From there, it´s all me. I prep, paint and seal the pieces," she explains. "When working on a new design, I will sometimes sketch out my idea before painting, but usually I just go with an idea. New designs can come from an interest of one of my children…a certain color scheme I´ve fallen in love with…a client´s suggestion. Often times I change course in midstream because – this sounds sappy but it´s so true – the piece becomes it´s own and it speaks to me."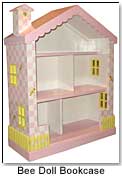 She once thought that mass production detracted from her business, but now she realizes it´s a benefit. "It means my work will always be special. I know many consumers are floored by our prices because they see ´hand painted´ furniture at the local superstore. Like fashion…it´s so easy to get a simple black shift at the department store, but it doesn´t mean it´s comparable to a Chanel dress." offers licensing opportunities to manufacturers, such as their present licensee, the Noordhoff Group in Dallas , for wool accent area rugs . James says their company continues to expand. "When we started our business, there were very few websites that catered to our clientele and just as few artists in my field. Our smaller items like stepstools, table sets and wall shelves were our bestsellers. With colorful furniture more readily available, we get more orders for the larger art pieces like armoires and beds."