Who wouldn´t want to sleep in their own bedroom if it´s colorful and filled with wonder and magic? Fortunately for both kids and parents, the new kid's furniture products are more magical, colorful, and whimsical than ever.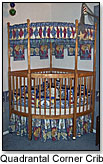 Creative Cribs
Baby Trilogy gets creative crib design started with their patented Quadrantal Corner Baby Crib. The innovative, pie-shaped baby crib snuggles into the corner of any nursery and doesn´t dominate the room . It's great for small nurseries and un-square parents.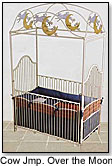 For more than 40 years, Corsican has manufactured iron furniture and accessories. Their classic Nursery Rhyme Canopy Crib line reflects a grand tradition of hand-crafted artistry. The Cow Jumped Over The Moon Crib (pictured) and the Cat in the Cradle are two innovative models. These iron canopy cribs have a vintage design with modern flair. Each piece is cut and bent by hand and each connecting joint is formed by hand pouring molten metal into a mold. This is a dream crib for your baby.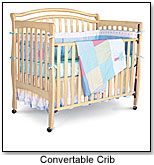 Da Vinci Cribs combine style with versatility in their 3-in-1 beds, designed to grow with the child. Assembled in the USA and featuring new Safety-Glide hardware system, the adjustable four level mattress spring system allows the stylish crib to convert to full size bed with standard rails that can be purchased from any mattress dealer. Shown here is the tulip design.
All the World´s a Stage

Levels of Discovery combines form with function with their Crown Jewels Toy Boxes. The dual-purpose storage and seating units are charmingly decorated to fit any prince or princess and their playroom castle.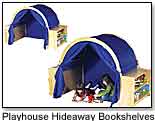 GuideCraft obviously remembers the old sheet-over-the-dining-room-table trick and then what happened when dinnertime rolled around. Their new Playhouse Hideaway Bookshelves offers three units in one: a storage, dramatic-play, and quiet time structure. The "play hut" features a canopy and front and rear curtains and it stays up all the time.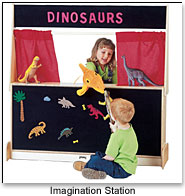 Jonti-Craft offers the Imagination Station, which is a beautifully crafted, classroom quality, dramatic play/activity center that is oodles of imaginative fun. The rear side has room for storage to keep the playroom neat and organized. And there is a choice of flannel surface, chalkboard surface, or write-n-wipe surface for "show times" and any other drawing a child can imagine.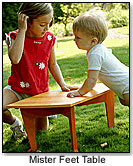 I Made That has a line of furniture for children designed to be constructed by the child and parent together and then enjoyed by the child. Shown here is the Mister Feet Table, which is a perfect place to draw, have snacks, play games or do homework. Little in size and light on his toes, the Mister Feet table moves freely from room to room. He's intentionally designed low to the ground so there's no need for chairs.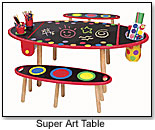 Alex Toys seeks to inspire the mini-artists with their Super Art Table, wildly-colored and perfect for all kinds of creative activities. A paper roll holder hangs under the table and feeds paper through to the tabletop. The chalkboard tabletop surface features a paper cutter, three recessed cup holes and a printed canvas storage bag. The two benches feature side handles--making it easy for little artists to scoot them right up to the table. The Super Art Table comes with three cups and a storage bag.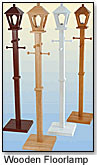 KidKraft sheds light on the subject with the Child´s Wooden Floor Lamp. The elegant and beautiful street lamp style comes in four color finishes - White, Natural, Honey, and Cherry and is also designed to be used as a clothes tree.
Delightful Desks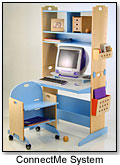 Casa Kids pulls out all the stops with a desk that was even featured in the Museum of Modern Art catalog. The way cool, stylish ConnectMe Desk & Hutch has an acrylic top that adjusts in height from 20" to 30". The keyboard stashes under the oval shaped monitor shelf. The hutch connects above the desk or can sit on the floor as a freestanding bookcase. The adjustable ConnectMe Chair has add-on casters and storage under the seat.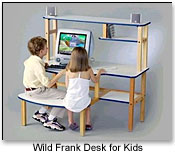 Wild Frank offers desks designed for preschoolers that are deep and tall enough to handle a large, full-sized computer. The desks are built with solid wood legs and frame, plus a sturdy laminated top with dent resistant edge banding. Preschool desks can be upgraded to the 23" height as children grow.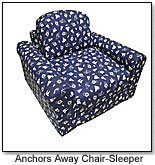 Sailin' Away Dreams
Fun Furnishing offers the Anchors Away Chair Sleeper with nautical pillows. The attractive print in navy blue with white sailboats, lighthouses & life preservers folds out into a full-sized bed. The Nautical Pillow Set is designed to go along with the nautical theme.