Click here to read more TDmonthly_Top_10_Most_Wanted_Lists
For mini fashionistas, picking the right outfit on the first day of school is as stressful as finding a dress for the prom. Retro characters such as My Little Pony and Care Bears are both hot for this season. Christopher Cogley, communications manager of Zak Designs looks for this trend to remain consistent through next year, identifying both traditional and retro items as two main categories of inspiration. The constant favorites include Dora the Explorer and Disney Princess for tiny trendsetters with Lil´ Bratz and Barbie for the slightly more mature clique. Looking forward for holidays, expect new properties such as Puffy-Ami-Yumi and Winx Club to rule with Atomic Betty and Totally Spies.
Click here to locate suppliers.
1. Dora the Explorer plush backpack (Approx $12.99, 3months+) by Global Design Concepts.
Tote Dora´s smiling purple Mr. Backpack and map are the perfect size for little fans.
--Top preschool show amongst kids 2-5 years old, with monthly viewing figures over 21 million (Viacom.com).
--Listed in the top five properties for girls by the NPD Group.
--A school supplies bestseller on opinionguide.com.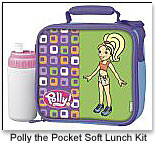 2. Polly the Pocket soft lunch kit (Approx $12.99, 3+) by Thermos.
Fashion and food go hand in hand for this mini diva.
--Open up the front and it´s a closet filled with a complete wardrobe.
--Check the hidden mirror and avoid leaving the table with food in your teeth.
--Includes a water bottle with the lunchbox.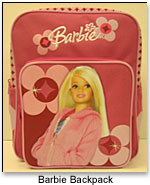 3. Barbie backpack in pink/orange (Approx $14,99, 4+) by Global Design Concepts.
Its all about Pink for Barbie fans and this bag is their color.
--It includes a water bottle to take on the run and padded straps for comfort.
--Barbie is a "classic favorite" of GDC customers.
--Barbie $3.6 billion in annual sales worldwide in 2003 according to Mattel.com.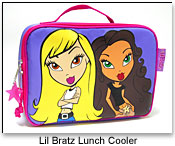 4. Lil Bratz lunch cooler ($9.99, 4+) by Accessory Network.
Carry the trendy hipsters for a stylish first day back.
--In the spirit of Bratz fashion there are felt and fake suede appliqués and embroidery.
--The #25 Early Adopter Product in Toys & Games on Amazon based on purchases.
--Rated as #5 Amazon Top Seller on 9/2 on Amazon.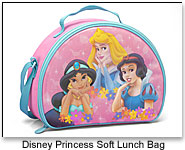 5. Disney Princess soft lunch bag (Approx $9.99, 3+) by Zak Designs.
It´s a three-in-one with Snow White, Aurora and Jasmine on the same bag.
--Best selling traditional item, from a company sales assessment.
--New Disney Princess DVDs launched just in time for back-to-school.
--Princess was a sleeping giant for lunchboxes.com.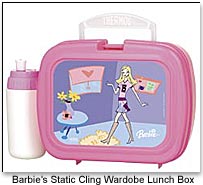 6. Barbie´s static cling wardrobe lunch box (Approx $12.99, 3+) by Thermos and Co.
It´s makeover time! Kids love giving Barbie a new look.
--"Kids needs have evolved and Thermos has responded by creating lunch kits that add another dimension-they´re interactive," said Frank Muci, director of Merchandising.
--The high-impact plastic is easy to wipe clean.
--Interactive is the trend of the season in toys.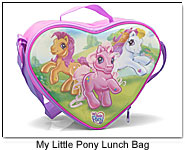 7. My Little Pony lunch bag ($9.99, 3+) by Zak Designs.
This heart shaped lunchbox is parent approved.
--From a company sales assessment, this is the bestselling retro item.
--Re-introduced in 2003, it was one of the most popular toys of the 80´s.
--NPD group ranks it #3 mini doll property for tweens, but it appeals to kids as well.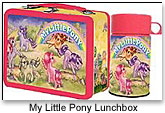 8. My Little Pony lunchbox ($16.99, 5+) by NECA.
Blast from the past, the nostalgic flair is hot with collectors and kids, and they love the square metal box.
--Rated as the #3 Top Seller on Amazon 9/2.
--It comes with a thermos, not a staple accessory these days.
--The original design will attract parents as well.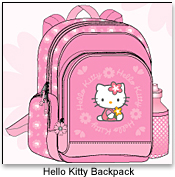 9. Hello Kitty backpack (Approx $9.99, 3+) by Fashion Accessory Bazaar.
Nothing says style like Hello Kitty…even their older sister wears it.
--A matching lunch cooler and wallet are available.
--The logo stands out because its puff screen printed logo with glitter.
--Celebrities like Cameron Diaz, Nicky Hilton and Carmen Elektra sport Hello Kitty.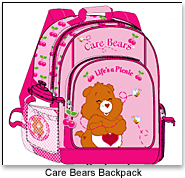 10. Care Bears backpack (Approx $9.99, 3+) by Fashion Accessory Bazaar.
Under the rainbow life´s a picnic for everyone´s favorite smiling bear.
--Over 40 Million Care Bears were toys sold between 1983 and 1987.
--A top license for Fashion Accessory Bazaar, there was a Care Bears movie, television show and book series in the 80´s.
--Available in both a toddler and full-sized version.

**One to Watch…Atomic Betty backpack ($9.99, 2+) by A.D. Sutton and Sons.
This buzzed-about property has emerged as a hit comedy-adventure animated series for the Cartoon Network.