Article Synopsis

Licensed merchandise is the dominant product trend in the children´s furniture sector
Young people hold sophisticated opinions about their furniture choices
Market analysis confirms children´s furnishings is a bright spot amid the generally flat home furnishings sector
The children and teen's categories continue to be the bright spot in retail home furnishings as one of the only growing segments, even in slower retail seasons. For specialty and toy stores, that paints a picture of opportunity.
If the recent Juvenile Products Manufacturing Association show is a broadcaster of coming trends, licensing continues to expand. Children's favorite books, movies, TV shows, sports teams, or cartoon characters are sprawled over everything from bedspreads and window treatments to lamps and rugs.
This is not a new trend. JPMA also reports that nostalgic pictures and images are turning up frequently on children's furnishing items, following a wider trend of these images, resurfacing in our lives in recent years.
Margaret Walch of the Color Association says that young people are buying with good taste, and designers and retailers don't have to play down to them. She also believes that there is a huge deficit of products in retail spaces for boys, and that retailers who ignore this segment are losing an opportunity. Savvy believes this segment is not addressed, but is very interested in buying. Without a presence in the mass market, boys furnishings could be a specialty niche.
"This generation is very color savvy. They want to keep the colors happy and upbeat," says Walch. The CAUS reports the up and coming colors in youth fashions and furnishings will be first of all, "NeoNeons," which Walch comments "is great for boys!" She also expects to see a lot of the "Mod Inspired" colors, a unisex direction, and "Polished Pastels" for the girls.
Beyond color and their recent fads, parents still shop for functionality - trying to fit a person's active and diverse little lifestyle into a 10'x12' room. Abner Wright, CEO of Space Savers says the children's storage area is about 20% of their business. "Kids have more stuff now and houses aren't necessarily getting bigger."
The realm of creative stacking, storing and sticking together products continues to blossom. The specialty niche in this area is apparent in the sprouting up of new stores dedicated only to these lines. Space Savers started on the East Coast ten years ago with one store which has grown to five.
New York market analyst, Christopher Byrne, confirmed in the New York Times that the market for youth furnishing items and accessories is a bright growing segment of an otherwise challenged furnishings market. Byrnes claims parents treat their children's bedrooms as a part of the bring it back home lifestyle package and are focusing more there than in the past.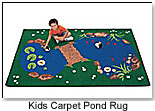 Children are individual creative souls and, as such, demand much in creativity. Companies such as Kid Carpet provide more than 100 uniquely shaped and designed rugs for every theme a child could imagine for their room.
Also vying for a top spot in the creative furnishings has to be Musical Furnishings in Olympia,Washington, featuring xylophones built into toy boxes, chairs and tables designed by artist, Tor Clausen.