From bedroom sets for your tween or a pretty bassinet for your newborn daughter, there is a piece a furniture that suits her bedroom, playroom, personality and style. As your little girl grows, so does her need for furniture, and the following are a few items to help her along the way.
Infant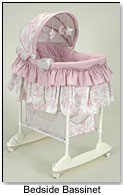 When taking your newborn bundle of joy home from the hospital, Mom and Dad will need a place for the baby to sleep that's within earshot for the nighttime wakings and feedings. Graco Children's Products has come out with the Bedside Bassinet ($79.99 to $139.99; birth to 15 pounds), available in Jasmine (pink flowers) and Ash Floral (blue flowers) designs. The adjustable mattress allows the baby to sleep on an incline, which is sometimes recommended by pediatricians and health care professionals to assist a baby with breathing and digestion. Another convenient feature includes five adjustable height positions to adjust to the same height as the parent's bed. The bassinet's basket can be removed from the frame and is equipped with handles for easy mobility from room to room. Also available is a removable storage bin for diapers and other baby supplies. Certain models of the Bedside Bassinet have a frame that also doubles as a changing station, as well as retractable wheels that allow for a soothing,rocking motion. Other features include a removable canopy and a spinning electronic mobile.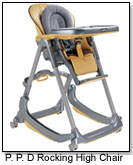 Eat in style with Peg Perego (ToyShow) 's Prima Pappa Dondolino Rocking High Chair ($199-$239; up to 45 pounds). Offering a baby a luxury dining experience like none other, parents can rock their baby after a good meal by pulling down on the handle in the back of the chair to set the battery-powered rockers in place. The Dondolino also has 28 positions (seven height positions and four seat reclining positions) for added comfort. Other convenient features that parents will appreciate include, a removable food tray and a smaller tray underneath to hold snacks for later. The high chair has locking castor wheels, allowing a parent or caretaker to move and position the chair just right, and it folds compactly for easy storage.
Toddler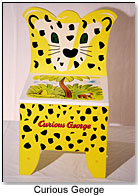 Wink Inc. (ToyDirectory) introduces a new Curious George storage chair ($42; recommended for toddler to young child). This practical and functional piece features a screen-painted image of the famous monkey using non-toxic paints. By lifting the seat of the chair, a child can store toys and other items. To avoid harming little fingers, the seat/lid is secured with a safety hinge. The chair measures 20"h x 12"w x 12"d, with a seat height of 11". Instructions are included for easy assembly.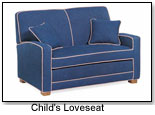 The Coveralls line by LEE Industries introduces its slipcovered, upholstered pieces, made with the same quality and attention to detail as their adult furniture. Slipcovers are removable and depending on the fabric, either machine washable or drycleanable. Featuring a very tailored look and perfect fit, your little girl will love to have these pieces in her playroom, bedroom or anywhere in the house. Based on the design of LEE's adult size chair, the Child's Chair ($700; toddler to young child) has rolled arms, a ruffled skirt and is designed in a patchwork of vintage-looking fabrics including rose and gingham prints. Dimensions are 27"w x 26"d x 26"h, with a seat height of 14". The Child's Loveseat ($840; toddler to young child) is pictured in its Cornflower design in Blue, which also features as part of its pattern, complementary colors of lime green and red. The 100% cotton fabric is soft and cozy to the touch, yet durable enough to accommodate the even most antsy toddler. Dimensions are 43"w x 24"d x 14"h, with a seat height of 14".
Young Child to Tween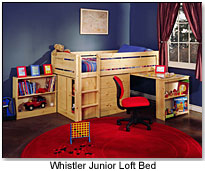 Canwood Furniture offers classic styles and timeless-looking pieces, and both new lines are made in solid pine and finished in two-component lacquer. The Whistler Junior Loft Bed ($799-$899 excluding mattress; 3 years and up) combines stringent safety standards and product versatility. The bed is fashioned with its own rail for safety. The Whistler Junior Loft Bed can stand alone, or the space underneath can be used to accommodate other pieces, such as a dresser, shelves or a desk. The ALPINE Loft over Futon ($499-$599; ages 6 years and up) offers an innovative alternative to traditional bunk bed configurations and effectively offers a twin over double bed sleeping arrangement. The futon can be positioned in a sofa style to make for a comfortable sitting position, which can then be lowered into the sleeping position without dislodging the angled ladder leading to the upper bunk.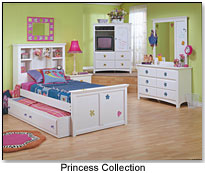 Sandberg Furniture's Princess Collection (ages 4-12) gives a feminine touch to any girl's bedroom, with pieces featuring rounded corners and ornate detailing. All pieces come in solid white with a hand-painted look and an "Italian-style marble" finish in Sandberg's exclusive Ultragloss. All pieces come in white. Drawers on all pieces have wood grained sides and white bottoms. Drawer handles have decorative carvings, with subtle brushed antique silver highlights. The bed comes in a sleigh design or four poster, the latter available with a canopy ($399). Both styles are available in twin and full sizes with either two storage drawers or a single trundle ($199 for trundle). The double dresser ($399) is available with a full size mirror ($139), its shape matching the lines of the bed's headboard. The five-drawer chest ($399) and lingerie chest ($399) are also available with a cheval mirror ($229) in an oval shape.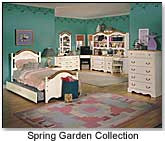 The Spring Garden Collection (ages 4-12 years) by American Drew – Lea Industries is made of case construction-painted wood, available in white. Spring Garden is a more feminine design based on a former collection, with its lighter scale and simple lines to offer a younger, feminine touch. A choice of accent colors of pink and yellow are available for the loft bed ($579 with tent as shown in photo) and matching nightstands. Drawers on the desk ($449), five-drawer chest ($449) and media unit ($349) are made of plywood construction with center-mounted guides. Hardware for these pieces include a wood knob with a metal insert of a flower, also available in pink or yellow. Spring Garden offers a style that has the true little girl in mind.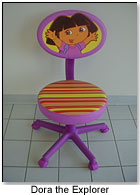 Comfortage's children's line, Kidgronomic, has added three new characters to their children's computer chairs, two girly and one that can be appreciated by girls and boys alike. The new chairs feature screen images of Hello Kitty, Dora the Explorer and SpongeBobSquarePants ($89.99-$109.99; ages 4-12). All are made of the same high-quality, easy-care vinyl material with a durable nylon base. Added features include back depth and height adjustments. Hello Kitty seat height measures 15.75" to 19". Seat diameter measures 12.5" across. Dora's dimensions are 17.25"d x 15.25"w x 30.25-33"h, with an adjustable seat height of 15.25-19.25"h. SpongeBob's dimensions are 22.25"d x 16"w x 33.74"-37"h. Seat height measures 17.25-21.25"h.
Tween to Teen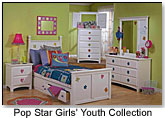 For the pop star in your life, Sandberg Furniture introduces the Pop Star Girls' Youth Collection (ages 7-15), which pairs sleek lines with fun details. All pieces come in white with pearlescent highlights and a urethane topcoat to stand up to lots of wear, plus appliqués in bright colors and a variety of shapes including hearts, diamonds and flowers, that your daughter can mix, match and stick on herself. All pieces are made of wood, and drawers have steel roller glides and drawer runners. Drawers are made with wood grained sides and white bottoms. Other details include translucent drawer pulls that come in crystal clear and ice blue for her own custom look. The bed comes in twin and full sizes with the option of two underbed storage drawers or a single trundle ($399-$499). The tri-fold mirror ($159) on the five-drawer chest ($319) features a pair of magnetic dry erase boards on either side, and the mirror ($139) with the dresser ($349) features a small magnetic dry-erase board as well.