Click here to read more TDmonthly_Top_10_Most_Wanted_Lists

Plug-and-Play games are on the march. And it´s not surprising at all, given their simplicity of use, endearingly crude graphics and deeply recognizable brands. Another key part of the draw to these revived video classics is their affordability within a high-end gaming market. John Gota, vice president of marketing for Dreamgear, observes that consumers are attracted to the price point (frequently in the $20-$30 range), which seems to be appealing to people who don't want to spend the money on a traditional system. This is a product category to watch in 2005, as new licensed products from a host of manufacturers confirm the 80s are here to stay.
Click here to locate suppliers.
Dig into TDmonthly´s Top 10 Most Wanted Plug-and-Players below: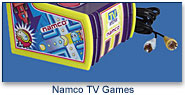 1. Namco TV Games ($19.99, 5+) by JAKKS Pacific.
Nothing says 80s like Pac Man and Dig Dug.

--Named Family Fun's best electronic toy (2003).
--Superstreetonline.com says "Our vote for the most fun gaming gadget we´ve discovered this year has to go to Namco´s TV Games controller…."
--Namco TV Games launched internationally and its the #40 early adopter in electronic toys on Amazon.com

2. Atari Paddle Controller with 13 games ($29.99, 5+ ) by JAKKS Pacific.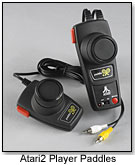 Seize the original 2600 paddle and play Atari with a friend.

--TV games (including Atari) won innovations Next Gear award from PC World 2004.
--The Atari ten in one system got positive reviews from 8bitjoystick.com and Wired magazine.
--The original game sold over thirty-million consoles according to atariage.com.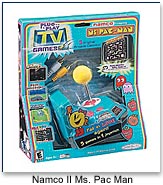 3. Namco II Ms. Pac Man w/ 5 TV Games ($19.99, 5+) by JAKKS Pacific.
Take a trip down memory lane--eat the dots, get the fruit and avoid the ghosts.

--"Its selling extremely well," according to Goldberg
--Described as the "most popular arcade game of all time," by Stephen Berman, president and COO, JAKKS Pacific.
--A bestseller in plug and play games on Amazon.com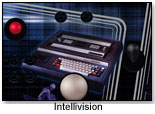 4. Intellivision 25 Video Game System (Approx $19.99, 5+) by Techno Source.
by Techno Source. The controller is modern, but the system is a blast from the past.

--They have officially sold over one million units.
--It's not a "museum piece" because kids can recognize the controller, according to Robinson.
--Listed on KB Toys "hot 5" list of the season "must have" toys (Dec 1-8).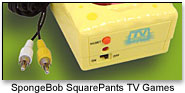 5. SpongeBob SquarePants TV Games ($19.99, 5+) by JAKKS Pacific.
Hold your nose and dive through all five games featuring Bikini Bottoms characters.

--#44 early adopter product in electronic toys on Amazon.com
--JAKKS second quarter Revenue Increased 49% to $109.4M, they credited TV games in playing a role.
--It's the #1 kids show on TV for 2-11 and the movie premieres in November.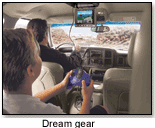 6. 50 line Plug and Play ($24.99, 5+) by Dreamgear.
Heads up kids they have 50 non-licensed games with retro graphics.

--They are an "instant baby-sitter" according to Gota.
--People love the "quantity of games" you get for the same price point.
--The first version of this game was successful.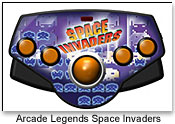 7. Arcade Legends Space Invaders ($25.00, 8+) by Radica Games.
Fend off the aliens with both hands on their duel sided joystick.

--Over twenty-five years old, it originally caused a coin shortage in Japan.
--Generated over $500m in revenues and the first arcade game adapted to Atari 2600.
--Taito´s Space Invaders is considered one of the top five video games of all times.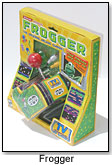 8. Konami's Frogger Plug and Play ($19.99) by Majesco.
Help everyone's favorite froggy make it home all over again.

--Frogger is one of the most well known game characters.
--Majesco is also publishing Konami's Arcade Classics.
--"Plug-and-play games have proven to be extremely popular with consumers," said Jesse Sutton, Chief Executive Officer, Majesco.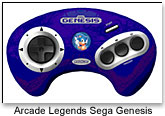 9. Arcade Legends Sega Genesis ($30.00, 8+) by Radica Games.
Re-live the speedy game play with a replica of the original controller.

--"Sonic the Hedgehog added the element of speed to the standard platform formula," according to WorldIQ.com
--First official Sega Genesis multi-game unit
--"Sega Genesis was the dominant platform during the third generation of video games," said Pat Feely, Radica's CEO.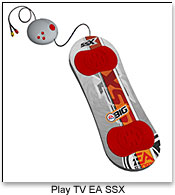 10. Play TV EA SSX (Approx $46.73, 8+) by Radica Games.
Players interact with the TV and get extra points for style.

--The SSX characters are based on EA´s franchise.
--EA SSX has won Game of the Year from IGN.com and editors pick for Gamers.com (2000)
--A top selling Play TV game, the snowboard was redesigned for more realism.


One to watch...World Poker Tour ($19.99, 5+) by JAKKS Pacific.

Don't book another trip to Vegas, WPT is expected by October. Currently, over five million people a week watch world poker on the Travel Channel. Celebrities even compete on the show during the "Hollywood Home Game" edition.