Whether it's a felt hat shaped like a beer mug, a set of casino chips, a Mardi Gras bracelet and matching tiara or a crucifix night light, Hayes Specialty Corporation (ToyDirectory) is a novelty business mainstay and a players' paradise, no matter what your game is.
A direct importer of novelties, toys and gifts, Hayes focuses its inventory on the latest party and impulse purchase products, from balloons and decorations to food prep accessories to guest favors. Items from the latter genre are especially wide-ranging: think hip-hop key chains with tiny record players or adorable, miniature stuffed animals.

Not bound by any specific product category, Hayes Specialty Corp. (ToyDirectory) delivers the fun and unusual items that retailers need to satisfy their customers whims for a variety of gift and toy purchase needs.
Dennis Schluckbier, Hayes' President, takes a moment to fill in TDmonthly on the details.

How long have you been in business?
Since 1967.
What are the hot items you carry at the moment?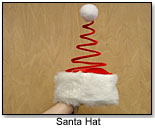 Currently, the hottest item we have going is a Santa Hat made with a coil spring top, our item #15366. It is a definite traffic stopper. It is the kind of item that when people see you wear it, they will stop and point it out to the person they are with. That tells me it´s a winner.
What type of Hayes' products sell the most?
We sell a lot toys and novelties. We are always looking for the new popular item that will catch on. Some of our very successful items in the past include: Naughty Ned (tm), the Poohing Pig keychain. The Laying Egg Rubber chicken was featured as a new item on the Tonight Show this last February.
What percentage of your business is in naughty products?
Very small. We really don´t sell any real off color items. Nudie cards would be about the only such item. Even Naughty Ned wasn´t that naughty.
Any personal favorites?
Not really, in this business items come and go all the time. Can´t get too attached. The next hot item is probably my personal favorite.
What types of retailers sell the most of the products you carry?
Probably Variety, Tourist locations, and anybody that would be in the redemption business, where "game room" players accumulate tickets which they can redeem for toys.
What products that you carry are consistent sellers year-round?
We sell the line year round. But remember our success is in coming up with new items all the time. So we are constantly adding new items and discontinuing old. Our success relies on our ability to find, price competitively, and deliver the new items.
What trade shows are the most beneficial to you?
We're at the Associated Surplus/Merchandise Dealers in Las Vegas, Toy Fair in New York, and the Smoky Mountain Gift Show in Gatlinburg, TN.
What are the advantages of regional vs. national shows for your company?
We really only do National Shows. They attract more real buyers.
Are you mainly an on-line company?
Definitely not. We are mainly brick and mortar.
What percentage of your business is done over the internet?
Less than 10%, but growing.
Many of our retailers are specialty shops looking to streamline their ordering, stocking and inventory procedures by utilizing the Internet more. How do you see the Internet as facilitating your business in the coming years?
I think we are already seeing this. It will eliminate catalogs completely.
Currently, many of my competitors still print catalogs, and quite honestly, because of this, I am forced back into printing a catalog as well. But eventually, as more people get connected and think of the Internet first, I think it will completely eliminate catalogs.
As broadband spreads (and that is not going to be easy), more of the advanced web functions, such as Video streaming, online live help, etc. will be utilized. We already have several customers that only place their orders on line with us.
But due to the nature of our business, so many of our items need the "touchy-feely" test for people to buy.
We have had a website for many years, and when people used to ask for our catalog, we would direct them to our website. First reactions were very negative. Now you hear "Oh great, that´s the way I prefer to buy" from several prospects.
What is the funniest thing that happened to you in the course of business?
Whoa, that´s a good question. I´ve had a lot in my 33 years. I have a great horseback riding story, but that´s too long for this interview.
But I gotta tell you, it HAS been fun!
Check in with Hayes Specialty Corp. (ToyDirectory) in February at Toy Fair 2005 in New York.