Parents of young children are always looking out for special toys that will stimulate their child's imagination without the suggestions of buying more. Playground Enterprises, which is a privately owned company, has found a line of toys that are safe, soft, colorful, idea inspiring and just plain old fun! Playground Kids toys are created for both boys and girls with sets that keep their interest. In 1999, three toy professionals who had worked together previously in developing and selling toys targeted at mass-market accounts, decided they were unhappy with the direction of the toy industry, so they decided to alter it. Jeff Alward, Susan McDonnell and Jim Fink are the creators of Playground Enterprises. In their own words they provide a glimpse into the history and strategy behind the company.
Developing Non-Gender Specific Toys
Since starting the business the partners have endured the terrible events of 9/11 and the resulting soft economy. There was too much violence, too much plastic, too many gender specific products, too much sameness and not enough toys to stir a child's own imagination and creativity. Company partner Susan McDonnell explains that the vision of Playground was very simple. To create happy soft play kids, which would appeal to both boys and girls. With this concept the company introduced it's first toys in 2000.
Parent's Choice Award Winners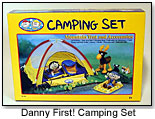 Playground Enterprises manufactures and markets a line of soft toys and activity books under the trade mark name of Danny First© targeted for children ages 18 months and up. The soft characters were given various environments in which children ages 2+ can use their imaginations to play with the characters Danny and Sally. In 2002, Playground Enterprises won a "Parents Choice Award" for their Camping Set. In January 2004, Playground won a "Bright Idea" Award for their new Artic Explorers at the Canadian Toy Fair in Toronto. In February 2004, Informal Education Products awarded Playground with the "Product of The Year" award. In June 2004, Creative Child Magazine awarded Playground the "Seal of Excellence" on their Dinoland and Arctic Explorers playsets.
Imagine The Future
Today, The Danny First Toy line has expanded to include play environments for Bath & Beach, Camping, Farm, Adventure Jungle and a series of unique activity Play Books, which make for great travel companions. Today these happy toys are sold in Europe and Canada as well as the United States. Serving the specialty market, Playground Enterprises markets it's Danny First© brand primarily to toy, gift and department stores. All three partners are grateful to the stores that support their products and to hundreds of families who take the time to write in to say how much their children love these toys…happy children make happy adults and this makes the world a happier place.