These play sets keep kids entertained for hours and are full-participation activities that are so fun, even adults will want to play.
Make "Roughing It" a Fun Experience in the Backyard or the Great Outdoors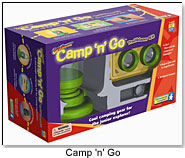 The secret to a fun camping experience for kids: The new GeoSafari Camp ´n´ Go Trailblazer Kit (Ages 3 and up, $19.95) from Educational Insights. Teach kids how to escape life indoors and get youngsters hooked on years of outside exploration with these cool outdoor gear and gadgets that will have youngsters itching for a camping excursion in the woods, in the park or just in the backyard! This great set, complete with Bugnoculars, Glow-and-Go Lantern and Wristband Compass, is sure to build kids´ excitement about the outdoors...without a television and remote control. Ideal for any junior explorer, the kit´s Bugnoculars are equipped with built-in twin 3X magnifiers and a water-tight bottom, allowing for close-up study of wildlife, while the lid is equipped with special air holes for butterflies, spiders or bugs. Also includes built-in carrying handle and a snap-lock lid that allows for easy transport. The lightweight Glow-and-Go hanging lantern also doubles as a flashlight with a flip of the handle. Perfect for nighttime nature walks, camp-outs and sleepovers, a removable reflector allows campers to direct light wherever they need it. Kids can learn about nature firsthand as they navigate their way back to the campsite with the Wristband Compass, an easy to use and an indispensable tool for any camping trip. The compass' Adjustable strap leaves youngsters´ hands free for hiking, climbing and identifying animal tracks.
Get Into the Swing of Things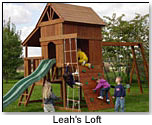 Meet the mother of all play sets: Leah's Loft. This new play set by Swingsets, Inc. is a hand-crafted, hand-finished high-quality product that will translate into years of backyard fun! Complete with 4' x 6' fort, rope ladder, wave slide and 3-position top ladder with rope or Safe-T-Grip swings, Leah's Loft also offers a slanted step ladder (complete with flat steps) that allows youngsters the ease of climbing at an angle rather than vertically.
Designed to fit a family's needs as it grows, Swingsets, Inc. offers considerable possibilities for upgrades. Kids can help customize their play set with optional side decks, picnic table, hand grips, trapeze, telescope, steering wheel, bubble window, lower deck & floor, roof & awning vinyl playhouse, sandbox kit and an angled climbing wall! Constructed from Wolman Natural Select, Southern Yellow Pine, which is almost three times as dense as redwood or cedar, Leah's Loft is strong enough to support Mom and Dad and safe enough to hold up to the toughest play. Every piece of wood that comes into contact with kids' hands is hand-sanded with rounded edges and to keep kids' hands splinter-free! A satin red cedar finish includes water sealant, and a lifetime guaranty against rot and decay. Swingsets, Inc. offers six different designs with over 50 different add-on accessories, ranging in price from $800 to $3,000 and up.
Sure to Be a Favored Attraction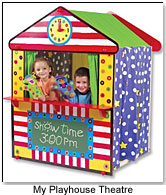 Children will play for hours with Alex Toys' My Playhouse Theatre (ages 3 and up; $200). The lightweight, sturdy playhouse also doubles as a puppet theatre, lemonade stand, club house, play restaurant and more. Complete with working stage door and colorful fabric curtains, the easy-to-assemble wooden frame, printed panels, and brightly illustrated fabric (inside and out!) construction make this playhouse perfect for setting up anywhere. An excellent way to spark any youngster's imagination, this set includes a chalkboard marquee on front panel that is perfect for listing coming attractions, creating colorful scenery and improving writing skills. Also includes a large play clock equipped with moving hands to announce show times. No tools necessary.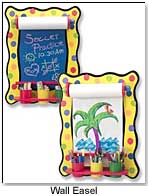 Turn any room into an artist's studio with this space-saving Wall Easel (ages 3 and up; $45) from Alex Toys! Perfect for any budding Picasso, this brightly colored hanging easel features a blue chalkboard and three colorful cups to hold paints, chalks, crayons and other supplies. It is likely to give any child the inspiration he or she needs to create a masterpiece. A perfect addition to any child's room, play area or classroom, it includes a paper roll holder complete with safety cutter. For the artist on the go, Alex Toys also offers the Art to Go Portfolio (ages 3 and up; $20). A perfect fit for young artists' little hands, this sturdy zippered portfolio contains everything a busy artist needs, including doodle paper, markers, crayons, colored pencils and scissors for hours of creative play. Art to Go lets parents and kids organize and store art supplies for safe keeping.