Click here to read more TDmonthly_Top_10_Most_Wanted_Lists
Get out to the polls and, while you're at it, vote with your dollars for your favorite political toys. The presidential contest has been on everyone's mind this year and will continue to generate interest as the election draws closer. Interestingly, a large voter turnout has been predicted for this election. According to a June analysis by The Miami Herald, "the results point to a potentially big turnout in November and suggest that the terrorist attacks on September 11, 2004 altered the political landscape." Additionally, a push for youth participation is underway with prominent celebrities like Ben Affleck, Lenny Kravitz, Russell Simmons and Andre 3000 appearing at events and attempting to mobilize the under-30 voting pool. Political toys could not be more timely and "the election will absolutely highlight their visibility," says Jason Labowitz, president of Entertainment Earth.

Toymakers have picked up on the public's interest and developed a slew of politically inspired action figures, with an emphasis on the current administration and its geopolitical allies and foes (often using a leader's own words via voice chip). Some manufacturers have taken a humorous angle by poking fun at the politicos, while others strive to depict their subjects in unironic, heroic terms. "We live in a politically charged era and there are not a lot of products that portray politics in a serious light," says Dwayne Crosby, director of sales for Toypresidents. The company, true to its name, only makes figures based on present or past office-holders, but others in the industry include a broader, and sometimes controversial, spectrum. Events such as the December 2003 capture of Saddam Hussein have also been a catalyst for producing these novelty items. "People can relate to certain specific events that happen," says Emil Vicale of Herobuilders.com. The customer profile for political-themed toys seems to vary among manufacturers. "A lot of people follow politics like other people follow sports and for them it's a cool collectable to get," commented John Warnock of Talking Presidents who suggests that his customer is not the typical toy buyer. In a June report in the Christian Science Monitor, toy industry consultant Chris Byrne notes, "Consumers [of political toys] are typically men aged 18-34 with a decent disposable income." Bottom line: with one or two exceptions, the impetus to purchase any given political toy depends on the consumer's political inclination.
Click here to locate suppliers.

A fair and balanced TDmonthly Top Ten list of political toys follows: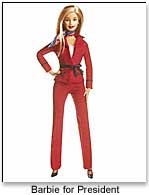 1. Barbie for President "Party of Girls" ($19.99) by Mattel.
She's ready for Washington, dressed in a red pantsuit and patriotic scarf.

--Mattel developed the product in partnership with The White House Project, a nonpartisan organization committed to advancing women's leadership.
--At Barbie.com, girls can participate in forming the "Party of Girls" platform and track the campaign online.
--This politically-minded doll is the #2 early adopter product in dolls on Amazon.com (based on purchases).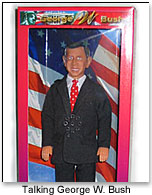 2. Talking George W. Bush ($29.99) by Talking Presidents
Perfect to put on the mantel or use as a pincushion…depending on political preference.

--After the doll was mentioned on the Drudge Report (2002), Talking Presidents' server crashed 3 times with 1 million hits in one day.
--Shortly after its introduction, one of the dolls sold for $250 on eBay.
--"Our best seller by far" according to the company's John Warnock.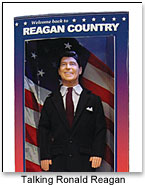 3. Talking Ronald Reagan (29.99) by Talking Presidents.
Loyal followers line up for this doll's eleven flattering phrases.

--Talking Reagan already sold 20,000 units in its product debut, prompting a "Second Edition" with an entirely different wardrobe.
--"The conservatives really loved Reagan and he was the ultimate presidential icon for them," according to TP's Warnock.
--The Ronald Reagan Presidential Foundation receives a portion of the proceeds from the sale of the doll.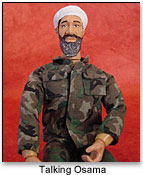 4. Talking Osama ($29.95) by HeroBuilders
This real-life bad guy isn't for kids, but his soundtrack will make adults laugh out loud.

--Herobuilder's sales grew 400% from 2002-2003 and according to the Wall Street Journal, this is a "consistent seller."
--Herobuilders.com was one of the first retailers to make political dolls.
--Herobuilders offers an optional pink ballet dress for the doll, so buyers can "embarrass your villain action figure."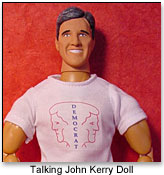 5. Talking John Kerry Doll ($29.95) by Herobuilders.
This plastic presidential challenger comes dressed in camouflage pants and a tight-fitting "Democrat" t-shirt.

--According to Herobuilders, this is the only Kerry action figure on the market.
--A Talking Kerry was purchased by the Virginia Historical Society (along with a George Bush figure).
--Opinion polls showed Kerry tracked at 43% of the vote (zogby.com, 9/19/04).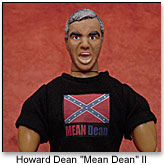 6. Howard Dean "Mean Dean" II ($29.95) by Herobuilders.
The name says it all with this figure, an exaggerated likeness of the former Vermont governor.

--Mean Dean sold "unbelievably well," according to Herobuilders.
--All the dolls are hand painted with sculpted faces. They are assembled locally to stay current on events.
--The doll includes a full voice clip of the notorious "Dean Scream" incident.



7. President George W. Bush ($29.99, 8+) by Toypresidents.
This stately figure is perfect for a collector.

--Toypresidents has had tens of thousands of sales on this product.
--President Bush is selling to all demographics among men and women 18-60.
--The well-crafted doll wears polished shoes, a dark suit and a US flag lapel pin.




8. President William J. Clinton ($29.99, 8+) by Toypresidents.
Don't expect a mention of Monica by this Clinton; the voice-chip quotations are dignified and policy-oriented.

--Clinton ended his second term with a 65% approval rating, the best of any president in the last 50 years.
--The Clinton Library used the figures for their inaugural opening.
--The dolls are sold at about 650 (mostly specialty) retailers.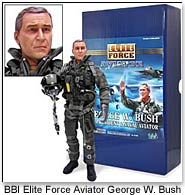 9. BBI Elite Force Aviator George W. Bush ($49.99, 14+) by Blue Box.
This no-nonsense Bush comes dressed in an impressively detailed flight suit.

--Action Figure Times gave Blue Box three awards for the Elite Force line, which features soldiers and special forces with highly realistic weapons and uniforms.
--One eBay dealer offered Aviator Bush at a 60% mark-up.
--"Advance orders are coming in at a record clip," company spokesperson Lauri Aibel told The Washington Post in August.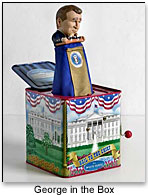 10. George in the Box ($29.95) by Design Masters and Associates.
Pop goes the president to the tune of Hail to the Chief.

--DM&A have sold over 100,000 since September 2003, and George in the Box is currently the best selling item for the company.
--"It's popular with both political parties," says a company representative.
--The toy has earned mentions in the San Francisco Chronicle, and The Columbus Dispatch.

One to Watch….first lady dolls launching this year by Toypresidents Just in time for the holidays Laura Bush, Hillary Clinton and Barbara Bush join their spouses on toy and collector shelves.