Cat litter and Greek philosophy are strange bedfellows. But that's the amazing history behind Valtech Co., (ToyDirectory) founded in 1997.

Valtech president-to-be Rudy Valenta was visiting Japan in 1996 when he saw a mesmerizing educational toy. The new-age building blocks kit had brightly colored triangular and square-shaped tiles of different sizes that clung together at their magnetic edges.

His kids were entranced: they could build tall skyscrapers, castles and spaceships. The possibilities were limitless. Made of lightweight, durable plastic, the tiles were virtually indestructible and could form hundreds of two and three-dimensional structures.

Valenta was fascinated, too, but was unimpressed with the toy's name: Pythagoras. The name comes from the 6th century Greek philosopher and creator of the Pythagorean Theorem of right triangles, but Valenta thought the meaning would be lost on American children.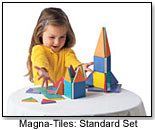 So Valenta came home, bought the product rights, re-packaged the toy and renamed it Magna-Tiles. Its slogan is: "where math, science and creativity meet."

A year later, he founded Valtech in LaGrange, IL to manufacture and market the toy to kids, ages three to seven. It was a gutsy move for the former absorbent minerals (translation: cat litter) salesman.

Valenta was born in St. Louis, but grew up in Kentucky. He later moved to the Chicago area to pursue a career in sales. When he founded Valtech, his only experience with toys was watching his four kids play with them.

"I've been a salesman for most of my life," Valenta says. "I had no previous toy background, and I learned the trade through trial and error."

Once Valenta had a prototype, he would drop off Magna-Tiles at schools and ask teachers and students to try them for a week. After the week was up, he returned, but the products often stayed.

"Usually I couldn't get them back," he says. "The teachers wanted to know where they could buy them."

Thus, Magna-Tiles developed an underground following, and news spread by word-of-mouth. Then, sales got a boost about five years ago with the debut of the magna-tiles website. Today, Valtech employs three, and Valenta is looking to expand his product marketing from school supply companies to specialty toy stores.

Valtech has four products. The best seller is the Standard Set, ($49.50). It comes with 32 solid-colored pieces: 14 3x3-inch squares, two 6x6-inch squares, four isosceles triangles, four right triangles and eight equilateral triangles.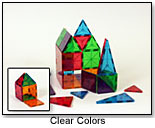 The Clear Colors set ($51.50) has the same shapes as the standard set, but features transparent tiles for use on light tables.

The deluxe set, Magna-Tiles DX ($64.50), has 32 solid tiles, plus eight unique tiles with holes and curved sides, a magnetic door and a 3x6-inch piece with wheels for making vehicles.

And for kids who like trucks and cars, there are Working Trucks ($32.50) kits. Each set features 27 pieces to create more than 20 different truck combinations.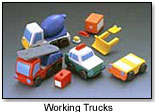 Magna-Tiles come with an idea guide that has more than 20 suggestions for sparking creativity. But the beauty of the product is what Valenta calls its "open-ended play." Magna-Tiles don't have a certain purpose or conclusion, but offer children a variety of building opportunities.

This changeability, along with the product's durability, has earned Magna-Tiles numerous industry awards. In 1998, it was crowned "Toy of the Year," by Parenting magazine. The product also earned seals of approval from trade journals, including Early Childhood News and Learning Magazine.

But for Valenta, the proof for Magna-Tiles is in the playing. "You can tell when kids really love something," he says. "They'll play with it for days."