Color-Ons LTD
Personalize your own T-shirts with Color-Ons by Color-Ons LTD. Simply color a picture as you would in a coloring book on the special Color-Ons transfer sheets. And with a hot iron, iron the picture onto most washable fabrics. It is permanent, washable, and colorfast! An easy way to display your artwork! Kids of all ages will love it!
Dimensions/Perler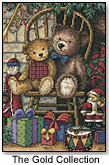 Stitch keepsake pictures to be framed or to be given as a gift with The Gold Collection by Dimensions/Perler (ToyShow). These needlework kits have incredible designs with an extensive color palette and top of the line fabric, yarn, or thread. With details that create depth and texture, you can stitch up beautiful artwork to be instantly put on display around the house!
Quincrafts Corp.
Spice up your personal mirror or entire room with Pom Pom Blossoms by Quincrafts Corp. This inventive art kit comes with yarn to make pom poms and bright pipe cleaners to make the petals of the flowers. Combine different colors and bend the colorful pipe cleaners to make unusual flowers to suit your personality! (Ages 7 and up)
Sandtastik Inc.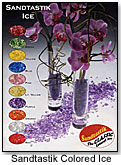 Enhance your floral arrangement or aquarium with Sandtastik Classic Colored ICE by Sandtastik Inc., the economical and environmentally friendly way to decorate! It is made of safe material that will not affect the pH levels of water, so you can even use it with fresh cut flowers! It is available in 10 stunning colors to brighten up any arrangement.
Nex Products, Inc.
Decorate the door to your room with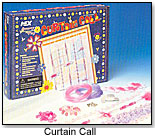 Curtain Call by Nex Products, Inc. Make a fabulous beaded door curtain with this kit that includes hundreds of colorful beads, fabric flowers, plastic rods, and pre-beaded strings. With easy to follow directions, you can quickly add pizzazz to your room and impress your friends! (Ages 6 and up; $12.99)
June Taylor, Inc.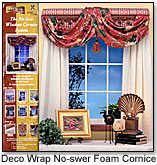 As seen on the Christopher Lowell show, the Deco Wrap No-Sew Cornice Foam Cornice by June Taylor, Inc., give you the instructions and tools on how to make your own designer curtains without emptying your wallet. Use your favorite fabrics to tuck and wrap around the foam cornice, which can be cut or glued together for a longer length. No sewing required! ($38.82)
The Craft Shop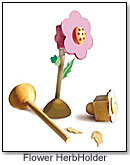 Build your own unique scent holder that acts as a lovely display and makes your room smell good! With the Flower HerbHolder by The Craft Shop, you can easily assemble this wooden flower and place your desired herbs in the flower bud itself! Shake it up and it will release an aroma that will fill up your room and make you smile. ($1.65)
Scribble Mats/Blazing Thunder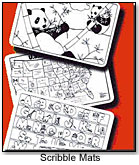 Need something to occupy your child at the dinner table? Scribble Mats by Scribble Mats/Blazing Thunder brings out the artist in every child with unique thematic mats. Winner of Dr. Toy's Best Vacation Toys, new mats have been added, such as "Butterflies" and "Fire Engine." These mats are made of washable vinyl, so they can be used again and again!
Scratch-Art Co., Inc.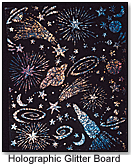 Dazzle your friends with your creativity using the Scratch & Sparkle Soft-Scratch Holographic Glitter Board by Scratch-Art Co., Inc. (ToyShow) This non-toxic and black-coated Soft-Scratch board is safe and easy to use. Scratch the board with a wood drawing stylus to uncover the glittering background underneath! A magnificent way to create unique artwork in a holographic and prismatic light!