---
Fairies Fly Back On — and Off — the Shelves
Nature-Inspired Fantasy Dolls Are a Growing Trend
"I believe the world is ripe now for a grand new interest in fairies." — Charles Erdman, Dervish Toys

The Fairies are back. Everyone from Disney to OOAK (one-of-a-kind) artists are in on the game, and retailers report that little girls are happily gathering them up.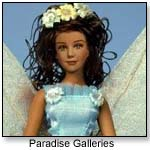 Vince Klaseus, vice president of global franchises for Disney, told

TD

monthly

, "Disney fairies will be a big focus for Disney this year. (VIEW ARTICLE) This Fall, Disney will have a new line of dolls and role-play assortments to bring magic into the lives of little girls who believe in fairies."

Fairies are already popular at the Doll Market in Greensboro, N.C., manager Linda B. told

TD

monthly Magazine

. They carry fairy dolls by Paradise Galleries, Show Stoppers, Madame Alexander and others. She said, "Collectors like them because they are beautiful and children display them in their rooms and dream of magic."

Mihalie Hickle, designer of Carpatina Dolls (ToyDirectory), believes little girls love to believe in magic and dream of being a princess, and a fairy princess offers both. Carpatina manufactures 17" dolls and a fairy costume.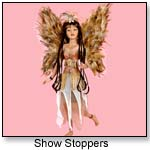 Madi the Magical Fairy and Sneek-a-Boo the elf by Itty Bitty Toy Co. (ToyShow) will be on toy shelves this fall. They are the first two in a series of fairies and elves by Linda Mason and Stephanie Blyth, who made a name for themselves in the OOAK doll art world.

"Fairies, like children, are innocent and delight in simplicity," said Blyth. "These dolls connect a child to nature through their imagination and give them a respect for nature and for all life."

Collector Couqui Cahill told

TD

monthly

, "I collect fairy dolls for my granddaughters because of their beauty and because they are part of folklore all over the world, and they are ageless and belong to the earth."

Dervish Toys (ToyShow) has recently begun releasing the six characters of the Legend of the Faery Folk. Charles Erdman and designer Taticha Romanov feel that the stories behind these delightful little creatures will lead to an interest in the environment.

Erdman told

TD

monthly

, "Magic is very attractive to children, and always has been, but everything goes in cycles. The Harry Potter books brought back a great resurgence in the interest of magic. So many of the children's toys today are based on technology, and technology is based on logic and reason. Fantasy and fairies are the exact opposite of logic ... and children want to believe in something there is no explanation for and that is MAGIC. I believe the world is ripe now for a grand new interest in fairies."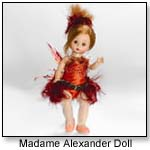 At Shenanigans in Peachtree City, Ga., Linda Thompson stocks Tooth Fairy dolls and plush by North American Toys and The Alexander Doll Company. "The Sugar Plum fairy is always popular at Christmas and we always stock Christmas fairies and elves," she said.

Collector Donna Powder said, "I love fairy dolls because fairies love the earth and are not materialistic."

"These tiny creatures make us take notice of the beauty surrounding us," summed up doll artist Susan Pfister. "It makes the younger generation want to preserve it, and therein lives the real magic of the doll world."

Here are some fairies that are ready to fly off the shelves:







These 3.5" tall dolls are made of porcelain with delicate outfits. They come in green, pink and purple. Helen Noland, owner of Father Goose in Macon, Ga., stocks fairy dolls by Schylling Toys.

.

AD
---






Isabella's shimmering gown is fashioned by moonlight. The green chiffon gown is lined with satin and sprinkled with silver and rhinestones. She has green velvet shoes and a gauzy choker. There is a cape of multi-colored chiffon, with an organza ribbon choker. She has a floral head wreath and an enchanting butterfly and flower wand.

.

AD
---






This blonde fairy doll dressed in lavender is part of a series of fairies released this summer by Dervish Toys, along with accompanying stories.

.

AD
---






These 3.5" tall dolls are made of porcelain with delicate outfits. They come in green, pink and purple. Helen Noland, owner of Father Goose in Macon, Ga., stocks fairy dolls by Schylling Toys.

.

AD
---






.

AD
---






This one of a kind art piece made by doll artist Susan Pfister is made of resin clays with mohair wigs, using the finest vintage materials in the clothing. The flower and fairy wings are silk. The artist lives in Germany.

.

AD
---






.

AD
---






Available starting at the end of 2005, Elina is part of a Mermaidia toy line, based on In the highly anticipated Spring 06 sequel To Fairytopia. In this adventure, the beautiful fairy Elina travels with her trusted friend Bibble to a magical place called Mermaidia. Elina's adventure begins when she learns that the minions of Laverna have kidnapped their mer-friend, Prince Nalu. Elina and the mermaid Oceana set off to save Prince Nalu and prevent Laverna from getting the Repeller Berry. Along the way, fairy Elina will have to make the most difficult decision of her life: Will Elina give up her wings for a mermaid tail to help her friends in Mermaidia? Other available Mermaidia dolls include Shella, Marrisa and Nori.

.

AD
---






This is a one-of-a-kind 2" fairy baby made from resin with real Cicada wings.

.

AD
---
THIS BANNER IS AN AD:
---
---