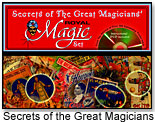 Fun, Inc. is a manufacturer and wholesaler of 300-400 products in the Magic category. For beginners, ages 8 and up, company president Graham Putnam suggests Secrets of the Great Magicians for approx. $30.00 retail. This set includes a DVD to train the magician and all the supplies needed to perform the illusions. The companion for this set, Mysteries of the Master Magicians, is available in October, 2004, retailing for approx. $20.00.

Marvin´s Magic, developed by a working magician, has a professional line and a children's line titled, Magic Made Easy. The packaging is attractive and the price points are reasonable. Marvin's Magic Hat includes a magic hat full of tricks, including an irresistible rabbit. The sets retail for $29.99 and are age marked for 6-12 years.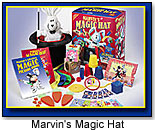 Another hat, for the very young and featuring only the appearing rabbit trick, is the Magician's Hat by Elope, Inc. The hat is high-quality, lined and size-adjustable with a hidden pocket where the child will find a secret fortune the first time they open it. The hat retails for $19.99 to $24.99, depending on the demographic of each store, and is available for wholesale at a keystone margin of $9.90. Penny Goins, Elope´s director of marketing, says the hat won the Parents Choice Silver Award in 2000 for being so simple to use and fascinating for the very young.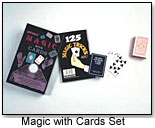 S.S. Adams Company (ToyDirectory), a seller of prank and magic items for 98 years, is a good supplier of beginning individual tricks or sets. Individual tricks are available in 56 items or 24 item rack specials, and are popular with specialty stores. Included in the many sets S.S. Adams carries is the Magic with Cards set, featuring their famous Deland Deck that has 12,000 secret markings. This set recommended for ages 8+ retails for $12.50.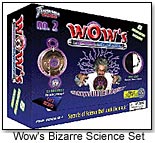 Parents always looking for the education angle on toys will be attracted to science magic sets. Wow's Bizarre Science sets features eight tricks and Professor Wow amazing kids with the secrets of magic that come from science. The sets are available from Fantasma Magic, a division of Fantasma Toys, Inc., and retails for approx. $13.00. There are two eight-trick sets and one super 25-trick set.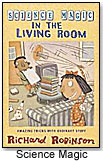 If you're in the market for a book that combines science with magic, Science Magic in the Living Room by Richard Robinson and Alan Rowe, is available from Aladdin Paperbacks and retails for only $4.99.
The Magic Electronic Wand is a creative throwback with a twentieth century twist from Cadaco. It also happens to be perfect for the young Harry Potter enthusiast. The set includes a traditional magician´s wand and props to perform 12 tricks for ages 7+, retailing for $15.99. A tried and true winner, My First Magic Set, wins the award for being labeled for the youngest of magicians. Marked for ages 4+ and retailing for $14.99, this package contains simple tricks that obviously require less motor skills.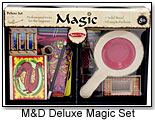 A 2004 Family Fun Toy of the Year Finalist from wooden toy makers, Lights, Camera, Interaction, is their Deluxe Magic Set. The wooden set, more sturdy than its plastic competitors, retails for $29.99. The set has ten tricks labeled easy to learn for ages 8+.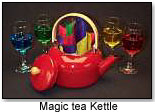 Individual tricks are fun for beginners that really like making a big impression showing off their magic with Abracadabra Magic. Featuring an eye catching Red Teapot, allegedly found at the foot of a rainbow, the server can pour different colors of liquid out of the teapot, as well as multicolored scarves and flowers. The trick retails for $39.95.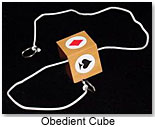 Bob Solari Magic Company is a great source for retailers and wholesalers. Their catalog offers many individual tricks, some of which are originally created by Mr. Solari and are exclusive to this company. "Do the Twist", retails for $10.00 and allows the young magician to cut up a trash twisty tie and restore it to its original condition. Another beginning trick is "The Obedient Cube," a freely sliding cube on a rope held vertically that stops anywhere at a spectators' command, which retails for $12.00.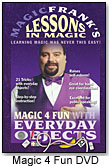 Receiving the Best Gifts of 2003 and 2004 mention from Consumer Reports and winner of the "All Star" award from Kids First!, The Magic 4 Fun Video DVD by MagicFrank (ToyDirectory)is a fun way to introduce a child to the world of creating magic. This DVD features 21 magic tricks that can done using everyday objects. Perfect for a magician in-training, learn how to do card tricks, read other people's minds, and make rubber bands jump! Frank DeMasi, also known as Magic Frank, has been a magician since the young age of six and has now performed at over 10,000 events. The DVD retails for $19.95.