Magic has appeal for people of all ages, but only children may be guileless enough to try their hands at it without hesitation. Fortunately, a group of professional magicians has created instructional products oriented especially for them.
| | |
| --- | --- |
| Lessons in Magic | Vanishing Video |
| Magic 4 Fun With Everyday Objects | The Svengali Deck |
Beginner Videos/DVDs/Books
Videos are available largely from specialty retailers and their web sites. One producer, Frank DeMasi, is the man behind MagicFrank (ToyDirectory). His Lessons in Magic video series distinguishes itself from most others in that each comes with its own specialty props. Four of his videos, The Tapered Deck ($19.95), The Vanishing Video ($19.95), Magic 4 Fun With Everyday Objects ($17.45) and The Svengali Deck ($19.95) have received a "Recommended" endorsement from Parent´s Choice (Summer 2003) for children ages 5 and up and an "Endorsed" award from Kids First. All VHS tapes are available from the MagicFrank website (magicfrank.com). Look for the first DVD, Key to Card Magic ($19.95), to appear early next year. It will feature card tricks using a traditional card deck.
Klutz brings its kid-friendly expertise to the world of childrenís magic with The Klutz Book of Magic ($14.95, ages 8 and up). The book offers magic tips and guides apprentice magicians through several tricks using props such as a silk scarf, a chrome ring, a nylon rope and a latex square.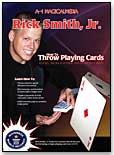 How to Throw Playing Cards
Intermediate Videos/DVDs
Rick Smith Jr. is the Guinness Book World record holder for throwing a card the furthest distance (272 feet!). Smith´s DVD How to Throw Playing Cards is planned for a late 2003 debut. It features throwing as well as other card flourishing tricks, and is produced by A-1 Magical Media (a1magicalmedia.com), a producer and distributor of a large list of magic-related videos and books.
Other A-1 titles new on DVD are David Roth´s Expert Coin Magic Made Easy, Volumes 1-3 ($34.95), ranging from basic skills (Volume 1) to advanced aptitude (Volume 3).
And, for only $12.50, you can Learn to Levitate. This new A-1 DVD features master magician Michael Maxwell, who explores how to levitate common household objects, as well as people.
For the more serious magician, A-1 offers Fooler Dooler, Volumes 1-3 by Daryl ($29.95 each or $85 for the set). Here, more commercial magic tricks, including all the professional patter you´ll need, are taught using props such as silks, ropes, sponge balls and the like.
A classic now out on DVD is Meir Yedid´s Finger Fantasies. This 30-minute presentation is based on Yedid´s award-winning illusions of close-up magic. The DVD gives the inside track on how the magician famously caused his fingers first to vanish, then to reappear, along with other amazing digital dexterities. The DVD is available from A-1 Magical Media for $22.50.