---
New & Notable Toys: Creative Activities
Check out these new and noteworthy toys.
4M Mecho Motorised Kits - Robobug by TOYSMITH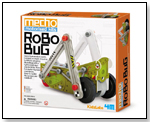 Contains a set of pre-cut colourful foam boards, a set of plastic cases, gears and wheels, a motor, a screw, stickers and detailed instructions. (Also required two 1.5 V AA batteries but not included. The battery cover needs to be fixed with a cross-head screwdriver.) Learn how motors work. Connect a simple circuit to build this amazing Tractor with a lightweight but sturdy body. Have fun exploring basic mechanics. Easy-to-build! No screws are needed!
Awards: 2015 TDmonthly Top Toy Award 8/31/2015 (Age: 5 and up) [Add to my Inquiry Basket][?]



Sands Alive! Paver Pete by PLAY VISIONS INC.


This play set comes with 1.5 pounds of Sand, a Paver Vehicle with 2 replaceable Rollers (rock crush and smooth designs), and the Backhoe has a repositionable Scooper. Also comes with 4 Street Signs, 2 Traffic Cones, 2 Barrels and a Play Mat. 3/18/2015 (Price: $29.99; Age: 3 and up) [Add to my Inquiry Basket][?]



Sew Cool Machine by SPIN MASTER TOYS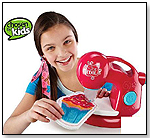 Now girls can start sewing in a safe and creative way! The Sew Cool Machine is a revolutionary threadless device that's perfect for a first time experience. It has everything you need to start sewing right away. Create nine projects from start to end. This threadless sewing machine includes patterns and pre-cut shapes for purses, pouches, characters and more. Encouraging imagination and hand eye coordination, young sewers will love it because they can do it by themselves. Start creating today with the threadless miracle that's Sew Cool! 11/13/2014 (Price: $34.97; Age: 6 and up) [Add to my Inquiry Basket][?]



Plastic Lace Crafts for Beginners by DESIGN ORIGINALS


Whether you call it gimp, lanyard, scoubidou, or boondoggle, vinyl craft lace is the perfect activity for home, camp, school or party. And Plastic Lace Crafts for Beginners is the perfect way to get started in this easy-to-learn craft. This book shows readers all of the essential stitches and skills they need to master the art of plastic lacing, with easy-to-follow weaving diagrams and colorful photos of finished projects. 11/4/2013 [Add to my Inquiry Basket][?]



Opal & Twig Potions and Powers by OPAL & TWIG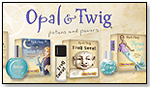 Our highly original, intriguing and playful "Potions and Enchantments" are enjoyed by people ages 8 to adult who love fantasy, imaginative play and collectibles. The attractively designed and eco-friendly debut collection is tied together by a brand mythology centered around mysterious young twin explorers Opal & Twig, the fictional purveyors of the enchantments. A different short story book, each one more beautiful and engaging than the next, is included in every illustrated package. These introduce new fans to Opal & Twig and explain how each given enchantment was first discovered. 6/26/2013 [Add to my Inquiry Basket][?]



My Tape Town™ by ALEX BRANDS


Tape up the town. Create your own Tape Town by taping roads, ponds, and trees onto a paper landscape. Then add buildings and cars to your tapetastic town by bringing them to life first with colorful tape. Easy to tear tape in six colors and stickers makes it fun to create your own town. Decorate the paper landscape, then enjoy hours of interactive and creative play in one deluxe activity.
— In a July 2013 survey, two out of 12 retailers told TDmonthly that products from ALEX were their best-selling toys overall. 2/8/2013 (Price: $18.70; Age: 3 and up) [Add to my Inquiry Basket][?]



Glitter Nail Art by CREATIVITY FOR KIDS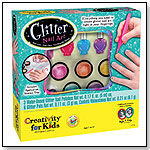 Super sparkly manicures are right at your little girl's fingertips. Glitter Nail Art craft kit includes glitter application station to minimize mess and maximize fun! Complete set also includes six pots of glitter, confetti and rhinestones, sparkling nail file, three bottles of glitter nail polish, tweezers and manicure storage bag.
Awards: 2012 Dr.Toy Best Picks 12/14/2012 (Price: $22.00; Age: 9 to 12) [Add to my Inquiry Basket][?]



Play Masks by eeBoo corp.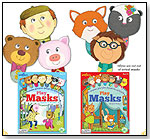 All the world's a stage with eeBoo's first Play Masks. Each package of eeBoo Play Masks comes with 7 heavy cardboard masks that represesent 7 uniquely illustrated characters. The sturdy masks have cut outs for eyes and handles for little hands, making them perfect for make-believe, drama, storytelling and other forms of imaginative play. Our Mystery in the Forest Play Masks are illustrated by Melissa Sweet and include an array of enchanted characters and forest friends. Our Animal Village Play Masks are illustrated by Stephanie Graegin and feature an adorable assortment of animal characters. 12/7/2012 (Age: 3 and up) [Add to my Inquiry Basket][?]



This...or That? Activity Book by KNOCK KNOCK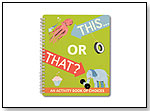 Little ones love defining what it is that makes them so special, and so do we. This fun activity book encourages kids to explore their own imaginations and preferences—treehouse or fort? Pirate or ninja? Filled with whimsical illustrations, playful prompts, and awesome stickers, This...or That? gives kids the power of creative decision making. Launch date: June 2012. 10/25/2012 (Price: $14.00; Age: 6 and up) [Add to my Inquiry Basket][?]



Tangle Jr Neon/Sparkle Classic by TANGLE INC.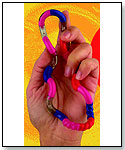 The Tangle toy is a universal plaything. With no restrictions or rules on how kids play with it., the Tangle is a plaything that stimulates the imagination and creativity for its users. It's also very functional. Many play with the Tangle for stress relief, brain stimulation (use it to cure boredom or come up with that next big idea), the development of fine motor skills, and is FDA registered for hand therapy and rehabilitation. The Tangle is fun and function and for all types of people; young,old, and cross culturally. 9/17/2012 (Price: $2.99; Age: 3 and up) [Add to my Inquiry Basket][?]



Kaleidograph® by KALEIDOGRAPH DESIGN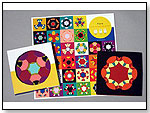 Crystalline geometries in brilliant color...the 9 die-cut cards (and 3 solid backers) of the Kaleidograph™ can be arranged into billions of designs. Based upon geometry in nature, the Kaleidograph upholds the tradition of the original creative design toys of the Froebel Kindergarten system that are known to have influenced Albert Einstein, Frank Lloyd Wright, Buckminster Fuller, Piet Mondrian, and design education at the Bauhaus. Like the floral forms found in nature, the Kaleidograph Flora is based on interconnected circular radial forms which can be assembled and overlaid into hundreds of millions of possible patterns. Richly personal and environmentally friendly, the Kaleidograph Flora is a toy for all ages. It fosters creativity, rewards with surprise, and brings out the designer in everyone.
Awards: 2012 Dr. Toy 100 Best Toys, 2012 Dr.Toy Best 20 for $20 9/11/2012 (Price: $12.99; Age: 2 to 12)



Splash Art by PLASMART INC.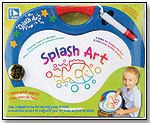 Clean, simple fun for young artists. A reusable drawing surface, water-filled stylus and sturdy, travel-friendly frame combine to create the perfect activity toy. 8/2/2012 (Price: $19.99; Age: 1 and up) [Add to my Inquiry Basket][?]



Tub-Art Pirate Set by EDUSHAPE LTD.


Tub-Art Pirate provides great bath/pool time fun and memories. Comes complete with four non-toxic soap crayons, a toddler safe, "What would I look like if I were a Pirate?" Hi-Def mirror and 2 large double sided pirate themed Edu-Foam drawing pads, all of which adhere to tiles when wet. Canyons simply wipes clean with water and is also great for drawing on tile, mirror and glass. Launch date: March 2012.
— As of 09/17/2012 this product had 3 out of 5 stars from 2 reviews on Amazon.com. Pros: The crayons work well; the pirate mirror is a fun accessory. Cons: The foam coloring pieces are very difficult to erase. 7/5/2012 (Price: $16.5; Age: 3 to 10) [Add to my Inquiry Basket][?]



Wet-Erase Coloring Kit by HEALTH SCIENCE LABS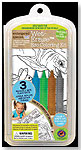 The Wet-Erase coloring kit comes with 3 stone paper coloring scenes and a set of patented wet-erase crayons that wipe off with a damp cloth for multiple use. Launch date: 2012. 6/27/2012 [Add to my Inquiry Basket][?]



Dora the Explorer™ 3in1 Book by LEE PUBLICATIONS


Play and learn with your favorite Dora the Explorer™ characters. The activities include Magic Pen® Painting, Invisible Ink and Sticker Puzzles. The Special Pen reveals the invisibly printed pictures. The Special Pen also produces a rainbow of colors instantly. Unscramble the stickers to create a surprise picture.
Book 1: Each book includes 24 pages of fun and a special pen.
Book 2: Each book includes 24 pages of fun, a special pen and 2 jumbled sticker puzzles. 6/25/2012 (Price: $3.99; Age: 3 and up) [Add to my Inquiry Basket][?]



11 PC Girl's Chef Kit by CURIOUS CHEF INC.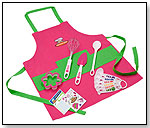 With tools that come in a wonderful fuchsia color, little ones will be proud to have their own kitchen tools to help mom or dad cook fantastic meals. Kids will be learning valuable life skills while having a fun-filled time full of smiles. This kit includes a Pink/Green Apron, Whisk, Large Spatula, 6PC Measuring Spoon Set, Large Poly Spoon, Flower Cookie Cutter, Shopping List and Sticker Set. Launch date: February 2012. 6/25/2012 (Price: $24.99; Age: 4 to 12) [Add to my Inquiry Basket][?]



Cat's Cradle by EOLO SPORT INC

Kids can hypnotize their friends and family with the 30+ tricks they can do with the Funtrix Cat's Cradle from Eolo Sport. Includes an instructional DVD filled with new tricks to master. Launch date: March 2012. 3/19/2012 (Price: $3.99; Age: 6 and up) [Add to my Inquiry Basket][?]



Original Sticker Book for Collecting and Trading by STICKER FARM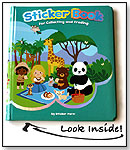 Sticker Farm Sticker Books are keepsake quality sticker albums for storing and playing with a child's sticker collection. These large sticker albums have reusable specially-coated pages for repeated positioning and repositioning of stickers, plenty of sticker space, a designated trading page and even a built-in pouch for storing extra stickers. Thoughtfully designed and engagingly illustrated by up and coming illustrators. Launch date: May 2011. 3/5/2012 (Price: $16.99; Age: 3 and up) [Add to my Inquiry Basket][?]



Space Age Crystals: 13 Crystals Deluxe Kit w/LED Base by KRISTAL EDUCATIONAL INC.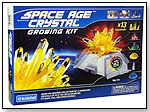 Sparkling crystals grow right before kids' eyes. Grow a collection of 13 sparkling crystal specimens in four colors: Emerald, Aquamarine, Citrine & Ruby. 5 Crystal Clusters; 4 Goedes; 4 Single Crystals. Plus, kids will learn how to connect their own battery circuit. Contents: crystal growing chemicals, geode mold, casting plaster, crystal growing containers, lids, stirring rods, 48 page Space Age Crystals booklet, instructions, and a multicolor LED base. Pack size: 17" x 11 ½" x 2 ¼". Launch date: September 2011. 12/12/2011 (Price: $39.99; Age: 10 and up) [Add to my Inquiry Basket][?]



Dazzlin' Dough Language and Numeracy Kits by HYGLOSS PRODUCTS INC.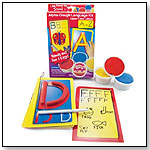 These modeling dough based language kits do such a great job of teaching literacy skills that they "make the pencil jealous." Kit includes red, yellow and blue dough, 32 Write and Wipe cards, a black erasable marker, a black erasable crayon and instructions for step by step activities. Launch date: November 2010. 8/25/2011 (Price: $19.99; Age: 3 to 12) [Add to my Inquiry Basket][?]



Barbie Make Your Own Natural Beauty Products by FASHION ANGELS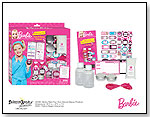 Barbie and fashion are made to go together. Style and design clothing, accessory and beauty looks for Barbie with the Fashion Design Super Sketch Portfolio! Use the removable plastic stencils to trace the perfect clothing, accessories, and hair and make up looks. The instructions provide tips and inspiration on how to color, shade, and add details to make each outfit perfect for Barbie. Finish off and embellish your beautiful designs with the stickers included in the large spiral bound portfolio book. This sketch portfolio includes 40 Barbie formatted sketch pages featuring 5 different scenes, 4 removable plastic stencil sheets with 162 stencil designs, 164 stickers, and instructions. Launch date: 2011. 7/29/2011 (Price: $27.99; Age: 4 and up) [Add to my Inquiry Basket][?]



Latin America Coloring Book by PUTUMAYO KIDS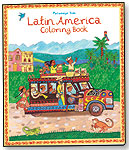 20 large-format bilingual coloring and activity pages printed on heavy art paper and a colorful kid-friendly glossary invite children to discover their artistic talents and explore the diverse cultures, landscapes, animals and musical instruments of Latin America. "The Latin America Coloring Book is bilingual English and Spanish. This aspect along with its beautiful aesthetic sets it apart from other coloring books on the market," Ava Mostefaoui, co-manager of Putamayo Kids, told TDmonthly. Launch date: June 2011. 5/27/2011 (Price: $9.95; Age: 3 to 10) [Add to my Inquiry Basket][?]



Sketch it! by BLUE ORANGE GAMES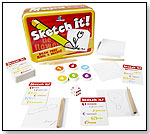 Each card lists 6 items. Players roll the die and the number rolled tells them what to sketch. Each person simultaneously sketches a different item. The challenge is to draw quickly enough to grab the highest-valued token, but carefully enough that opponents can identify the drawn image. Points are gained in two ways: when one player correctly identifies another's drawing the artist gets points, and the player who correctly identifies the image gets points as well. After 10 rounds, the one with the most points wins. Launch date: June 2011. 3/22/2011 (Price: $19.99; Age: 10 and up) [Add to my Inquiry Basket][?]



HEXBUG Nano Bridge Battle Habitat Set by INNOVATION FIRST LABS, INC.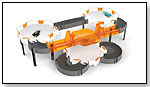 The HEXBUG Nano Bridge Battle Habitat Set allows kids to create the ultimate battleground for the HEXBUG Nano. HEXBUG Nano owners place their bugs on either side of the elevated arena where they must scurry over an orange bridge, through one-way gates and meet in the center battle platform. HEXBUG Nanos nudge and knock their competitor out of the battle arena until only one bug is left standing and reigned champion. Bridge Battle comes with 29 easy connect pieces and two rare HEXBUG Nanos.
— In a Summer 2011 survey, 25% of 12 retailers told TDmonthly that HEXBUGs were their best-selling electronic or battery-operated product. 3/4/2011 (Price: $39.99; Age: 3 and up) [Add to my Inquiry Basket][?]



Yamodo (Themes) by IDEA STORM PRODUCTS, LLC.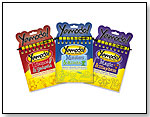 New Yamodo! Monsters & Aliens, Yamodo! Magic & Mayhem and Yamodo! Gizmos & Gadgets are the new theme versions of Yamodo that can be played anytime anywhere. The twist this time is that the drawings and definitions should be related to the category of the game theme. Creations can be uploaded on Yamodo's website, allowing for "creative collaboration anywhere anytime," Gred Walsh, pr for Idea Storm Products, told TDmonthly. Awards: 2010 - Dr. Toy Best Vacation, 2010 - Dr. Toy Top 10 Educational Products 3/4/2011 (Price: $9.95; Age: 8 and up) [Add to my Inquiry Basket][?]



Funny Faces Magnetic Set by MEADOW KIDS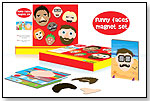 These colorful mix and match activity sets stimulate creativity, and imagination. This durable play set comes in a sturdy gift/hold all box, with four 'Look at my Creation' display boards. "With this product offering 4 different display boards to go with the different pieces this product offers a very large variety of options to children, allowing them to be more imaginative with their creations," Jack Wiggins, sales executive at Meadow Kids, told TDmonthly. 1/25/2011 (Price: $24.99; Age: 3 to 10) [Add to my Inquiry Basket][?]



Color Blanks by MEGA BRANDS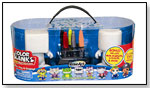 Lift your child's creativity to new heights with Color Blanks. Color Blanks allow your child to engage in creative fun by designing their own plastic haracters using stickers, mini markers and more. Using a blank canvas, you child can create their
character, play with it or display. This activity set features one or two collectable, poseable, plastic figures, various colorful stickers and mini markers. (

Watch Video) 10/29/2010 (Price: $4.99; Age: 6 and up)



Dinosaur Train: Dinosaurs in the Snow by PBS HOME VIDEO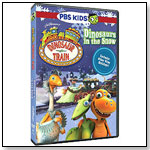 "Dinosaur Train" continues to capture the fascination that preschoolers have with dinosaurs and trains in the new-to-DVD release, Dinosaurs in the Snow. Get on board the learning adventure as Buddy travels to the North Pole, explores nocturnal animals, becomes a detective, celebrates his birthday, and more. The set includes eight fun and educational adventures, an interactive game, coloring pages, a dinosaur reference guide, and parent information.
Awards: Dr. Toy 100 Best Children's Products - 2010 10/13/2010 (Price: $14.99; Age: 3 to 6) [Add to my Inquiry Basket][?]



The Wikki Stix for Rainy Day Play Kit by WIKKI STIX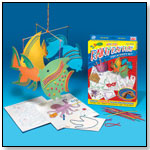 Make a tropical fish mobile, make dinosaur tracks, create a storybook about where you live, play games, make greeting cards, do word-finds, make a door hanger for your bedroom, create dinosaur scenes and ocean scenes. Wikki Stix adhere to virtually all smooth surfaces with just fingertip pressure, so there is no glue, no preparation and no cleanup. Great for home or school.
Awards: Dr. Toy 100 Best Children's Products - 2010 10/11/2010 (Price: $14.95; Age: 5 to 12) [Add to my Inquiry Basket][?]



Shop'n Cart by INTERNATIONAL PLAYTHINGS LLC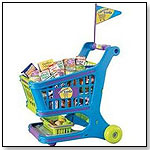 This clever and complete shopping cart enhances pretend play with over 55 pieces that include play food, packages, and cans. The removable basket stores underneath. Shopping cart has a place for your child's favorite doll or stuffed animal—and can be used with or without this feature. Also included is assorted play money to expand the play value. Caster wheels allow for easy turning. This cart is easy to assemble—no tools required. Will provide your young shopper with plenty of active pretend play and lots of assistance when you go grocery shopping.
Awards: Dr. Toy 100 Best Children's Products - 2010 10/11/2010 (Price: $34.99; Age: 3 to 12)



Kidspiration 3 by INSPIRATION SOFTWARE INC.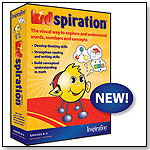 Kidspiration Color Tiles™ is an excellent new software product that can be used to count, compare, and explore number properties and operations and develop computation strategies. Using the tiles, children solve area and perimeter problems and model number patterns and the four basic math operations. With its expanded library of more than 3,000 symbols, children can use Kidspiration 3 to create graphic organizers including webs, concept maps, and diagrams to clarify thoughts, organize information, use new knowledge, and build critical-thinking skills.
Awards: Dr. Toy 100 Best Children's Products - 2010 10/11/2010 (Price: $69.00; Age: 5 to 12)



Fuzzoodles Fluffy Friends Large Kit by LICENSE-2-PLAY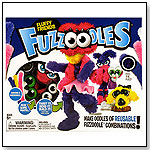 A creative project allows your child to make many reusable Fuzzoodle combinations. Choose a Fuzzoodle, then pick some parts, twist it, bend it and build it. The Fluffy Friends Large Kit includes 6 long Fuzzoodles, 4 short Fuzzoodles, 10 Fuzzoodle parts, and 1 idea booklet. Provides for fun and dexterity activity at the same time.
Awards: Dr. Toy 100 Best Children's Products - 2010 10/11/2010 (Price: $14.99; Age: 5 to 12) [Add to my Inquiry Basket][?]



Scopey the Dog by STR - SCHOOL & SCIENCE TECHNOLOGY RESOURCES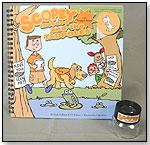 Scopey the Dog is a unique character whose adventures are designed to bring environmental awareness to readers. The product line includes a plush toy, microscope toy and multiple activity books. Scopey the Dog has "Scopey Sense" built-in to magnify micro-images in the books, or magnify any object to 50x the original size on a TV or computer screen. 8/25/2010 (Price: $60.00; Age: 4 to 10) [Add to my Inquiry Basket][?]



Disney Princess Beauty Playset by CREATIVE DESIGNS INTERNATIONAL LTD.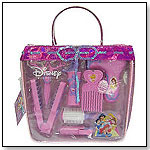 Girls can create their own princess hairstyles with this Disney-themed set.
— As of 8.16.10, this product had 4 out of 5 stars from 14 reviews on ToysRUs.com and was listed No. 44 in best-selling toys and games. PROS: Interactive, promotes imaginative play. 8/16/2010 (Price: $16.99) [Add to my Inquiry Basket][?]



Classic Etch A Sketch by OHIO ART CO.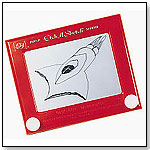 Children can turn either the horizontal or vertical knobs to watch lines begin to form on this "magic" screen. When finished, they can simply shake it to watch the picture magically disappear so they can start all over again!
— As of 8.16.10, this product had 4 out of 5 stars from 4 reviews on ToysRUs.com and was listed No. 38 in best-selling toys and games. PROS: Long-lasting; comfortable grip. 8/16/2010 (Price: $11.99) [Add to my Inquiry Basket][?]



Crayola Magnetic Double Easel by CRAYOLA LLC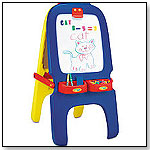 This magnetic dry-erase boardand chalkboard provides a large work area. Each board includes a clip to hold paper. The set includes four detachable storage bins for holding art accessories and a folding easel for easy storage, and comes with an eraser and 77 magnetic letters and numbers.
— As of 8.12.10, this product had 4 out of 5 stars from 130 reviews on ToysRUs.com and was listed No. 6 in best-selling toys and games. PROS: Educational, long-lasting, engaging. CONS: Messy; some parents questioned its quality. 8/12/2010 (Price: $44.99; Age: 3 and up)



Nail Art by KLUTZ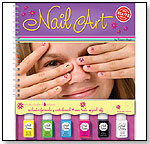 This photographic instruction book is full of tips, techniques and hundreds of designs to paint on fingernails. The book comes with six non-toxic, peel-off nail colors.
— "We do a lot of Klutz for the 10- to 12-year-old girl," Jason Curtis of Funtopia Toys in Middletown, Calif., told TDmonthly in June 2010.
— Eight percent of 40 retailers cited Klutz books as a top seller for girls in early summer 2010.
— Mary Holmes from Go Bananas LLC in Ashburn, Va., told TDmonthly in a December 2011 survey that books from Klutz were her best seller in that category, selling about 12 each month. Two other retailers also named Klutz books as their best sellers. 7/29/2010 (Price: $21.95; Age: 6 and up)



Easel Companion Set by MELISSA & DOUG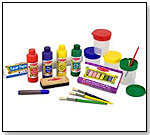 This set comes with four bottles of poster paint and four spill-proof paint cups. Also included are an easel paper roll, chalk, paint brushes, a dry-erase marker and an eraser.
— In a November 2011 survey, 2 out of 12 retailers said art supplies from Melissa & Doug were their best selling educational products.
— Mark Rosenblum from Hobbytown in Fairfield, Conn., told TDmonthly in a January 2015 survey that Melissa & Doug was one of their best-selling brands of arts & crafts toys. 7/27/2010 (Price: $34.99; Age: 3 and up)



Monster High Terrifying Tattoo Roller by MATTEL INC.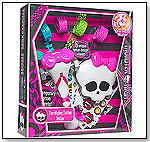 This kit includes do-it-yourself non-permanent monster tattoos that let kids look like the students of Monster High. The roller comes with tattoos including stitches, bite marks, claw marks, scales, snake skin and mummy wraps. There are also character specific temporary tattoo stickers, as well as a skull ink pad with three colors. 7/22/2010 (Price: $17.99; Age: 6 and up) [Add to my Inquiry Basket][?]



Tie Dye Cupcake Kit by SASSAFRAS ENTERPRISES INC.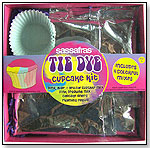 With this kit, children can make a pink, yellow and turquoise cupcake. The set includes tie-dye cupcake mix, pink frosting mix, cupcake liners, a recipe and instructions. 7/5/2010 (Price: $15.00; Age: 5 and up) [Add to my Inquiry Basket][?]



THIS BANNER IS AN AD:
---
---