---
Homeschooling Roundtable: Scholars Flip for Flying Toys
Who Needs Books When You've Got Light-up Disks?
"Anyone from 5 to college-age would play with these." — Lynn Costine, Homeschooling mom

Introduction:
Uh-oh! One of this month's Homeschooling Roundtable toys totally flunked! But the manufacturer was alerted, the problem was rectified, and a new sample is on its way. Roundtables are a great way for manufacturers to test products that are still in development, get feedback and make improvements.

Luckily, the homeschoolers barely felt the loss because the Flashflight Junior by Nite Ize and the OgoSport Double Pack by OgoSport so completely satisfied their lust for last-minute summer fun.

"These were both great toys," raved mom Lynn Costine. "Anyone from 5 to college-age would play with these."

Participants were former art teacher Lynn Costine with Sarah (13 years), Anna (11), Emily (9) and Will (7); former business owner and current nursing student Julie Petoia with Cabot Lee (11), Talia (10) and Malynne (8); Susan Ledford, editor of the Homeschoolers Resources Directory, with Victoria (11) and Joe (7); Alison Shanahan with Elizabeth (12), Emily (10) and Katie (6); and Teresa Wilson with Timothy (13), Andrew (11), Elise (7) and Steven (6). Click here to view the full results of the survey.


OgoSport Double Pack by OGOSPORT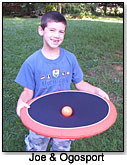 What It Is: Two mini trampolines (for balls) that can also be used as flying disks.

What the Moms Thought
"Ogosport is a top summer toy!" enthused Ledford. "It is fun alone, or in a large group. It is great in the water or out. All ages can enjoy it."

Wilson loved the portability of the tiny trampoline, but said it took a long time to pump up and wasn't quite rigid enough, though no one else reported this problem.

All the Moms liked the bright colors, which could be spotted easily, and the fact that other balls could be used when the Ogosport balls temporarily rolled out of sight.

What the Kids Said
Emily (12) called Ogosport "awesome" as a trampoline, and the other kids agreed.

Elise (7) and Katie (6) said it was also "the best flying disk ever!" because its large size made it easy for their little hands to catch.

How to Improve It
"They could include a smaller ball or mitt to make play more difficult," suggested Ledford.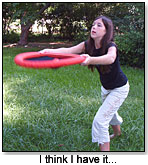 "We felt this was a great toy that could not be improved," commented Shanahan.

"We've also found that you can run over the Ogosport with your car and it doesn't break!" added Costine.

Would You Want Another Toy Like This?
"My kids would be very likely to request another," concluded Ledford.



Flashflight Junior by NITE IZE INC.

What It Is: A soft, flying disk fitted with colored lights for nighttime play.

What the Moms Thought


"It's so cool the way it changes colors!" sighed artist Costine.

"This toy came with replacement batteries — always a favorite in my book," commented Wilson. "It is softer than similar toys, so the children were able to play without fear of being accidentally hit."

What the Kids Said
"Can we use it tonight after it gets dark? Can we use it tonight after it gets dark? Can we use it tonight after it gets dark?" chimed Petoia's brood.

All her children exclaimed it was "fun to play in the dark," added Wilson.

How to Improve It
"I can't think of any way to make it cooler," said Costine.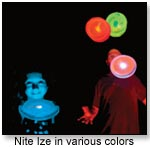 "Lighter weight," suggested Petoia. "When you think about a flying disk coming at you in the dark, a fabric disk might be a better choice."

Would You Want Another Toy Like This?
Yes! the homeschoolers agreed, recommending it for all ages and both genders.

Following are the flying toys the Homeschoolers flung, plus a couple extra. If you have a toy you'd like the Homeschoolers to rate, please contact the Features Editor at alison1@toydirectory.com, and be sure to put "Roundtable Request" in the subject line.







An inflatable ring with a high-strength elastic membrane. A safe high-quality sports activity device for ages 4 and up. Portable allowing you to take with you anywhere.

ToyDirectory Product ID#: 8613

(added 7/19/2006)

.

AD
---






OgoSport is the invention of Pratt Institute of Design professor Rick Goodwin. It is an inflatable disc that can be used to play catch with a ball (it gives like a trampoline and can catapult balls up to 150' in the air) and can also be used at the beach like a frisbee (as a bonus, it floats!). Batteries are not required. Available are OgoSport Mini ($7.50), Single Pack OgoSport Large ($10.00) and Double Pack OgoSport Large ($19.00).

— After the 2006 Toy Fair and Pomona shows, where the toy debuted, OgoSport was shipped to 300 stores within a couple of weeks. Shortly after, Kevin Williams of OgoSport told

TDmonthly,

"We're getting great response and reorders already."

— Kate Tanner, owner of Kidstop Toys & Books in Scottsdale, Ariz., spotted OgoSport at the American International Toy Fair 2006 and knew she'd found a winner. "When we played it, we had adults waiting in line to play it," she told

TD

monthly

. "When we have fun with it, you know the kids are going to have fun with it."

—

TDmonthly

's homeschoolers also loved OgoSport (

view article

).

ToyDirectory Product ID#: 7040

(added 3/1/2006)

.

AD
---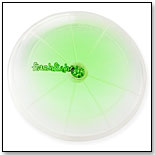 The Flashflight Junior is in between the full-sized Flashflight and the Mini. Bright LED illumination makes it a cinch to catch in the dark. Its soft touch is easy on the hands. The long-life battery is replaceable. LED colors include Red, Blue, Green and Disco. The Junior weighs 110 grams.

— "We have [flying disks] that light up," said Harriet Story, owner of Leaping Lizards! in Mineral Point, Wis., when talking to

TD

monthly

about her best-selling flying toys.

— Retailers have also reported good sales for the Flashflight Disc-o-Mini, which changes colors "on the fly."

— "It's just plain fun," Brenda Isaac, marketing manager for Nite Ize, said when asked about why the product was doing so well. "It's a marriage of an old-fashioned toy with new technology." A Flashflight for dogs is coming soon.

ToyDirectory Product ID#: 8425

(added 6/27/2006)

.

AD
---

Writer's Bio:
ALISON MAREK is an award-winning writer, director and cartoonist whose work has been published by Fairchild Publications and DC Comics (Piranha Press), broadcast on Showtime and other cable networks, and viewed worldwide in film festivals. See her short films and print work on www.alisonmarek.com. Watch her nefarious villains in the web series www.MuggsMovers.com. Get inspired by her cartoons "Daily ARFFirmations to Unleash Your Inner Fido" at www.ARFFirmations.com. Phew! And then ...
Read more articles by this author
THIS BANNER IS AN AD:
---
---