With today's arts and crafts and activity kits the fun doesn't end when the project is completed. Instead of hanging a finished creation on the living room wall, children might play with it, eat it, or even wash with it.


For the Whole Gang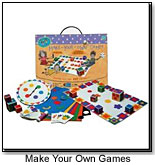 Made-by-Hands, Inc. was founded when Dena Hirschberg and Ava Berry were searching for activity kits for their own children. Their activity kits are known for Pop-Outs™, the colored cardboard shapes in most kits that are used as the building blocks for everything from beautiful flowers to furry monsters. Although many activity kits are made for one or maybe two children to use, Made-by-Hands features one kit that will satisfy a whole group. Make-Your-Own™ Games allows a handful of children to contribute to designing the rules, board, and accessories for their own board game. After they're done creating, the whole group can enjoy playing their game together.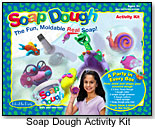 For the Little Ones

Many activity kits are for ages 8 and up but Life of the Party offers several kits that are both fun and easy enough for the youngest customers. Bath Blast kits such as Soap Dough and Bath Fizzies are designed for ages 3 and up. They are simple mix and mold kits that require little adult help. Both kits retail for $9.99.

For the Boys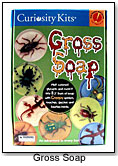 Although many companies are trying to tap the often ignored boy crafters market, two companies seem to have an amazing number of offerings that appeal to the boys. Along with classics such as Mega Volcano and all kinds of boats and racers to construct, Curiosity Kits (ToyDirectory) offers gross in all shapes and sizes. Two kits guaranteed to turn a parent's stomach are Gross Soap and The Official Disguise Kit. Klutz offers kits such as Draw the Marvel Comics Super Heroes, The Solar Car Book, and The Best Paper Airplane You'll Ever Fly.

For the Girls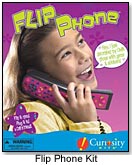 Almost every company offer jewelry, hair accessory and doll kits for their girl customers but Curiosity Kits offers furniture kits to help girls put their own stamp on their bedroom or playroom. A three-shelved wooden cabinet with see-through doors and mirrored vanity with a drawer of pre-painted white wood await a child's imagination. The Flip Phone kit offers a real working phone that can be decorated with the included stickers and gems. Canvas and inflatable chairs are also available for personalizing.

For Customer Satisfaction

Many customers who make activity kits purchases influenced by the colorful packaging photographs might be disappointed with the difficulty, tools, or finished products. It's easy to ensure that your customers are always happy with their purchase and your store. Have a display of samples, including instruction booklets and tools such as paint brushes etc., for your customers to examine. If space is limited consider Klutz kits whose unique packaging allows customers to always know exactly what they're getting. Klutz kits consist of a book containing plenty of photos, illustrations and ideas that customers can page through before purchase and supplies contained in a clear plastic box or bag.