"We don't live in a vacuum," said Beth Hess, summing up the gist of her seminar on trend spotting for scrapbook retailers. It was one of some 55 workshops offered at October's Sixth Annual MemoryTrends Trade Show for scrapbooking and papercrafts. "The things we wear, the cars we drive, the items we put in our homes all affect scrapbooking," continued Hess, managing editor of Craftrends Magazine, which presented the show at the Las Vegas Convention Center.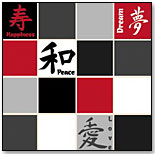 Some 5,400 buyers, exhibitors and other industry personnel attended the convention. Other seminars designed to help independent scrapbook retailers build business explored such topics as store display, branding and cash flow. Hess tried to help shop owners learn to answer the questions she gets asked all the time: What's hot in scrapbooking? What's the next big thing? What should we stock in our stores?
To spot trends and make purchasing decisions, Hess recommended analyzing global influences, popular colors and designs, and trends in major industries such as fashion, home décor, advertising, retail and technology. She pointed out that, this year, scrapbook paper and other supplies have featured bold, large-scale prints and religious themes both of which first sprang to popularity in fashion and publishing, respectively.
For another fashion-crossover example, she cited the color pink, which a year ago "was all over the malls like Pepto-Bismol." In the coming months, she said, showing a photograph of a model in an orange dress at a recent Fashion Week show, "I think we're going to be seeing a lot more orange," as well as such other colors as black-and-pink.
Indeed, orange and black-and-pink products were in abundance at the trade show, although it seemed that every color of the rainbow was represented among more than 1,000 booths. Evidence of other trends Hess expected to be hot in the months ahead included products bearing floral designs, phrases and words in Spanish and Chinese designs; stiffened fabrics that can be used like scrapbook paper; and new technologies, such as small machines that punch out any shapes users desire, and software (still in development) that allows users to add digital home videos, music and narration to their digital scrapbooks .
At least one scrapbooking designer at the trade show backed up Hess' general thesis. Ginger Rohlfs, creative director for scrapbook manufacturer, Imagination Project, created A Colorful Adventure, a new line of scrapbook paper and embellishments unveiled at the show featuring a cheerful combination of hues.
"I saw a shower curtain with those kinds of colors and it inspired me," Rohlfs said. "Home décor is big for us because it drives color trends" throughout popular culture, she added.
Other home décor trends to watch for, Hess said, include a new freedom to mix and match designers when decorating, and the greater use of adornments, such as African masks, from around the world.
Pay attention to other broader market trends, too, advised Hess, describing how manufacturers are "giving consumers the ultimate control" and interacting with shoppers like never before. Examples: women buying purses printed with pictures of their new babies or dogs and Internet shoppers choosing the colors and logos they want for their athletic shoes. To get customers more involved with you, your store and your process, Hess suggested, launch a contest that will print the winner's scrapbook page on the store's shopping bags.
"This kind of thing is what your customers are going to expect," she said.
Seminar attendee France Guimbeau found this and Hess's other trend spotting tips useful. Guimbeau was weeks away from opening a scrapbook store on Mauritius, an island with a total population of just one million off Africa's southeast coast.
"The class interlinked the world around you with scrapbooking," she said. "We'll have to adapt the information to our island, but it was interesting to hear where to get these kinds of ideas from and how to put it all together for your community."