"Children learn by imitative play, imitating adults." —Rick Woldenberg, Learning Resources Inc.

Just how effective are educational toys? Dr. Michael Brody, child psychiatrist and professor of American Studies at the University of Maryland, argues that children learn more during pretend-play time than with structured educational products. Others agree.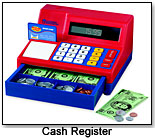 This type of play, which Brody said improves language and motor skills, isn't possible with many of today's so-called educational toys. "Everything today is educational and that's absurd," he said. "Kids are not small adults and they're not ready for sitting at a computer."
Brody — who also chairs the Television and Media Committee of the American Academy of Child and Adolescent Psychiatry — said that while educational toys are not all bad, their claims to make children smarter are ridiculous. He said that parents need to read to their children, for example, rather than sitting a child down with a talking book.
That thought is not lost on teachers or manufacturers. Jeanette Venhuis, who began her 35th year as a teacher in Flint, Mich. this fall, said she sees a benefit for children using computer games to help vocabulary skills. Yet, she believes that a dependency on these types of programs can result in the loss of creativity. These programs should be used with a parent, not instead of one.
That thought is echoed by third-grade teacher Julie Cronk in the same school district, who is also a mother of 1-year-old twin daughters. Yet, Cronk admitted, "The toys do work," explaining that some kids need the hands-on learning that the high-tech toys provide.
Jackie Batista, president of Osmosis Inc., said her company's language program was designed to be fun and used by child and parent in concert. The program includes a DVD (in English and Spanish or English and Italian), games, songs, a board book and a coloring book.
"Our approach is to do it together and speak (the language) with the child," Batista said.
Osmosis gets feedback on its products from speech pathologists and educators. Working with educators is also a part of business for Learning Resources Inc. (ToyDirectory), since the majority of the company's toys are marketed to schools; only about a quarter of the product line is available to the general public.
"We don't put anything in our line that is just fun. It must also be educational," said chief executive officer Rick Woldenberg.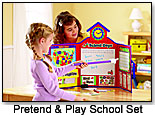 However, fun is key to learning in many of the play sets, including the Pretend & Play School Set. Like many of Learning Resources' pre-kindergarten through first grade toys, this set allows the imagination to work in settings that are familiar to children.
"Children learn by imitative play, imitating adults," Woldenberg said. "Our products allow children to participate and make up their own stories."
Woldenberg said there is demand for these types of toys, but the challenge is to get outlets so consumers can find them. "A lot of people decide what to buy while shopping," he said. "The mass market interest is sales per square foot of shelf space, and that is ultimately the problem."
However, Brody said most manufacturers are just putting out what the public demands. It's the parents, he said, who are demanding the wrong types of toys for their children. If improving learning is the goal, it's the parents themselves — not products they choose — who are ultimately responsible.